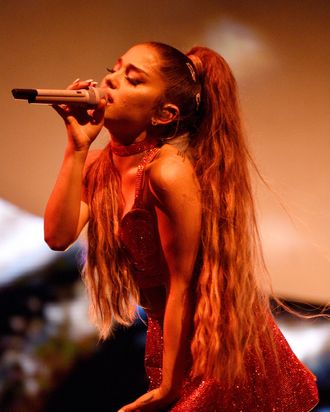 Ariana's back – take that, Ken!
Photo: Kevin Mazur/Getty Images for AG
With chaos and disarray oozing from every pore of Grammys HQ this year, it's easy to lose sight of what the Grammys are really all about: blockbuster musical performances, high-wattage celebrity moments, and giving out, like, maybe four awards during the actual telecast. The Grammys have televised awards shows down to a science: fewer acceptance speeches, more production value. This year, Alicia Keys is reprising her hosting gig and hopefully wearing more capes as she ushers us through an evening of performances by BTS, Lil Nas X, Demi Lovato, Billie Eilish, Lizzo, Roddy Ricch, and more. And who knows? Maybe Deborah Dugan will swoop in and Phantom of the Opera the joint, or intercept the feed, or something. So here's how to watch the 62nd annual Grammy Awards on Sunday:
Let's say you want to make a day of it. First, there is the pre-telecast premiere ceremony, hosted by Imogen Heap, where dozens of awards are given out across the street from the Staples Center at the Microsoft Theater. It'll stream on the official Grammy website from 3:30 to 6:30 p.m. ET. Next, the Recording Academy and CBS will begin live-streaming their preshow coverage from their Twitter accounts on January 26 at 5 p.m. ET. Then, the official red-carpet coverage kicks off at 7 p.m. ET. If you have TV, you can catch it on Entertainment Tonight on CBS, then tune in to the official ceremony on CBS at 8 p.m ET. E! will be starting its coverage even earlier, at 4 p.m. ET with its Countdown to the Red Carpet. Then Ryan Seacrest and Giuliana Rancic begin their live red-carpet coverage at 6 p.m.
If you've gone TV-free, there are plenty of ways to watch all of the above: You can get a free seven-day CBS All Access trial, which will get you live preshow and ceremony broadcasts. You can also get free trials of Hulu with Live TV or YouTube TV. If you're the sort of person who signs up for free trials of things and then forgets to cancel, ET will stream its red-carpet coverage on Pluto TV channel 120. And of course, follow along on, ahem, Vulture.com for highs, lows, hot takes, cold takes, lukewarm takes, and updates.