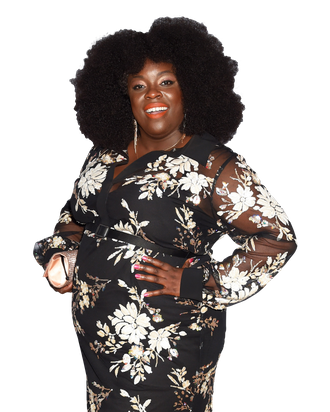 The multidimensional British singer-songwriter is up for Best New Artist at the Grammys this Sunday.
Photo: AFF-USA/Shutterstock
A few years ago, Yola caught fire. That's not a metaphor for the multidimensional British singer-songwriter's speedy rise to the top of a heap of her own creation. 2019 saw her cut a jaw-dropping debut solo full-length record with the Black Keys' Dan Auerbach, collaborate with some of country music's fiercest voices on the Highwomen project, had Elton John himself hype up her cover of "Goodbye Yellow Brick Road," and nab four Grammy nominations, including Best New Artist. But when Yola paused during a recent performance at Brooklyn's Music Hall of Williamsburg to introduce the title track for her barn-burner debut, it was to share the story of the time she — and the rest of her house — literally went up in flames. In 2015, a kitchen appliance caught fire at her home in Bristol, consuming the house with Yola still in it. Thanks to some quick thinking, she lived to tell the tale on Walk Through Fire, the breakthrough album that's burnished her crown as the new "queen of country soul."
Yola, now 36, is full of stories — some joyful, some less so. Her early life was marked by struggle. Born into poverty in Brighton to a mother who dismissed her dreams of working in music, she later survived homelessness and an abusive relationship, and even briefly lost her prodigious voice due to stress. Before she went solo in 2019, Yola had already built an impressive career in the U.K. as a pop singer and songwriter for dance artist Duke Dumont, Will Young, and Sub Focus, as well as the vocalist for British country soul outfit Phantom Limb. She briefly joined Massive Attack as a touring lead vocalist, and played Glastonbury with them back in 2008. In 2016, Yola released her Orphan Offering EP and began touring heavily in the U.S., appearing at several door-opening industry showcases in Nashville — including the 2016 Americana Music Festival, where she caught NPR host Bob Boilen's ear and made enough of a splash to be invited back (and given a better time slot) the next year. That road eventually led her to Black Keys guitarist Dan Auerbach's studio, future critical acclaim, and now the Grammys.
None of Yola's successes has come as easy to her as every genre to which she decides to lend her astounding voice, whether that's pastoral '60s pop, country twang, orchestral bombast, Britpop sheen, or soulful, earthy Americana. Ahead of the Grammys, Yola spoke with Vulture about developing her musical tastes, country music's whiteness, and why she's just trying to survive her ascent.
You were everywhere at the Newport Folk Festival last year. Did you come out of it with any good Dolly Parton stories.
Oh my goodness, if only I had! I flew in to do my part of the Highwomen song, so I was very much with the core band on that day, but the festival was a completely other kind of experience. That felt more like the manifestation of Highwomen — the movement — in actual motion. Looking round and seeing Dolly Parton almost float onto the stage was something that, even though I knew it was happening, was mind-blowing. I was not ever thinking in my life that you're going to be onstage sharing a microphone with Dolly; that wasn't in my "happening in 2019" plan — maybe down the line, but certainly not six months into a debut!
How did that Highwomen collaboration come about?
My album was doing the rounds and Brandi and Natalie had been listening to it, and fell in love with the record. They were like, "We need to call her now!" So me and Brandi are talking on the phone and she's like, "We've got this part of a song that we think you'd be perfect for. We've rewritten the 'Highwaymen' song with stories of the survival of women." Then I heard the song and was like, Okay, this is meaningful, especially in this climate. The only words that flew from my mouth were, "Yes, when are we doing this?" So I flew to Nashville, put down that verse, and sat in on another song, just kind of chiming in some vocals. Sheryl Crow was putting down some bass parts before she came in to sing. We all had this amazing and profound and emotional recording experience.
What had led to Dan Auerbach producing your album?
I listened to [his 2017 album] Waiting on a Song and, sonically, it was a work of art. I loved the layered approach. I loved the drama of it and the dynamic. I was just enamored with his production style. But I didn't really think that it was going to be an option, I just appreciated it. So when his people asked for a video of me playing one of the songs from his album, we recorded a little bit and sent it over, and then he was like, "Cool, can we get her into the studio now?" The next free day we started writing, and we got on the phone and talked about our common ground. It turned out there's a lot of crossover. As much as I've been dubbed by my gang as the "queen of country soul," [my influences] are very genre-fluid, as are his. Even though the Black Keys are very much known for their specific sound, when he came to releasing his own stuff, it's definitely broader in its influence, so that's what we shared. I think the album shows that intersection of country soul and classic rock and classic pop music.
When I saw you in Brooklyn, you were playing the Beach Boys, Elton John — you clearly aren't here to be pigeonholed.
No, not one bit! I think of all the people that I seek to emulate: the Arethas of the world, the Eltons, the Bee Gees, the Joe Cockers, the Graham Nashes — all Brits, apart from Aretha obviously, but very, very eclectic careers. Aretha sang everything, not just straight up soul music, not just straight up gospel music. She touched so many genres; that's always been my thing.
How did you develop this mixed bag of musical interests?
When I was growing up in Britain in the '90s, a few things were true that were maybe not true everywhere else: The U.K. charts were completely schizophrenic. It was the era of things like the Black Crowes. Even the Britpop that was coming out of the U.K. in the late '90s all had this kind of throwback energy — Ocean Colour Scene was a good example of that — and so there was a lot of that happening both culturally and in music and fashion. But also, what wasn't throwback was still eclectic in the way that the chart flows. In the States, you get used to a lot of genrefied radio, but in our Top 10, we could have Beck and Björk followed by KRS-One followed by, oh look, "Black Hole Sun" or Nirvana, and that will be followed by something as equally incongruous as the last thing. The flow of the way that our main radio shows and chart television shows was so genreless that I saw barriers between music a lot less. Between that environment and my mum's record collection, that became my musical education.
You keep getting slotted into the very white, very male country-music space here in the U.S. while coming from this much more amorphous perspective. What has been your experience?
Well, I'm English, and it's worth noting that if you want to know what a white space feels like, just come to England! We excel at both the existence of white spaces and the denial of white places, like, "Oh no, no, we've got that one black person there!" We don't have the same number of black people, percentage-wise, as in the States, so I am, if anything, utterly used to existing in a white space. It's not something that I fear and find as potentially perturbing as someone else might who's used to existing in mixed company. I don't really see myself as a country singer, per se; I don't feel like I need to be included or excluded, and the fact that I am included is a wonderful joy.
But make no mistake, if I'd leaned into genres that are more stereotypically associated with my skin tone, I would've been limited almost immediately. But because no one was expecting what I did musically, then all of a sudden the perception was, you could feasibly do anything. That's a very different space to be in creatively.
Your record's barely been out a year, but it's taken you a while to get to this point. And now you're nominated for four Grammys. What's it like to be inside your head right now?
Well, it's definitely full of cotton wool! It feels like there's no brain in there. I've been too busy to process anything — like, "Yay!" but before you can get to the second y in yay something else happens. That seems to be the nature of these past 11 and a half months, just a seemingly unstoppable roller coaster of good news. Which is great, but it's obviously exhausting, so what's going through my mind is sweet fuck all. When's my next opportunity to sleep? I've got to survive this meteoric rise so I can enjoy it. If I'm dead, what's the point?
I'm just trying to be present in these moments, and enjoy them as much as physically possible. Because now that I've debuted, I've managed to shake off the fear of leaving and demanding things, all of that stuff that was stopping me from being a solo artist. It's a wonderful feeling to have gotten to a point where you're no longer afraid.
This interview has been edited and condensed.
Correction: This post originally misstated Yola's age. We regret the error.