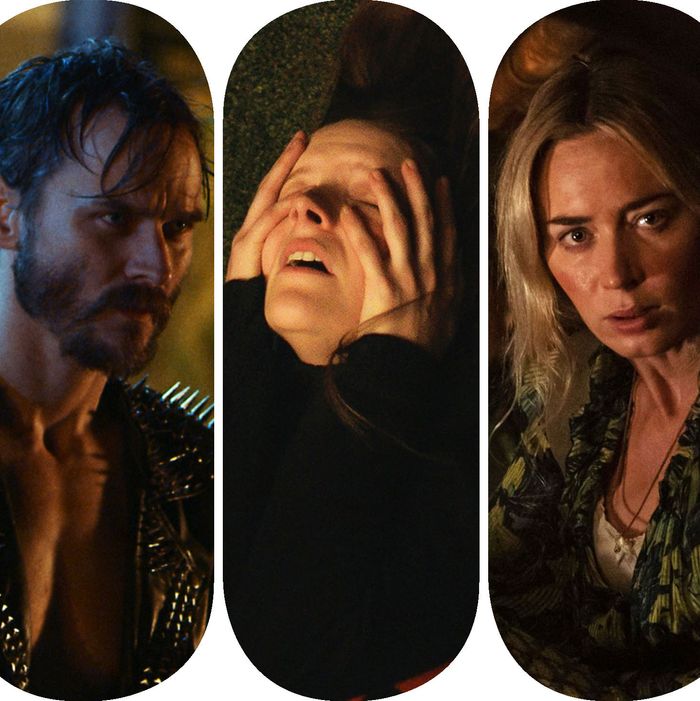 Featuring angry Nicolas Cage, a First Nations community besieged by white zombies, Emerald Fennell's tale of a promising young woman, and a new
Rebecca
.
Photo-Illustration: Vulture, RLJE Films, A24, Paramount Pictures and Fox Searchlight Pictures
Event horror films are coming from all sides in 2020. Big ol' Paramount has A Quiet Place: Part II, and Universal's got another Purge. The mini-major Blumhouse is staying on the IP trend with a new installment to the Halloween franchise and remakes of Fantasy Island, The Invisible Man, and Rebecca (yes, as in Alfred Hitchcock and Daphne du Maurier). Then there's the Jordan Peele–produced revival of Candyman starring Dr. Manhattan himself. And that's just a handful of the dozens of horror titles we're excited about this year, featuring Nic Cage in a Lovecraftian nightmare, a First Nations community battling white zombies, Keri Russell versus a Guillermo del Toro–produced monster, and more. Here are the 35 horror films we're most excited about in 2020.
January
Underwater (Now Playing)
Underwater isolation. A sea monster. Claustrophobic peril. Kristen Stewart with gay hair. This sounds like a great January time at the movies! (Vulture's Bilge Ebiri agrees.)
The Turning (January 24)
The Turning seems like a low-lift January horror drop meant to deliver some easy jump scares, but this spooky-house movie stars Mackenzie Davis, Brooklynn Prince, and Finn Wolfhard, which makes it immediately more intriguing. Davis plays a governess hired by a man recently put in charge of his niece and nephew, but these kids are pretty creepy and they don't seem happy to have a new caretaker around. Floria Sigismondi directs this Turn of the Screw adaptation.
Color Out of Space (January 24)
The Rage Cage returns! In writer and director Richard Stanley's adaptation of the H. P. Lovecraft novel of the same name, get ready for Mandy meets Annihilation after a glowing meteorite crashes into the bucolic backyard of the Gardner family. The landscape, the animals, and the Gardners all start to transform as the UFO perverts the surrounding area, making for crazy violence, grotesque creature FX, a surprising amount of comedy, and Nicolas Cage uncorking his inner fury.
Gretel & Hansel (January 31)
Osgood Perkins has made a pair of very understated horror films in I Am the Pretty Thing That Lives in the House and The Blackcoat's Daughter. Now he's taking that muted style to the more fantastic story of Hansel and Gretel. It star Sophia Lillis appears as one half of the titular brother-sister pair who is enticed by a witch into a lonesome house in the forest. It looks like a properly dark take on the classic Grimm fairy tale.
February
Come to Daddy (February 7)
Elijah Wood plays a man whose estranged father reaches out and invites him to come visit his remote home. Mom never really talked about dad, though, and Wood's character, Norval, is in for a very weird and surprisingly violent reconnection.
The Lodge (February 7)
The last feature from Veronika Franz and Severin Fiala was the exquisitely eerie Goodnight Mommy. In this English-language sophomore film, they once again establish a stark and terrible place where threats reveal themselves very, very gradually. Riley Keough plays the soon-to-be stepmom of two young kids who are extremely bitter about their parents breaking up, but all three of them are stranded at a snowed-in cabin while dad's arrival is delayed by work. Alone in a whiteout, are the kids turning against Keough's Grace, or is the lodge turning against them all?
After Midnight (February 14)
Director and co-writer Jeremy Gardner stars in this movie about a man wrecked by the recent dissolution of his decade-long relationship, and adding to his hard times is the monster trying to break into his house every night since she left. Is it actually her? Is he crazy? Is there really a beast terrorizing him? Find out!
Fantasy Island (February 14)
This is not the Fantasy Island of your parents! A group of people do fly into a dazzling island getaway with that big white house and a long wooden dock to welcome them at the shore, and a resort assistant does say a version of "The plane!" when they land. But the fantasies on offer here are considerably darker in the Blumhouse treatment. Want to get revenge on an old bully? Surprise! Here's a torture chamber with that bully locked inside! What?? The Truth or Dare team of star Lucy Hale and director Jeff Wadlow are together again, and it looks like they've made a giant bowl of horror popcorn for us to snack on.
VFW (February 14)
Writer and director Joe Begos saw the release of his run-and-gun vampire movie Bliss last fall, and now he's got a no-holds-barred action-horror sprint coming out in 2020. Stephen Lang plays the owner of a VFW chapter and watering hole that serves as a small peaceful corner in a version of America that has been savaged by an extremely addictive new drug. When a young woman bursts into the bar after robbing the drug lord across the street, the vets pledge to protect her from the sociopath dealer and the hordes of junkies he sends after her to recover the stolen product. Hard-boiled genre icons William Sadler, Fred Williamson, Martin Kove, and David Patrick Kelly co-star.
Brahms: The Boy II (February 21)
Listen: Brahms the haunted doll looks suspiciously similar to the person in charge of handling the opioid crisis and Middle East peace in this current presidential administration, so how could we not be excited for his very cursed sequel? This one even stars Katie Holmes, and we're not about to ignore Katie Holmes and Brahms together in the same movie.
The Invisible Man (February 28)
In Blumhouse's update of this classic Universal monster movie, the writer and director turns The Invisible Man into an allegedly dead domestic abuser who leaves his fortune to the woman he used to beat up. Elisabeth Moss stars as Cecilia, who, still suffering from PTSD due to the abuse, swears that her dead ex is actually alive and terrorizing her — and, oh, potentially invisible. Cecilia has to fight against a whole lot of gaslighting as she struggles for her life in this update from writer and director Leigh Whannell.
March
Swallow (March 6)
Swallow is one of the calmest body-horror movies you'll ever see, but that doesn't stop it from twisting every nerve. Haley Bennett stars as Hunter, a prim newlywed whose domestic malaise leads her to start … eating things … to break up her dull routine and preplanned life. And we don't mean just soft things. We mean batteries. Marbles. Thumbtacks. And more. But trying to digest sharp objects is a bad idea, and when Hunter's secret addiction is discovered, she has to either confront the roots of her compulsion or bury herself behind the guise of a pretty housewife.
The Platform (March 20)
This one looks disturbing. This Spanish film is set in a vertical prison where inmates live two to a cell and they only get to eat when a platform passes through their level and pauses for two minutes while they feast. The horror of it all is that the table starts full at the top, and those near the bottom only get to eat what is left by the end — and hunger makes monsters of us all. The Platform will debut on Netflix.
Vivarium (March 27)
What if you got stuck in a distressingly uniform suburban housing development called Yonder? That's the broad premise of Vivarium, in which Imogen Poots and Jesse Eisenberg co-star as a couple searching for just the right starter home. (A vivarium, it's worth noting, is a typically enclosed area used for raising and observing plants or animals. So, do with that information what you will.)
April
The Other Lamb (April 3)
Attack of the Australians! The Other Lamb is from screenwriter Catherine S. McMullen, and it appeared on the Black List and the BloodList (basically the Black List for horror scripts) back in 2017. Małgorzata Szumowska directs the film, which centers on an isolated religious community called the Flock that is made up of all-female subordinates with one male leader (yikes!). When a member named Selah participates in the "sacred ritual of the birthing of the lambs," it leads to a "transformative experience" that will probably be frightening!
Sea Fever (April 10)
Irish filmmakers really know their way around moody suspense, and this movie from director Neasa Hardiman stars Hermione Corfield (Rust Creek) as a marine-biology student who gets stranded at sea with a crew people on the boat she's hitched a ride on. That's already bad enough, but then there's a "bioluminescent force" that starts overtaking the vessel and spreading a mysterious infection among the crew. Talk about cabin fever!
Promising Young Woman (April 17)
Emerald Fennell might be best known for showrunning season two of Killing Eve or from her on-camera work in The Crown, but come spring she'll make waves with this rape-and-revenge movie starring Carey Mulligan. In Fennell's debut feature, Mulligan is Cassandra, a woman who plays vulnerable out at bars to see which shitty men fall into her honey trap. They insist they're "nice guys," but Cassandra knows better, and she's out to make them pay. A former premed student who had to drop out after a traumatic incident, the movie will explore what happened to this once-promising young woman surrounded by bad, bad men, and what she's doing to take out the trash.
May
The Vast of Night (May 29)
The Vast of Night feels like a quaint old Twilight Zone episode about an alien presence in small-town America, but the gorgeous cinematography and art direction place it among the most stunning of prestige horror films. A teenage phone operator and a local radio DJ in 1950s New Mexico set out to solve the mystery of a strange frequency that's invading the airwaves in their town. After playing festivals through the end of last year, Amazon will release Vast of Night sometime this year.
June
Fear Street (June 5)
Leigh Janiak is directing all three films in this planned trilogy adapted from the R. L. Stine book of the same name. The first film will be set in 1994, and it will follow a group of teens who learn that their town has a history of terrible, interconnected events that have been playing out for centuries. The other installments take place in 1978 and 1666 and then circle back to 1994 again. The Fox project was originally meant to see each of the three films released in successive months, but under Disney ownership it's unclear if that strategy is still in place. Regardless, Fear Street chapter one comes out this summer.
July
The Forever Purge (July 10)
It's the fifth Purge, and it's coming during an election year, near to the Fourth of July holiday. We're in. Bring on Purge Night.
September
A Quiet Place: Part II (September 3)
As if sound-sensitive monsters weren't bad enough, what's left of the Abbott family will venture away from their formerly peaceful farm in A Quiet Place: Part II to find a lot of awful people are roaming the postapocalyptic landscape, too. This creature-feature sequel, also written and directed by John Krasinski, will fill in some of the backstory on how the end-time started and bring back Emily Blunt with a shotgun. They better wear socks this time!
Candyman (September 25)
Nia DaCosta takes over the legacy of Bernard Rose's classic from 1992 with this "spiritual sequel" to his original story. New Candyman takes place in the same place as the first film, but the Cabrini-Green neighborhood has been gentrified over the past three decades. Watchmen's Yahya Abdul-Mateen II takes over the iconic titular character from Tony Todd, and if he's still stalking the same area, then his victims might look a lot different this time around.
Last Night in Soho (September 25)
Plot details are still scarce for Edgar Wright's next film, but it does star Thomasin McKenzie as a young woman who develops a connection with a character played by Anya Taylor-Joy, and that link results in a time-travel situation that brings them back to London in the 1960s. Wright has cited Repulsion and Don't Look Now as inspirations for the movie, which sounds like a very promising fall genre offering.
October
The Witches (October 16)
This Robert Zemeckis interpretation of the 1973 Roald Dahl book of the same name stars Anne Hathaway in the role of Grand High Witch. Anjelica Huston made the role iconic in the 1990 film adaptation, but Hathaway's incredible capacity for camp and theater-size performances onscreen makes her a very exciting successor to the role. And let's be honest: Any Witches movie is going to live or die by the Grand High Witch.
Halloween Kills (October 16)
The second movie in Blumhouse's planned Halloween trilogy arrives this October, and it has all three Strode women returning (Laurie, daughter Karen, and granddaughter Allyson), along with a few faces from the beginning of it all. Current Real Housewife Kyle Richards will reprise as Lindsey Wallace from the original film, and Anthony Michael Hall will play the grown-up Tommy Doyle, another Halloween 1979 character. We love nostalgia casting, but just give us more Judy Greer this time!
December
Escape Room 2 (December 30)
Call us suckers for a fluffy murder franchise, but Escape Room is like, "What if Saw and Hostel, but not so angry?" Adam Robitel directed the surprise hit that kicked off 2019, and Sony is confident enough in the follow-up to get it on the books for this spring. Our two heroes from the first film successfully completed the deadly escape room (RIP, Deborah Ann Woll!) and finished the movie vowing vengeance on the people who entrapped them. Let's go!
Date TBD
Antebellum
The trailer for this Janelle Monáe–starring horror movie (co-produced by Get Out and Us filmmaker Sean McKittrick) arrived in November and took everyone by surprise. The story follows Veronica (Monáe), a successful author who somehow finds herself trapped in a terrifying alternate reality (the title might give you a clue as to what kind of alternate reality that is). First footage cuts back and forth between modern times and the Civil War era, where black people are running for their lives from gray-suited soldiers. Veronica appears in both timelines, where a sinister presence seems to be stalking her in the present day too.
Antlers
The last best-known horror movie that took place in Oregon was Green Room, and folks, the report on the state is not getting much better with Antlers. Keri Russell plays a small-town teacher, and Jesse Plemons plays her brother, the local sheriff, and both of them will become involved with a little boy keeping a terrifying secret. And by that, we mean there is a hideous monster. Antlers is produced by Guillermo del Toro through Fox Searchlight, which also made his Oscar winner The Shape of Water.
Blood Quantum
Mi'gmaq filmmaker Jeff Barnaby wrote and directed this movie about a First Nations tribe (his own, in fact) dealing with a siege by the undead on their Red Crow reserve. The Mi'gmaq, however, are immune to whatever is causing this zombie contagion, which means they have to fend off a bunch of white walking dead. Quantum will arrive on Shudder later this year.
I'm Thinking of Ending Things
This road-trip movie is advertising "palpable tension, psychological frailty, and sheer terror" from writer and director Charlie Kaufman. Stars on board include Jesse Plemons, Jessie Buckley, Toni Collette, and David Thewlis, and the story centers on a woman who starts to reexamine her whole life as she tries to break up with her boyfriend. Ending Things will debut on Netflix later this year.
The New Mutants
Two years after it was originally slated to premiere, this dark entry into the X-Men universe will finally (allegedly) arrive in theaters this April. Anya Taylor-Joy, Charlie Heaton, and Maisie Williams are among the young mutants trapped in a secret facility that they have to fight their way out of to survive. It's hard to be optimistic knowing New Mutants has been pushed so many times, but of course that means we're even more curious to see what this movie actually looks like.
Rebecca
Ben Wheatley directs this adaptation of the gothic horror classic based on Daphne du Maurier's novel. Armie Hammer stars as Maxim de Winter, with Lily James as his new bride, the one who moves into his grand home, Manderley, and is haunted by the looming presence of his beautiful deceased wife, Rebecca. Let's see justice for Mrs. Danvers this time around, a queer horror icon! Rebecca will debut on Netflix.
Saint Maud
This year's beautiful A24 horror movie comes from British writer and director Rose Glass. Saint Maud follows a zealous private nurse who becomes obsessed with saving her posh employer. That might mean some tough love, self-harm in the name of religious devotion, and maybe even eventual possession by some sort of spirit — whether it's a holy or unholy one, we really couldn't say.
Spiral: From The Book of Saw
So, Chris Rock is starring in a new Saw movie written by Pete Goldfinger and Josh Stolberg, based on a story that Rock came up with. The comedian and actor (and also producer, in this case) will play a detective trying to solve a series of gruesome murders (obviously), and he will be joined by Samuel L. Jackson as his dad, along with Marisol Nichols and Max Minghella in supporting roles. Okay!
Untitled Blumhouse Movie
Vince Vaughn makes his return to lighter fare in this horror-comedy from Blumhouse that revolves around the body-swapping of a large male serial killer and a petite teenage girl. Vaughn is the murderer terrorizing a small town, and Kathryn Newton plays the introverted high-school student, meaning you actually get to see him play an adolescent girl while she's a hardened sociopath on a killing spree. Happy slashing! The Blumhouse title should arrive sometime in the second half of the year.