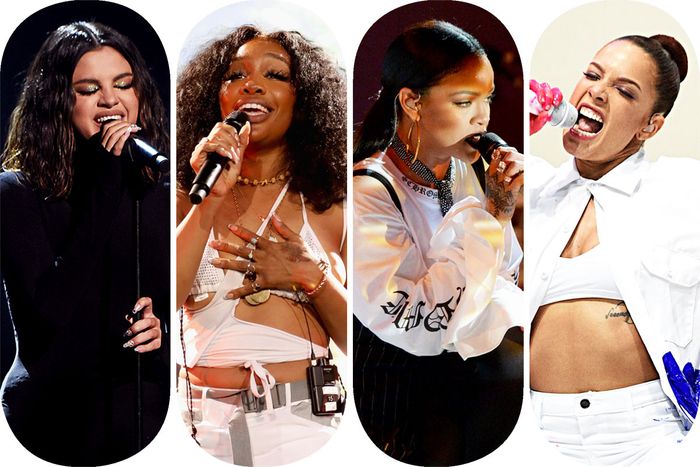 Photo: Vulture and Getty Images
How many of us woke up on January 1 empty-handed, robbed yet again of a chance to luxuriate in Rihanna's elusive new album? Oh, that's right — all 7.8 billion of us. It's a new decade and the same old story: Artists will do as artists do, which in the '20s, just as it was in the '10s, means just about anything goes. An album can exist in whatever form you want; you don't even have to call it an album at all. And while technically Friday is designated as the Global Release Day for new music, we've all caught on that it's still an artist's choice to observe it, and few of them do. Release dates come and go without the work to show for it (looking at you, Kanye), or no release date is mentioned at all and, boom, a new project appears on all the streaming services overnight (hi, Beyoncé).
What's the best way to tell someone's about to do something in 2020? Watch their social media like a hawk. If a profile picture goes black or an Instagram feed is wiped clean, alert the masses. We're on album watch, baby! Until then, here's a general idea of what we know is coming, what we think we know is coming, and, uh, everything in between.
January
Selena Gomez, Rare (January 10)
Selena Gomez hasn't put out an album in nearly half a decade, a lifetime in pop years. 2015's Revival was seen as the bridge between Selena's Disney days to young adulthood, meaning it was hypersexual, more assertive, and better than most of her earlier music. But when her health and personal life took a nosedive, so did her music career. The road to her third album, Rare, happened in fits and starts with the singles "Bad Liar" and "Fetish" (now bonus tracks), then took a back seat to her emergency kidney transplant and mental health treatment. After a series of EDM and Latinx music features, her solo career resumes this month with Rare; judging from the Justin Bieber cleanse "Lose You to Love Me" and defiant "Look at Her Now," it'll be intimate, mature, and hopefully a sign that she's back on track. —Dee Lockett
Mac Miller, Circles (January 17)
Mac Miller died at 26 in September 2018, just one month after releasing what was later assumed to be his final album, Swimming. But Miller was famously prolific, always in the middle of his next project while working on his latest. Miller's family has now announced his first posthumous album, Circles, will be released on January 17. In their statement, they explained that Miller intended to release Circles as a companion album to Swimming — "two different styles complementing each other, completing a circle" — and that the album was in progress at the time of Miller's death. Producer Jon Brion, who'd been working on it with Miller, then "dedicated himself to finishing Circles based on his time and conversations with Malcolm." The family's announcement continues, "This is a complicated process that has no right answer. No clear path. We simply know that it was important to Malcolm for the world to hear it." —DL
Halsey, Manic (January 17)
Halsey's third album is her first written in a manic state, a symptom of her bipolar disorder and now the album's namesake. As such, she's said it won't be tied down to a singular sound, instead exploring "hip-hop, rock, country, fucking everything." Its first singles have been true to her word: "Nightmare" is a trap-punk freak-out; "Graveyard" is a killer pop power ballad; "Clementine" is minimal whimsy-pop; and "Without Me" is a Justin Timberlake–sampling Hot 100 gem. The album will also have interludes named after and featuring Alanis Morissette, Suga from BTS, and Dominic Fike — "three people who I think really represent parts of my psyche, and parts of my personality in so many different ways," Halsey explained on Instagram live. —DL
Kesha, High Road (January 31)
Too much of the Kesha narrative in the 2010s was dominated by her lawsuit accusing megaproducer Dr. Luke of physical, sexual, and emotional abuse. 2017's Rainbow was her redemption album; this month's High Road, her fourth album, is an opportunity to get back to having fun without all the behind-the-scenes trauma that stained her early "Tik Tok" years. Lead single "Raising Hell" pairs her with Big Freedia for a big-pop radio hit in the key of Katy Perry and fun. to great effect. But there's drama at every party and High Road doesn't avoid getting serious for a moment or two (see: the excellent Sturgill Simpson and Brian Wilson collaboration, "Resentment"). —DL
February
Green Day, Father of All Motherfuckers (February 7)
Thirteen albums in, Green Day are still discovering new facets to their sound that either weren't there before or were there all along, unnoticed. Father of All Motherfuckers and its title song see Green Day exploring garage rock, the way Green Day used to with their side project Foxboro Hot Tubs, and on the 2012 GD single "Stray Heart." It's less polished, more lo-fi, and distorts Billie Joe Armstrong's unmistakable vocals for a change. It's exactly the revamp Green Day could use going into a new decade, where you'll catch them revisiting the past on an all-star tour with Fall Out Boy and Weezer this year. —DL
Tame Impala, The Slow Rush (February 14)
Tame Impala architect Kevin Parker hasn't released an album since his 2015 mainstream breakthrough Currents, but if you lurk album credits, you know he had a hand in songs that made it onto Kanye West's Ye, Rihanna's Anti, Lady Gaga's Joanne, and Travis Scott's Astroworld. He also released a trio of songs in 2019 that we now know to be tentpoles for Tame Impala album number four, February's The Slow Rush. Between the hazy "It Might Be Time," the bubbly "Borderline," and the six-minute prog-rock jam "Posthumous Forgiveness," it looks like Parker's on track to outdo himself once again. —Craig Jenkins
BTS, Map of the Soul: 7 (February 21)
Is there a more generous musical act on the planet than BTS? In terms of output, the K-pop kings have everyone beat. After the briefest of vacations (we're not convinced they actually took it!), the group is back next month with a sequel to last year's Map of the Soul: Persona, now onto Map of the Soul: 7. In under a year, they dropped three projects and all of them went No. 1 in the U.S., a feat not accomplished since the Beatles. Really, what can't BTS (and their ARMY) do? —DL
The 1975, Notes on a Conditional Form (February 21)
Brit rockers the 1975 set a goal to release two albums in six months, the way most pop and rap stars do these days, but that plan didn't quite pan out. November 2018's A Brief Inquiry Into Online Relationships was a state of the union on our crumbling modern society as it clashes with technology; Notes on a Conditional Form was meant to follow in spring 2019. As the band now takes time off from touring to finish the record, the new target date is February 21. Whenever it comes, expect more political and relationship commentary over dubstep ("Frail State of Mind"), Greta Thunberg speeches (this album's eponymous intro samples her), and classic punk ("People"). —DL
May
Weezer, Van Weezer (May 15)
Weezer are on to album number 15 with May's Van Weezer, as part of their mega nostalgia tour with Green Day and Fall Out Boy. Rivers Cuomo has said it'll be metal- and hard-rock influenced (hence, the title) and, well, lead single "The End of the Game" is exactly what that promises. He's also described the album as "Blue Album–ish, but a little more riffy." —DL
Sometime in 2020
Rihanna
The journey to new Rihanna music has been a winding road, but our Fenty overlord has not left us without gifts. In the four years since Anti, Rih has branched out into fashion and cosmetics, guested on singles by Future and Kendrick Lamar, and starred in Ocean's 8 and Childish Gambino's Guava Island. Still, the dance hall album we were promised looms on the horizon. Will 2020 be the year the singer dives fully into the style that brought us gems like "Work," "Cheers (Drink to That)," "Rush," and her cover of the '90s jam "You Don't Love Me (No, No, No)"? Or will it be another year of impeccable outfits and Fenty world domination? —CJ
Justin Bieber
Gird your loins for the return of R&Bieber, the, uh, grown 'n' sexy alias of the pop star formerly (but also forever) known as Justin Bieber. It's been more than four years since the Biebs put out an album, 2015's soul-searching Purpose, and in that time he's disappeared from making music of his own to work through some personal issues, marry Hailey Baldwin, and figure out what he wants out of life as a 25-year-old dude who's been world famous throughout his most formative years. But what does Bieber want out of his music? After dabbling in EDM, Spanglish, country, and dance hall on features during his semi-hiatus, his comeback solo single "Yummy" transports the singer back to the 2013 mixtape Journals, his last pivot to R&B. The new stuff isn't as immediately promising (food innuendos get stale pretty quick), but we'd all be fools to write off the Biebs after one single. Still to come is a full-length album (release date TBA), a tour, and a YouTube docuseries beginning January 27. —DL
Frank Ocean
Frank Ocean was unusually active as 2019 came to a close, between his PrEP+ parties and the release of the singles "In My Room" and "DHL," whose cover art was received by fans as a hint at a coming follow-up to 2016's Blonde and Endless. He's since been announced as a Coachella 2020 headliner. If the new tracks are any indication of a new direction for the artist, he may be merging the hip-hop beats and cadences of Endless with the sexual and emotional honesty of Blonde. —CJ
Adele
Here's a list of things we know about Adele's follow-up to 2015's record-obliterating 25: It won't be titled after the age she was when she wrote it, like all the others (unless she changed her mind). It doesn't feature Nicki Minaj (or does it?). It doesn't involve Coldplay and Beyoncé on the same song with her (we hope). And it's definitely still not here (sigh). Though an international label exec previously blabbed that both Adele and Rihanna were set to drop in December 2019, the month came and went and still our watch continues. In a birthday Instagram post last May reflecting on her 30th year, which saw the end of her marriage, Adele roasted both her critics and her own age-title tradition in the caption: "Bunch of fucking savages, 30 will be a drum n bass record to spite you." Orrrrrr maybe it'll lean toward grime, if Adele's undying love for Stormzy (and, ahem, Skepta) has rubbed off — could #A4 become her first album to include features? Adele makes her albums mostly off the grid; don't expect to hear a peep about the next one until she decides to say hello again. —DL
Lady Gaga
Call it #LG6, call it Adele, whatever Lady Gaga's cooking, we're devouring. Back in March 2019, Gaga announced in the middle of the Star Is Born blitz that she was with child — an album, that is. Since then, she's played devilishly coy about the follow-up to 2016's lukewarm (to some people) Joanne, joking (we think) about naming it after Adele, getting weird on Twitter, and apparently letting the rapper CupcakKe hear it. At this point, #LG6 is technically past its due date, but Gaga assured fans as recently as December that she's still slaving away on it. —DL
SZA
SZA's 2017 debut CTRL was a breakthrough, star-making moment for the singer, and ushered in a new generation of R&B talent that followed. In the years since, SZA has stayed busy touring and with features, but hasn't released much new solo material. That's about to change, as SZA swears her sophomore album is ready and it's just a matter of logistics from here on out. So stay on your toes! —DL
Lana Del Rey
Lana Del Rey's music is as much a feat of enticing melodies as it is of novelistic details in the lyrics, so it comes as no surprise that she would eventually want to explore the power of her words outside of the confines of songwriting, as predecessors Joni Mitchell and Jim Morrison have done in the past. Lana's promised to release a spoken-word album to ring in the new year (that's yet to have its title announced), another album called White Hot Forever sometime within the year, and Violet Bent Backwards Over the Grass, the poetry book she announced she would be self-releasing last spring, is still somewhere in the pipeline. If any of it is as brutally honest as Norman Fucking Rockwell, we're in for a treat. —CJ
Cardi B
Cardi B came out of the gate hot with her debut album, Invasion of Privacy, which went on to become the first album by a solo woman rapper to win the Grammy for Best Rap Album. But sometimes lost in that incredible story, and what makes all the accolades more impressive, is just how quickly she put that record together, and while sick and heavily pregnant for the end of recording at that. With her sophomore album, though, Cardi's taking her time and feeling out what kind of artist she actually wants to be. If you follow her on Instagram (which, what are you doing if you're not?), you'll notice she's been going through a bit of an artistic identity crisis, and frequently asks fans for what kind of "vibe" they want her album to be: trap, ballads, Latinx, etc. That's a question she should be asking herself and those she trusts, but her career's still young. And if the between-album loosies "Press" and "Money" tell us anything, Cardi's still on fire. —DL
Drake (and Drake and Future)
Drake is up to something. Both he and Future have been teasing a new video for something called "Life Is Good," which might be a new one-off collaborative single, something from an upcoming Drake project, something from an upcoming Future project, something from another Drake and Future project (the sequel to 2015's What a Time to Be Alive, perhaps?), or … who hell knows. Whatever it is, it's coming and we've all been put on notice. Additionally, Drake has already announced he's at work on the follow-up to 2018's Scorpion, so brace yourself for another likely Drake-heavy year. —DL
Haim
The Haim sisters have been rolling out their third album seemingly forever, since at least last summer. They've released a number of excellent singles — "Now I'm In It," "Hallelujah," "Summer Girl" — and a number of additions to their Paul Thomas Anderson music-video collection to go with the new songs, but no word yet on when the full album's expected for release. One thing we do know? Danielle, Este, and Alana sound like they're completely in the zone. —DL
The Dixie Chicks, Gaslighter
The Dixie Chicks got a raw deal. The country trio voiced opposition to the war in Iraq in 2003 and quickly found themselves on the business end of a powerful boycott that pitted the group against the very community they grew up serving. True fans stayed put, though, and recent work with Beyoncé and Taylor Swift proved the Dixie Chicks are still a force, both live and in the studio. Gaslighter, the trio's first album in 13 years, picks up where 2006's Taking the Long Way left off. Produced by Taylor Swift and Lorde collaborator Jack Antonoff, the new album is set to tell the story of singer-songwriter Natalie Maines's harrowing divorce. Is Nashville ready to make nice? —CJ
Kendrick Lamar
While TDE figures out where to slot SZA on their release calendar, it goes without saying that Kendrick Lamar is always ready to shake things up. He's been saying since 2017 that a follow-up to DAMN. is in the works, though at the time, he couldn't quite put into words its concept. Whether that's changed or if the album we'll get next is even the one he was talking about then is anyone's guess. He's since curated the soundtrack for Black Panther and reportedly had his first child. As with all things Kendrick Lamar, and the music business at large, expect literally anything to happen. —DL
Dua Lipa, Future Nostalgia
Hot off her Best New Artist win at the Grammys last year, British pop star Dua Lipa is keeping the momentum up in 2020 with her sophomore album, the follow-up to her impressive 2017 debut. Future Nostalgia doesn't have a release date yet, but its rollout is in full swing. We've heard a taste of the nostalgia side in the disco-pop first single "Don't Start Now," and a bit of the future in the title track (which sounds a lot like Britney circa Blackout and Katy Perry circa infinity, but who's counting?), and we're here for all of it. —DL
Ty Dolla $ign
Ty Dolla $ign is a jack-of-all-trades, a hook man with a ten-year track record of hits, a producer whose musicality behind the boards is just as capable as it is in the booth, and an architect of studio albums that bridge the gap between trap, soul, R&B, and funk, calling stars from different eras to the table to make something greater than the sum of its parts. Ty's been promising a new album since the one-two punch of last spring's J. Cole–assisted chipmunk-soul jam "Purple Emoji" and summer's killer Juicy J and Project Pat team up "Hottest in the City." If the next solo album is anything like the last two, 2015's Free TC and 2017's Beach House 3, brace yourselves for unforgettable melodies and guests for days. —CJ
Hayley Williams, Petals for Armor
If, like me, you've been waiting 15 years for Hayley Williams to make a solo record, I have good news: Our time has come. Though some might argue that Paramore is, and was, always a Hayley Williams vehicle (this fight led to dramatic lineup changes over the year), the fact is that Paramore is the brainchild of multiple people. But this year, Williams has announced that her first work under her own name is coming and it's called Petals for Armor, possibly out as early as January 22. Williams hasn't said a word about what it'll sound like, only that "with the help of some of my closest friends, I made something I'm going to call my own." Will she go country, pop, rock, all of the above, or throw us a curveball? Your guess is as good as ours. —DL
Lil Uzi Vert, Eternal Atake
The saga of Lil Uzi Vert's long-delayed sophomore album is a wild one, involving label bickering, leaks, and even Uzi's temporary premature retirement. But with the release of "Futsal Shuffle 2020" and its viral dance challenge, things seem to be progressing toward a release. If you believe his interactions with fans on Twitter, Eternal Atake might be imminent (ditto for his friend and frequent collaborator Playboi Carti's long-delayed Whole Lotta Red) —DL
Run the Jewels, Run the Jewels 4
If, by now, you don't know to expect nothing short of a rap master class from El-P and Killer Mike, one of modern hip-hop's greatest pairings, get with the program. The duo, which performs as Run the Jewels, has confirmed, via El-P on Twitter, that its fourth collaborative project will drop this year and, according to El-P, it's "hard as fuck," which is hardly breaking news. 2020 needs this. —DL
Lil Baby, My Turn
Atlanta rapper Lil Baby's rise to the top of the rap game has been so meteoric, he's already set to drop his sophomore album after dropping his debut barely two years ago. Lead single "Woah" is a certified hit, like pretty much everything Lil Baby touches (with or without his go-to collaborator Gunna). If he keeps playing his cards right, the argument over who's rap's best baby will only keep getting tougher (but still just as amusing). —DL
Fiona Apple
Fiona Apple does as Fiona Apple damn well pleases and, lucky for us, this year she feels like putting out an album. Apple broke the news to Vulture last year that her fifth album, the follow-up to 2012's The Idler Wheel... is coming, eventually. Just let her be, as you were. She said, "I mean, I don't know! It's hard to say. I was supposed to be done a million years ago. And I go off and I take too long making stuff. I'm hoping for early 2020. I think." Ready whenever you are, Fiona, zero pressure! —DL
Billie Eilish
Though Billie Eilish could probably use a year or two off to, I don't know, go be a teenager, there's no stopping her now. Eilish is a whole movement, a phenomenon that has both Grammy attention and the attention of Gen Z and us olds alike. She came of age in the SoundCloud era, which means it's nothing to her to put out her debut album one year, then her sophomore album the next. Feasibly, we could see another Eilish project this year. Toward 2019's end, she released a new song reflecting on her global takeover and all the anxiety that comes with it, but struggled to describe the sound of the rest of the new music she's making in an interview with Variety. Meanwhile, her older brother and producer, Finneas, offered: "J. K. Rowling had to figure out what happened after Sorcerer's Stone, and for us, album two will be like what happens next to the person who went through the first record." —DL
Young Thug, Punk
It's undeniable that Young Thug is in his bag right now; take one look at the charts and you'll see his name all over it, from "Hot" to Travis Scott's "OUT WEST" to "The London." Less than five months ago, he put out what is technically his proper studio debut, So Much Fun, to rave reviews and is already set to drop a follow-up called Punk sometime this year. The latter album he's described as "touching music, music that the world is going to embrace. [Punk] means brave, not self-centered, conscious. Very, very neglected, very misunderstood. Very patient, very authentic." He's also called it "real rap," meaning that it "lets people in, letting people know what you go through. Let them know that you the same." He's also mentioned that a joint album with the late Juice WRLD exists, but its status is unknown. —DL
Niall Horan, Nice to Meet Ya
Truthfully, I don't think we have fully met Niall Horan, the former One Direction member whom, if nothing else, you probably know as the Irish one. His 2017 debut solo album showed promise, but hot off an SNL gig, he seems more sure of himself and sound, going the Ed Sheeran route with twice the soul and sense of fun. "Nice to Meet Ya" is throwback pop-rock in the best way; "Put a Little Love on Me" is a genuine Elton John impression. We're ready for ya, Niall. —DL