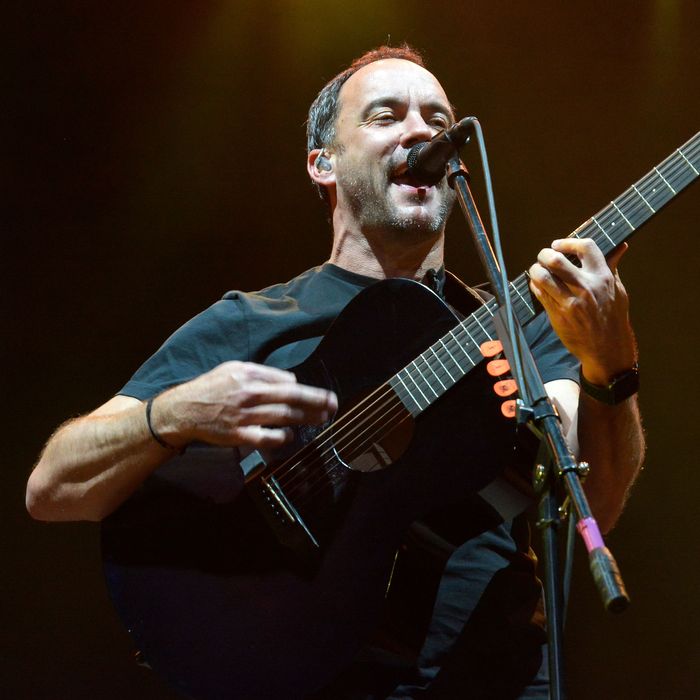 Dave Matthews just doesn't think he belongs. The fans say otherwise.
Photo: Medios y Media/Getty Images
Much to the delight of beef enthusiasts everywhere, the Rock and Roll Hall of Fame has been a reliable source of drama, both petty and perhaps justified, over the past few years. Steve Miller's speech outburst in 2016? Iconique. Mark Knopfler's continued insistence that Dire Straits' 2018 induction never happened? Inspiring. A lot of inductees flat-out refusing to do a performance anymore? Power, defined. So, with the 2020 ceremony creeping up on us in a matter of months (and with the inductees being officially announced in January), it's never too early to keep a running list of every morsel of drama, however small it might be, before the big night in Cleveland. Remember — it's not just for your dad anymore!
Motörhead's inducting members.
Motörhead's nomination into the Hall originally included only three members from the band's decade-spanning lineup: Lemmy Kilmister, "Fast" Eddie Clarke, and Phil "Philthy Animal" Taylor, who are all dead. (This practice of picking and choosing the most "integral" members is common for the Hall, especially with bands that have historically filtered through many personnel changes.) Drummer Mikkey Dee and guitarist Phil Campbell were so irate at being left out that, a week after the nominations were announced, the duo successfully pleaded their case to the Hall's higher-ups and were added to the band's ballot. "Thanks to everyone who spoke up loudly," they wrote in a tweet to fans. "All for one and one for all!"
Jann Wenner's resignation.
The Rolling Stone and Rock Hall co-founder, who has been recently plagued with various Me Too accusations, announced earlier this year that he'll be stepping down as the institution's chairman on January 1 after leading the Hall for more than three decades. Wenner will, however, maintain a bit of power by remaining on the board of directors. John Sykes, the president of MTV and VH1, will serve as his replacement.
Trent Reznor's newfound Hall love.
The ultimate twist! A year after declaring that he definitely, 100 percent didn't give a single fuck about the Rock Hall, the Nine Inch Nails frontman surprised himself by admitting … hey, it's actually a pretty cool institution after all. Reznor's turning point? Inducting his favorite band, the Cure, during the 2019 ceremony, which Reznor found to be far more fulfilling than he expected. "It felt validating. I wanted to see them respected someplace I feel they deserve," he explained. "It ended up being a pretty cool experience, and I thought, All right, it doesn't feel as bullshit as I kind of snarkily dismissed it as. I don't have any problem admitting I've changed my opinion about something." Should Nine Inch Nails be inducted, Reznor would be the sole representative from the band to be recognized.
The newfound "sales" criteria.
Alan Light, who's a member of the Hall's nominating committee, admitted something rather peculiar during a recent interview on SiriusXM: Top-selling artists and their sales should now be factored more into the nominee conversation. (He specifically cited Whitney Houston as a prime example. "She's the biggest selling artist who is not in the Rock and Roll Hall of Fame," he said.) As FutureRockLegends reminded us, this is a direct contradiction to the Hall's past criteria for inductees, which strongly stated that "million sellers are not appropriate standards for evaluation." This might signal a more commercial-leaning shift for the institution.
Dave Matthews's inferiority complex.
Love him, hate him, or find him the epitome of average, the fact is that the Rock Hall deemed Dave Matthews (and his titular band) worthy enough of a nomination heading into 2020. Matthews, though, admitted in a recent interview that while he's extremely humbled by the honor, he doesn't totally feel worthy, especially compared to his more tenured nominees. "I feel like I don't belong, but I'm pretty happy to be included … in a pretty outrageous lineup of people. If I'm gonna be in a category of people getting into the Rock and Roll Hall of Fame, it's good to be included in one that makes no sense," Matthews told Billboard. "I was very happy to hear about it, and it is overwhelming. I do feel undeserving and flattered as well by the whole thing, and I think the whole band does, too. We all reached out to each other to say, 'How bizarre is this?'" The jam-bander added: "We made a big enough noise that's hard to ignore us, whether they like us or not." Remember the time their tour bus dumped pounds of human waste into the Chicago River? And riverboat passengers were hit by it? Haha. Memories.
As of publishing time, Dave Matthews Band is leading the Rock Hall's fan vote by a pretty significant margin. (The top five artists for the fan vote will comprise a "fans' ballot" that will be tallied along with the other, "official" ballots to choose the inductees. It's legit — vote if so inclined!)
Dave Matthews Band's fan vote curse.
With more than 1 million votes, Dave Matthews Band decisively clinched the top spot in the Hall's "fan vote," with Pat Benatar, the Doobie Brothers, Soundgarden, and Judas Priest rounding out the ballot — which is counted alongside the rest of the official voting members' ballots with equal merit. However, for the very first time since the fan vote was created for the 2013 induction class, the winner didn't subsequently get inducted into the Hall. Check out this cool lineage: 2013's Rush, 2014's Kiss, 2015's Stevie Ray Vaughan and Double Trouble, 2016's Chicago, 2017's Journey, 2018's Bon Jovi, and 2019's Def Leppard were all inducted the year that they clinched the fan vote win, only for the streak to be broken. Despite the good odds, DMB will just have to wait until next year for another opportunity.