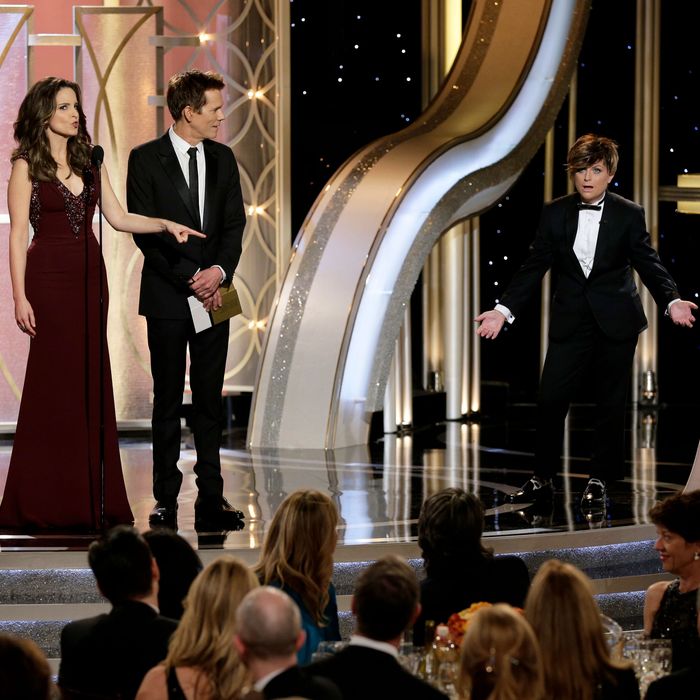 There's a reason these two are coming back to emcee an awards show in 2021.
Photo: Getty Images
When the Academy Awards ceremony airs next month, it will proceed without a host for the second year in a row. In 2019, the Oscars went without an emcee as a matter of semi-last resort; after the Kevin Hart debacle, a replacement was never found. This year, producers decided to stick with that approach, a route the 2019 Emmy Awards also took with less-than-stellar results.
As I noted after the Emmys, awards shows actually do benefit from having hosts. They just need ones who know how to use their time wisely, particularly at the beginning of a ceremony, which sets the tone for the evening. That's why, even without an official host, the Oscars turned to Tina Fey, Amy Poehler, and Maya Rudolph to kick off the event last year. And that's why, after Ricky Gervais's dismal return to his previously held role as Golden Globes host earlier this month, NBC announced earlier this week that Fey and Poehler, who also hosted the Golden Globes on three prior occasions, will do it again a year from now.
Are Fey and Poehler the only people on Earth who are good at hosting awards shows? No. To cite just one other example of goodness, John Mulaney and Nick Kroll did a great job presiding over the Independent Spirit Awards in 2018. Mulaney's Frances McDormand joke is still one of the greatest things I've ever heard at an awards show: "I bet a fun way to commit suicide would be to cut in front of her in line, then turn around and go, 'Hey, lady: Relax.'"
But Fey and Poehler are the established bests at it. To understand what makes them so good, it's instructive to go back and look at their performances, something I have done at least 20 times over the past five years. (You read that correctly. While the rest of you stare at TikTok or online porn, I rewatch old Golden Globe clips for fun.) Hosting again in 2021 will be a major moment for them. If they pull it off, it could put to rest the idea that awards shows can proceed just fine without any masters guiding the ceremonies.
A big reason that Fey and Poehler are so skilled at this admittedly niche job is that they've known and worked with each other for a very long time. Not only do they, as well as whoever else is assisting them, write good material, they also know precisely how to time their deliveries and play off of each other with natural ease. As we learned when the Globes tapped Andy Samberg and Sandra Oh to co-host in 2018, you can't just put two likable, talented people together and expect everything to magically work. Co-hosts need to have chemistry and a similar sensibility, and Poehler and Fey have an abundance of both.
They also know how to make cynical cracks about the industry without alienating the members of that industry. That doesn't mean they go easy on their peers. In 2014, after noting how much talent was in the room that year, Poehler jokingly told Matt Damon, to his face, that he was "a garbage person" compared to everyone else in attendance. The year after that, Fey essentially called Joaquin Phoenix a hypocrite without specifically using that word. "Joaquin Phoenix is nominated for Inherent Vice but obviously he isn't here tonight because he has said publicly that awards shows are, quote, total and utter bull— oh, hey Joaquin!" she said in the opening monologue, waving at Phoenix, who stood up and waved back. By the way, it's amazing how many of the jokes from five or six years ago could still work in 2020, including this gem, from Fey, at the end of the 2014 monologue: "We're gonna get this show done in three hours, or as Martin Scorsese calls it: act one!" That was a joke about The Wolf of Wall Street. It works even better as a joke about The Irishman.
Fey and Poehler have a unique ability to pull their car up pretty close to mean without actually parking in its spot, a place where Ricky Gervais tends to rev his engine interminably. The subtext, if not outright text, of Gervais's most recent opening Golden Globes speech was, "You're all assholes for being here." The subtext of the Poehler and Fey appearances: "We're all assholes for being here, and so are you for watching this at home, but fuck it. Let's have some fun." Both approaches involve snark, but the latter is somehow snarky and inclusive at the same time.
That inclusiveness came through in all of the Poehler/Fey ceremonies because their fellow actors were repeatedly willing to play along with their gags, and not just in a "Sure, I'll jump into Ellen's Oscar selfie" kinda way, but by becoming drivers of the jokes. When Fey and Poehler pointed out that Julia Louis-Dreyfus, nominated for both a TV role (Veep) and a film role (Enough Said) in 2014, had opted to sit in the film section, the camera cut to Louis-Dreyfus smoking, wearing sunglasses and waving away a selfie with Reese Witherspoon.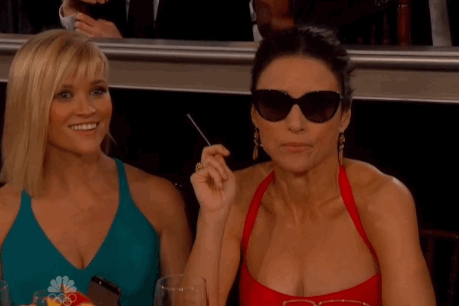 When Poehler and Fey returned to the stage after having lost the best actress in a comedy to Lena Dunham, they pretended to be drunk and said things in the room were getting "sloppy." "Look how drunk Glenn Close is," Fey pointed out, to prove their point. Then the camera cut to Close doing one of the weirdest impersonations of a drunk person to ever air on live television.
These are small, silly moments, but they add to the sense that everyone's at a party together, which is the vibe you want to get from watching an awards show while you're sitting at home in pajama pants eating pizza. More importantly, Fey and Poehler do all of this efficiently. Their Golden Globe asides — remember when they each dressed up as Damian Francisco and Darcy St. Budge, the stars of Dog President, during the announcement of the nominees for outstanding actors in a limited series or TV movie? — were always baked into the existing structure of the ceremony as opposed to appended to it. Consequently, those moments added some laughs without adding a ton of extra time, unlike, say, delivering pizza to the Oscar attendees or bringing a bus full of unsuspecting tourists into the Academy Awards ceremony, ideas that Ellen DeGeneres and Jimmy Kimmel made mildly funny but were ultimately not worth the return on their investment.
But perhaps the greatest assets that Fey and Poehler have is the fact that they are women. In 2017, nearly all the major awards shows — the Golden Globes, the Oscars, the Emmys, the Grammys — were hosted by late night TV personalities, all of whom happened to be white guys. As this week's Oscar nominations and the ensuing heated conversation about them prove, there is also still a white, male stronghold on who gets nominated for many of the key awards season honors. For these reasons, among others, hosts who represent people marginalized by the system — and by that I mean pretty much anyone who isn't a straight, white man — are the ones best equipped to speak to the current moment.
Poehler and Fey have proven more effectively than anyone that their status as slightly lower-class Hollywood citizens — i.e. women — enables them to make jokes that call the industry on its b.s., especially sexism, in a way that a Jimmy or a James or a Ricky can't. At the Globes in 2013, 2014, and 2015, some of their most hilarious, successful jokes were the ones about gender.
Like this one from Fey: "For his role in Dallas Buyers Club, [Matthew McConaughey] lost 45 pounds. Or what actresses call being in a movie."
And this from Poehler: "Boyhood proves there are still great roles for women over 40, as long as you get hired when you're under 40."
This from Fey, in 2014: "[Gravity] is the story of how George Clooney would rather float away in space and die than spend one more minute with a woman his own age."
And then this from Fey in 2015, after Clooney finally settled down with a spouse: "George Clooney married Amal Alamuddin this year. Amal is a human rights lawyer who worked on the Enron case, was an advisor to Kofi Annan regarding Syria, and was selected for a three-person U.N. commission investigating rules of war violations in the Gaza Strip. So tonight, her husband is getting a lifetime achievement award."
In retrospect, the fed-up undertone in all these quips seems like foreshadowing for the explosion of the #MeToo and Time's Up movements that would dominate the Golden Globes conversation in 2018, taking place three years after the last time Fey and Poehler hosted. Crowd shots of the audience during those previous ceremonies capture images of Kevin Spacey, Les Moonves, and Harvey Weinstein, all sitting there, enjoying themselves, blissfully unaware that they would ever face a reckoning for their behavior.
Fey and Poehler even incorporated Weinstein into a bit. In 2015, Poehler dressed up as Fey's son from a previous relationship, Randy, who was forced to serve as Mr. Golden Globe. When Fey noted that Randy's father is somewhere in the audience, Poehler wandered around the audience, pointing first at Idris Elba — "Is it him?" — and then at Weinstein. "Is it him?" she asked and the entire room started laughing because Weinstein's reputation around women was an open not-so-secret secret. Poehler may have slyly been attempting to shine a light on that, but in 20/20 hindsight, the laughter in the room reeks of complicity.
Poehler and Fey tip-toed and sometimes stumbled a bit as they tried to deal with situations like these. When Woody Allen received the Cecille B. Demille Award in 2014, the only joke they made involved the fact that both Allen and Scorsese, a previous recipient of the same honor, were both men with big glasses.
In 2015, as more of Bill Cosby's accusers were beginning to go public, they did make a few jokes about Cosby drugging women. "I put the pills in the people," Fey said in a Cosby voice while some of the stars in the audience looked on, aghast. The jokes belittled Cosby, which is appropriate under the circumstances, but also belittled the nature of his crimes at the same time.
Now we obviously know the full breadth of what Cosby did, and what Weinstein did, and what so many other men have done while many in Hollywood looked the other way. In the years since Poehler and Fey hosted the Globes, only one woman — Sandra Oh — has hosted or co-hosted one of the most widely watched award shows in movies and TV: the Golden Globes, the Academy Awards, and the Emmys. Watching what Poehler and Fey do in 2021 will carry even more significance for that reason.
Fairly or not, awards shows have become litmus tests for the film and television business. As the response to this week's Academy Award nominations prove, we look at who is nominated for Oscars and other awards as states of the union on the progress Hollywood is (or is not) making toward becoming more inclusive. Awards shows are not the only measure of that, of course, but they do serve as one metric. Poehler and Fey's appearance at the Golden Globes next year will serve as another state of the union, one that assesses how far these women will go in this (theoretically) new era to take jabs at the industry, and how willing people will be to laugh at themselves if and when they do.