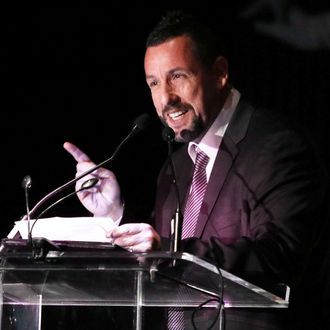 Adam Sandler
Photo: Kristina Bumphrey/StarPix/Shutterstock
Adam Sandler presented filmmaking duo Josh and Benny Safdie with the Best Director Award for Uncut Gems at the New York Film Critics Circle Awards on Tuesday night, and he had plenty to say about his experience working with them. "I will never forget the first time I heard about the Safdie brothers," Sandler said. "Actually that's a lie, apparently my manager mentioned them every year for the past 12 years." Sandler, who has received critical acclaim for his starring role in Uncut Gems, dipped into his signature character voice for the majority of his speech. "A lot of people have asked, 'Is working with two directors on the same movie difficult, Adam Sandler?'" he told a laughing crowd. "To which I say, 'It's kind of like being in a threesome. You can't look like one is giving you more pleasure than the other.'"
Sandler was among the many celebrities at the NYFCCAs, including Brad Pitt, who introduced Quentin Tarantino; Yahya Abdul-Mateen II, who introduced Lupita Nyong'o; Ethan Hawke, who introduced Antonio Banderas; and Reese Witherspoon, who introduced Laura Dern. Robert De Niro and Martin Scorsese were also there, helping a press-shy Joe Pesci accept his Best Supporting Actor Award. They were seated closest to the stage, so close that Best Foreign Film recipient Bong Joon Ho couldn't help but remark on his proximity, geeking out over Goodfellas when he saw the director.
But Sandler's speech was the highlight of the night, and you can read and watch the ode — shot by an audience member — here:
Hello, my name is Adam Sandler. What is up, New York Critics Circle? It's the square. I'm here tonight to honor the brothers Safdie.




I will never forget the first time I heard about the Safdie brothers. Actually, that's a lie. Apparently my manager mentioned them to me every year for the past 12 years, but I did what I always do when my manager talks to me — I tuned out. But then everyone said they made Good Time, and I knew I had to meet them, if they were good enough for Jimmy Walker. That is all I needed to know. Then I watched Good Time, and my first thought was, Where the fuck is John Amos? They told me he had been unavailable, but they would put him in a movie they had for meee. That movie, they told me … [drops voice] Wait, where am I? [Continues voice] The movie was called Uncut Gems.




Wait for applause. Hold left hand up to stop applause. [Raises left hand.] Gesture with right hand to keep applause a'coming. [Gestures with right hand. Audience erupts in applause.]




I was so excited when I finally met Josh and Benny. I knew immediately that they would join a list of famous brothers like the Wright brothers, the Ringling brothers, the Everly brothers, and of course the ones they emulate the most, the Menendez brothers. I found it very interesting that they were nothing alike, yet they both shared a vision of how amazing I was. And I respected them for that.




How do you tell the Safdie brothers apart? Well, Josh looks like a crazed Yeshiva student who could possibly shoot you. And Benny looks like a friendly dentist, who also could possibly shoot you. The more I got to know the Safdies, the more I got to learn they did have some similarities. They are both proud film historian virtuosos who graduated from the prestigious College of Communication at Boston University and feel most comfortable naked while wearing a yarmulke. They both can roll joints so big, Bob Marley would go, "I can't smoke all that shit. I got things to do this week." And they both enjoy writing and shooting and editing movies that make you want to text your therapist and say, "I need an appointment right fucking now. I don't care what fucking time it is. Come! Help me!"




A lot of people have asked, "Is working with two directors on the same movie difficult, Adam Sandler?" To which I say, it's kind of like being in a threesome. You can't look like one is giving you more pleasure than the other. Josh might come up to me and say, "Maybe play the scene a little more like this." And I say, "That's a great idea, Josh." And then as I get to the set, I get real close and whisper in Benny's ear, "I like your brother's idea, but the whole time I'm doing it, I'll be thinking of you."




[Drops voice again] Honestly, the Safdie brothers are tremendous.
A full list of NYFCCA recipients can be found here.