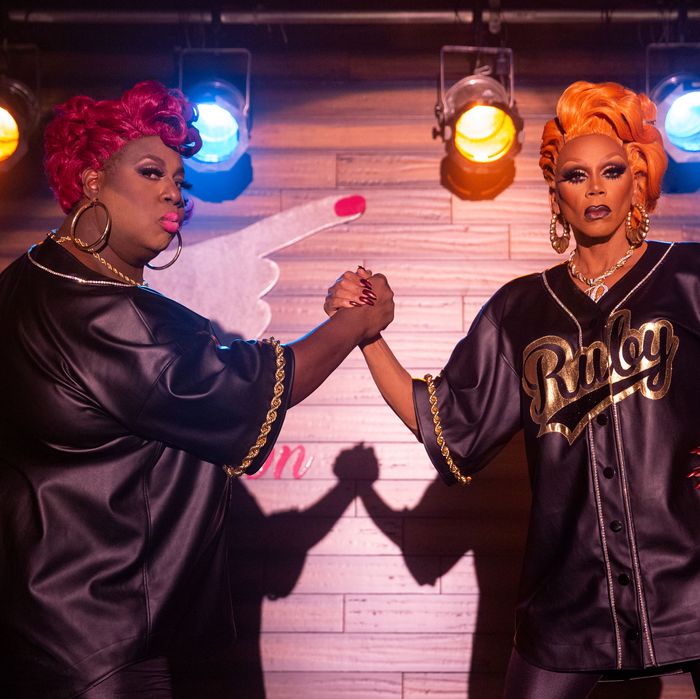 Like Latrice Royale
wasn't
going to grace
AJ and the Queen
with her presence.
Photo: Beth Dubber/Netflix
The new Netflix comedy series AJ and the Queen is the biggest acting role to date in the career of America's most popular drag queen turned reality-competition host, RuPaul Charles. The first season, which hit Netflix January 10, stars RuPaul as Ruby, a scammed queen who forges a friendship with a 10-year-old on the run during her comeback tour. But don't be mistaken, henny — this isn't The RuPaul Show. Along with Ru's co-star Izzy G. as the titular AJ, no fewer than 22 former Drag Race queens join RuPaul on the show for a variety of cameos and guest roles, with a healthy helping of show references sprinkled throughout. Want to skip ahead to your fave, or just skip that queen you could not stand? We've chronicled every appearance for you, in order.
Episode 1, "New York City"
Valentina and Eureka O'Hara
The very first cameos of the series come less than five minutes into the show, courtesy of fellow season nine B-52 Bombers Valentina and Eureka. They play the Statler and Waldorf of Ruby's home club, shook after Ruby's final performance before heading out on the road. "Gurrrl," Valentina says. "Eee," Eureka replies. Thankfully, Drag Race fans speak this language!
Mayhem Miller
Hosting the night of Ruby's final performance is season ten's Mayhem Miller, who does the oh-so-important work of keeping the crowd at bay while Ruby picks up the hundreds of bills she just got in tips.
Bianca Del Rio, Pork Chop, Manila Luzon, Alexis Mateo, and Vanessa Vanjie
Back in the dressing room, we find an All Stars cast's worth of queens mourning Ruby's last night, including the three we just saw out in the club. Bianca has a parting gift for Ruby: a pair of fake eyelashes, since Ruby won't be able to steal hers on the road. Thoughtful! Then club promoter Tony comes in and lays into Ruby for talking bad about the club. When he comes for Pork Chop (enjoying fries and a burger while she paints, as one does), Ruby stands up for her.
As the fight continues, Manila provides one iconic look of shock, while Eureka joins from the windowsill where she is, of course, having a cigarette. Alexis Mateo gets the least screen time with one apt "Bam!" to echo Ruby, but does make this a mother-daughter moment alongside Vanessa Vanjie's appearance. Meanwhile, Manila might have called Ruby old, and quickly replies "No, ma'am!" when asked if she wants to join the fight. At the end of it all, we have Miss Vanjie herself to recap: "That's why she's named Ruby Red. Because when she reads you — you been read!"
Episode 2, "Pittsburgh"
Katya and Jinkx Monsoon
"Everyone here is so friendly," Ruby tells AJ before they enter their first stop in Pittsburgh. Katya, playing a queen named Magda, is waiting in the dressing room to put the lie to that statement. "I knew closing those Planned Parenthood clinics would create a problem," she tells Ruby when introduced to AJ. Meanwhile, Jinkx Monsoon is finishing her tuck as Edie (where have we heard that before?), who "used to be pretty" according to Ruby. They're a golden comedic duo — "First kid I ever met who's a top!," Jinkx says after AJ demands she take her to the bar to get burgers.
Episode 3, "Columbus"
Jaymes Mansfield
Hey, look — Jaymes Mansfield is here! With zero lines and exactly one great expression.
Episode 4, "Louisville"
Mariah Balenciaga, Jade Jolie, and Kennedy Davenport
Ruby warns AJ about the Louisville queens as they walk into the club, confirming that they "will, and have," cut a bitch. Mariah Balenciaga, Jade Jolie, and Kennedy Davenport, who have all indeed cut bitches, play the in-sync mean girls. They've been taking turns butchering Cher in the absence of Brian, the club's mainstay impersonator. (Hmm, wonder who that could be?) When Mariah hosts later that night, she calls Ruby "a real gypsy, tramp, and thief — minus the gypsy!," prompting club regular Officer Peter, and us, to ask, "She supposed to be Cher?" Meanwhile, Kennedy gets back at Ruby for throwing her makeup case out a window, while Jade is just here for the one-liners. ("She's pulling a Michael Jackson with Blanket!," she exclaims as Ruby dangles the aforementioned makeup case out the window.)
Ongina
Season-one contestant Ongina appears for just a few seconds, out of drag, as "the one drag queen who has ever been on time for anything." We just hope she got her dress from Louis!
Chad Michaels
You'll never know you needed to see a dejected Chad Michaels lying on a couch out of drag and surrounded by trash until you actually see it. Michaels guest stars as Brian, the star Cher impersonator who hasn't been seen at her usual Louisville club in months. We soon find out he fell victim to the same scammer as Ruby, and hasn't felt motivated to perform since. Ruby channels RuPaul Charles, life coach, as she asks Brian to think, "WWCD: What Would Cher Do?" Brian claims he's not strong enough, but that quickly changes when he hears that the other queens have been doing Cher. And thank the drag gods, because we then get to watch Michaels perform Cher's cover of "Waterloo" by ABBA.
Episode 7, "Jackson"
Latrice Royale and Monique Heart
In Jackson, Mississippi, we meet the legendary Fabergé Legs, a businesswoman who turned her life around after a stint in prison for a mysterious incident ("for too long," if you ask her). Yes, it's Latrice Royale guest starring as, well, Latrice Royale. Fabergé owns and runs her own club thanks to a lucrative side hustle making counterfeit designer clothing — it prints money in more ways than one, we later find out. But she has a big heart, too, feeding the city's homeless and trying to help Ruby out of her turmoil. Oh, and there's an iconic flashback to the '80s routine she did with Ruby to "Push It." Just watch it.
In an amusing turn of events given their All Stars 4 rivalry, Monique Heart plays Fabergé's sidekick Terri Tori, who just wants her bad ideas to be heard. Got some extra coin laying around? Consider investing in her "combination hot-yoga-yogurt place" concept, since Fabergé sure won't.
Episode 9, "Fort Worth"
Ginger Minj
"Have no fear, your favorite queer is here!" That is, if your favorite queer is Ginger Minj out of drag as the pompadoured party planner to Ruby's old friend Beth (wonderfully played by Jane Krakowski). A stressed out Tommy bosses Ruby around at a house party, begging her to "do the Lord's work" and take a photo with the Fort Worth housewife with no gays on her Insta. And just when you think it's over, Ginger returns in full drag as Fanny Pack, Tommy's new drag identity — because now all the housewives want to book a drag queen, of course!
Episode 10, "Dallas"
Pandora Boxx
Season two's Pandora reprises her classic Snatch Game performance as Carol Channing in one of Ruby's flashbacks, holding a matching puppet that serves as a bonus nod to one of Drag Race's favorite mini-challenges (puppets!). It's great for her to be there, wherever she is!
Trinity "The Tuck" Taylor and Jujubee
After four years as first alternate, it's finally Danielle Dupri's year to win Miss Drag U.S.A. Trinity the Tuck doesn't even need to act when she guest stars as this bitchy pageant queen looking for a win, who's "gone too far and put too much stuff in my butt to lose." She also gets not one but two of the series' best Drag Race references: (1) Her song-and-dance performance during the talent portion name-checks a fellow All-Star with the line, "Is Alaska a country?," and (2) When Danielle does win the pageant, her crown is nowhere in sight, prompting her to yell, "Where's my crown at? Where's my damn crown?," like she just walked into the werkroom again.
Lee Saint Lee, Danielle's hype woman, reminds Ruby that "this is her year, everyone knows it" during the rehearsal. Jujubee's pageant girl brought together a hodgepodge of fans from "NA, AA, and PA … Pennsylvania," along with some gamblers too. At the end of it all, Lee settles for a third-place finish — something Jujubee is all too used to.