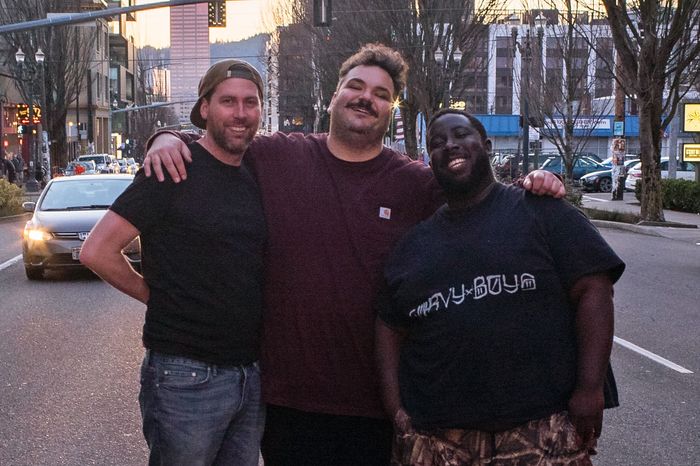 All Fantasy Everything'
s Sean Jordan, Ian Karmel, and David Gborie.
Photo: Lance Bangs
Are you new to comedy podcasts, overwhelmed by the array of options, and wondering where to begin? Then welcome to Start Here, a recurring guide to the best comedy podcasts available — and our recommendations for which episodes are the best entry points to your next auditory obsession.
There's a Twitter account called @outofcontextAFE that cherry-picks memorable one-liners from the archives of the podcast All Fantasy Everything (AFE) and posts them to upwards of 1,700 followers. Some of my recent favorites include:
Whoever runs this account isn't kidding when they refer to these quotes as "out of context." Even as a loyal listener of the podcast, I'd be hard-pressed to pinpoint their origins. It's a testament to how entertaining AFE is that they're still fun to read when completely devoid of explanation. This is notable because perpetual entertainment value isn't always a guarantee with comedy podcasts that fit the trope of "dudes talking." At a certain point, listeners become so acquainted with the personalities of the hosts, they listen less to laugh and more to unwind weekly by checking with personalities who feel like old friends.
Of the rare podcasts that are able to achieve the latter without sacrificing the former, few are able to toe this line as effectively as AFE. Created by comedian and head writer of The Late Late Show With James Corden, Ian Karmel, and co-hosted by fellow comics Sean Jordan and David Gborie, the podcast consistently delivers the best of both worlds: warm hangouts with the self-described "Good Vibes Gang" and an inventive format that ensures their conversations never grow stale or unfunny.
This format is a roundtable discussion that draws inspiration from the world of fantasy sports. Just as participants in fantasy sports leagues take turns drafting professional athletes based on their forecasted statistical output, participants on All Fantasy Everything take turns drafting everything but that. Over the course of 170 episodes to date, they've drafted pop-culture phenomena ("Disney Songs"), life experiences ("Things You've Learned the Hard Way"), food ("Sampler Platters"), and a number of other hard-to-categorize topics, like "People You'd Like to Be for a Day," "Moments in Time You'd Want to Travel Back To," or simply, "Birds."
When the podcast debuted back in September 2016, this format was its main draw. The underlying idea seemed so obvious and perfect, it was hard to believe it hadn't been done already. Karmel, a magnetic host, kept the ship running with a rotating string of notable guests (like Kumail Nanjiani, Jon Cryer, and Matt Braunger, to name a few), but it wasn't until early 2017, when Jordan and Gborie began coming on as increasingly permanent co-hosts, that the show truly hit its stride. Without missing a beat, the trio's easy rapport quickly gave way to a series of endearing personal revelations, recurring bits, and pseudo-catchphrases.
Today, the show's appeal stems as much from this breezy dynamic as it does from the drafts themselves. It's not uncommon for the hosts to banter — usually with a fourth participant — for a full half-hour before the draft topic is even introduced. When they eventually do jump into format, it introduces a welcome dose of structure into the conversation that keeps the momentum rolling. Each new pick serves as fodder for lively debates, inspired riffs, and conversational tangents, yet when these fail to land or gradually peter out over time, Karmel just transitions seamlessly to the next pick.
For the uninitiated, diving in at either of these points would make for an underwhelming first impression. Ideally, you'd want to pick an episode late enough in the show's run that the core trio had already been established, but early enough that you wouldn't need hours of context to explain the myriad inside jokes they're liable to reference at any moment. One such episode is the June 29, 2017 draft, titled "Words That You Think Make You Sound Smart." Whereas the cultural wells the gang drafts from can be a tad esoteric at times (Case in point: a recent episode all about Seinfeld's secondary characters), this particular draft is almost embarrassingly relatable, because intellectual posturing is a behavior we all participate in. Incidentally, I just did it there, when I used the word "esoteric."
The episode begins, as all AFE episodes do, with Karmel boisterously welcoming listeners to the show, jokingly explaining what type of podcast it is — "the podcast that was recorded the same day as the previous one, and if you listened to that, you know I got really drunk last night, so I don't feel like coming up with something funny for this part" — and introducing the episode's guests. Rounding out the panel on this particular episode alongside usual suspects Gborie and Jordan was fellow comedian Zak Toscani, Karmel and Jordan's roommate and one of the show's most colorful recurring guests.
With these four at the helm, this nearly three-year-old episode feels like it could have been recorded yesterday. Admittedly, it's missing many of the running bits the crew now weaves into every episode — Jordan's hilariously convoluted explanation of the serpentine draft format, references to their playfully combative friendship with frequent guest/comic Shane Torres, Gborie shouting "SHACKLACKETY" to end the episode, etc. — but it is spiritually and tonally the same show.
With the intro out of the way, listeners soon get a taste of what makes the show so appealing. As the crew teases Jordan about his newfound realization that the popular expression "throw caution to the wind" is not meant to be spelled or interpreted as "throw 'kosh' into the wind," it's obvious they're doing so out of love and not cruelty. Even during moments like this, when the hosts are poking fun at each other and ridiculing each others' picks, AFE radiates positivity. It's a judgment-free bubble where Karmel can indulge his whimsical sensibilities, Jordan can gush effusively, and Gborie can express his contagious enthusiasm.
Throughout this episode, the participants are able to drop their guards and admit to the sorts of gaps in their vocabulary most people ordinarily skate around. This produces a series of incredibly human moments, like when Gborie is confounded by the nonsensical definition of the word "wherewithal," or when Jordan tries to use the word "dichotomy" in a sentence and the best he can muster is "I don't like the dichotomy of this prison cell." In foregoing their usual pretenses, Karmel and company give listeners permission to admit to and laugh at their own shortcomings, too.
It's worth noting that none of this works unless the podcast is also funny. Each episode is packed with so many excellent riffs that to catalogue all of them in writing would be a Herculean task. Some highlights from this particular episode: Jordan's admission that he and his classmates were taking a class simply called "Reading" in the seventh grade; Karmel's "Dame Judi Dench" game, where he points out how hard it is to repeat her name in rapid succession and subsequently challenges everyone to try it; and Jordan's mistaken belief that the famous jazz musician Thelonious Monk was actually named "Felonious Monk."
The defining bit of this episode, however, is the panelists' effort to use the drafted words as much as possible over the course of their conversation. It's the type of bit that starts out funny, ceases to be funny over time, then becomes even funnier the more they double down through repetition. All of this comes to a head in the episode's final minute, when Karmel — ever the show's steadying force — constructs one giant paragraph with all 20 words drafted throughout the episode. Here's an abridged excerpt:
Nobody's beholden to listen to our podcast. The onus is on you to decide if you want to or not, whether you're a Jew, a Gentile, or some sort of polytheistic person. If you have the wherewithal to download this podcast and understand the dichotomy of picking stupid things, saying stupid stuff, and pretending that they're smart, theres a litany of reasons you could probably find to leave us comments and maybe like and subscribe. It is ostentatious for me to have called us smart people earlier — we aren't smart, we aren't at all. If anything, we're a group of philistines. Tune in next week to another brand-new episode of All Fantasy Everything.
Without missing a beat, Gborie closes the episode with an apt compliment: "They're going to bury you a legend!"
It's true. Not just for being a funny stand-up, or for being the youngest head writer in the history of late-night television. But for creating All Fantasy Everything, too.