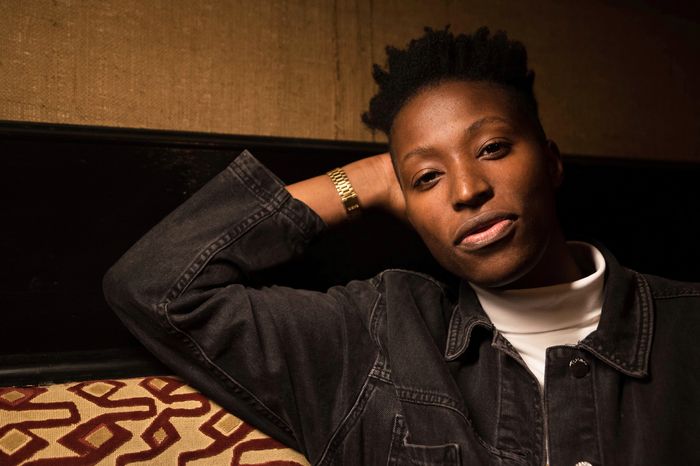 Alysia Brown.
Photo: Scott Johnson
Alysia Brown (@alysiabr0wn) is a comedian originally from South Bend, Indiana, who started stand-up in Los Angeles. She moved to New York in the summer of 2018, and has performed at the Comedy Store, Hollywood Improv, and 208 Comedy Fest.
This week, Brown and I talked glow-ups, growing up in predominantly white spaces, and clapping when the plane lands.
What motivated you to pursue comedy?
As basic as this sounds, since a ripe age I've always loved making people laugh. But I also loved being the center of attention. So it made sense to do both. But I think the biggest motivation for me was it seemed important to tell my story and create my own narrative. Growing up in such white spaces in Northern Indiana, I felt like I had to conform to that identity of whiteness. It took me a bit, but I finally feel like comedy helped me become a more authentic version of myself. The one thing comedy allows me to do is tell my story to so many different types of people.
Recently, I was in a comedy festival in Boise, Idaho. I was so nervous to see how the predominantly white crowd would receive my material. My stand-up is essentially about being a black queer woman from Indiana. And to my honest surprise, it was received very, very well. It confirmed my motivation.
I made this dope Halloween costume when I lived in L.A. around 2016. I wanted to pay homage to one of many great abolitionists. I believe this was also the year they announced she would be on the $20 bill. So, of course, I went out in West Hollywood and, sadly, but also unsurprisingly, a lot of people didn't know who I was. Some girl thought I was Rosa Parks, and another guy thought I was Whoopi Goldberg.
Has your social-media presence changed your IRL sense of humor at all? Has it changed the way you write jokes?
I'm just now getting into Twitter more, but I think my sense of humor has pretty much stayed the same. I mostly tweet observational humor. I love that Twitter allows me to just tweet whatever I feel, and not feel pressured to have to be funny all the time. I don't think my writing has changed because of social media. I do think there are jokes that really only work for Twitter. Can you imagine trying to do a meme joke IRL? I feel like social media and IRL comedy are two separate forces.
Did your Midwest upbringing influence your comedy at all?
Oh yessss. That's almost all I talk about. Growing up in predominantly white spaces really affected me. Dare I say it … traumatized me? Talking about my experiences in comedy kind of helps me process the whole experience growing up in the Midwest. I was so desensitized to microaggressions and overall stereotypes white people placed on me. I didn't know any other way. It's so refreshing living in NYC and seeing so many black people all the time. I just wanna go up to them with my fist raised like, "My SISTA!," "My BROTHA!," "My SIBLING" — which I'm told is probably not okay.
Being a queer black woman from Indiana, I feel my attractiveness level goes up every time I go home. No offense to my hometown peeps, but living in L.A., then moving to NYC, I think my glow-up has cemented me as an Indiana 35.
What was it like to start doing stand-up in L.A. and then move to NYC? Are there any differences? Are there any similarities?
The biggest difference of L.A./NYC comedy is hands down the stage time. When I was just starting stand-up, I thought getting booked once a month was impressive. That drastically changed when I moved to NYC. I'm going from once a month shows to four to five shows a week. Another big difference is the community. I feel like finally, in NYC, I found a core group of comedy friends who are more than just comedy friends.
There are two things I hate in this world (besides systemic oppression and racism): people who yell "cha-cha-cha" during "Happy Birthday," and people who clap when the plane lands. I know we should be accepting of people and their habits, but this is a deal-breaker and something that should immediately be banned.
Do you have any other deal-breakers besides clapping when the plane lands and saying cha-cha-cha while singing "Happy Birthday"?
Oh God, I don't think you have the time. But maybe white people calling the police on black people?