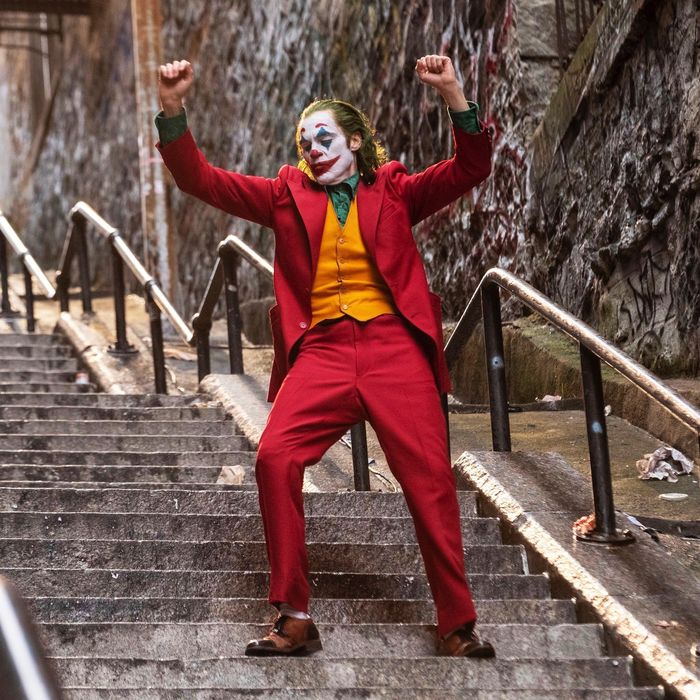 Overshadowed by merger mania and ascendant streaming services, the Burbank studio swung wildly between catastrophes and success. Now it's looking to Oscar.
Photo: Warner Bros.
At some distant point in the future, when Hollywood insiders cast a gimlet eye back on the media landscape of 2019, two dominant narratives will be understood as having sucked up most of the movie-industry oxygen: First, the "Winter Is Coming" rise of new streaming services, threatening to further imperil the Netflix-assisted slide away from theatrical moviegoing. Second, Disney's $71.3 billion acquisition of Fox, which resulted in the creation of what the New York Times called an "entertainment colossus the size of which the world has never seen." It triggered an executive bloodbath and endless head-scratching over how the continuing consolidation would affect quality at the multiplex. (Additional concerns: How the Mouse House's four-quadrant blockbuster ambitions would thwart Fox Searchlight's future art-house releases, how Disney's strategy of vaulting titles would limit access to vintage Fox, and how the behemoth studio would incorporate a third animated film division.)
Two thousand eighteen might best be recalled as the year Paramount placed last at the domestic box office for a seventh consecutive year, racked up a total of $900 million in losses, and was convulsed by a C-suite regime change, but in 2019, Warner Bros. laid claim to what arguably became Hollywood's wildest studio ride — an erratic several months characterized by unexpected glories and unforeseen catastrophes that were largely overshadowed by its competition. The industry has shifted dramatically in the year and a half since AT&T and the studio's parent company, Time Warner, closed their own megamerger, and Warner Bros. has been no stranger to the growing pains associated with new cultural sensitivities and fiscal realities. Among the studio's 2019 highlights and lowlights: studio chairman Kevin Tsujihara's resignation amid an alleged sex scandal, a string of mid-budget/adult-skewing flops, the billion-dollar box-office triumph of Joker, the departure of Crazy Rich Asians sequel screenwriter Adele Lim over a pay-parity dispute, the installation of the studio's first female CEO, and a distant second-place ranking (to, you guessed it, Disney) in the year-end tally of worldwide box-office results.
Herewith, an abridged timeline of Warner Bros.' 2019 agonies and ecstasies:
February
Looking to recapture the lightning in a bottle that greeted 2014's computer-animated blockbuster The Lego Movie, the studio releases the $100 million-budgeted The Lego Movie 2: The Second Part. But Warner's fourth Lego-branded film flops, grossing just $191.3 million globally — a casualty of less than enthusiastically received back-to-back installments in 2017 — setting the stage for a high-profile franchise exodus later in the year.
March
Chairman/CEO Kevin Tsujihara resigns amid accusations that the executive used his influence to help an Australian actress named Charlotte Kirk land bit movie parts in two Warner Bros. movies while the two were engaged in an alleged extramarital affair. (A personal attorney for Tsujihara, Hollywood's first Asian-American studio boss, denies that his client had a direct role in hiring the actress; an outside law firm is investigating the claims.) Tsujihara joins Harvey Weinstein and CBS Corporation's Les Moonves on the list of highest-ranking entertainment-industry executives to be toppled by allegations of sexual impropriety to date.
April
The kid-skewing comic-book adaptation Shazam! surpasses prerelease financial estimates to gross $364.6 million worldwide, becoming the studio's third non-sequel comic-book hit. Those financial results arrive as an IP-about-face (on the heels of such poorly reviewed, narratively incoherent DC Extended Universe entries as Suicide Squad and Batman v Superman: Dawn of Justice) and a continuation of the box-office momentum born of Warner Bros.' $1.1 billion Aquaman haul.
May (through November)
The studio releases a string of small- to mid-budget duds, including several films with decentish critical reviews. Among them: Edward Norton's period crime drama Motherless Brooklyn, The Good Liar, and Blinded by the Light. Rounding out Warner's 2019 adult-oriented L column, neither a lush adaptation of the Donna Tartt novel The Goldfinch, a reboot of the blaxploitation classic Shaft, nor The Kitchen managed to crack 33 percent "fresh" on RottenTomatoes.com's Tomatometer, and all bombed theatrically.
June
Ann Sarnoff is named as Warner Bros. CEO/chair, becoming the first woman to hold the position. Although her selection is widely hailed as a milestone in an overwhelmingly patriarchal strata of media, the former VH1 chief operating officer and BBC Studios America president arrives as a relatively untested Hollywood commodity: a TV veteran almost wholly lacking in moviemaking and marketing chops.
The seventh movie in the Conjuring shared cinematic franchise, Annabelle Comes Home, clocks $228.5 million globally (on a reported $20 million to $25 million budget) providing the latest evidence of audiences' seemingly insatiable desire for creepy-doll movies and the theatrical experience of low-budget horror.
July
The quirky, Ryan Reynolds–voiced Pokémon Detective Pikachu topples Warcraft to become the highest-grossing video-game movie adaptation of all time. The PG-13 mystery movie came about as a result of an unprecedented studio deal with Japanese video-game and movie conglomerate the Pokémon Company, which had until then resisted every Hollywood entreaty to mount an English language non-cartoon Poké movie.
September
After an intensely lobbied, cross-Hollywood courtship for a new studio home, Star Wars: Episode IX — The Rise of Skywalker writer-director J.J. Abrams signs a $250 million deal with Warner Bros. parent company WarnerMedia. Under the agreement, Bad Robot, the production company Abrams runs with his wife and co-CEO, Katie McGrath, will churn out films, video games, TV series, and "other entertainment content" under the Warner banner.
Despite a nearly three-hour running time and sharp critique of the It sequel's comparatively tepid fright factor, It Chapter Two scares up $472.1 million globally to anoint the (now adult) members of the Losers Club late summer's big winners.
Disastrous reviews and anemic attendance prevent The Goldfinch from taking flight at the box office. The studio's co-investment in the film (which included a chunk of the production budget, a sizable ad campaign, and preemptive awards-season spending) results in losses that could total up to $50 million according to The Hollywood Reporter.
With Crazy Rich Asians' No. 1 opening weekend debut barely a year in the rearview mirror, the all-Asian-fronted rom-com's screenwriter Adele Lim exits planned back-to-back adaptations of novelist Kevin Kwan's CRA sequels China Rich Girlfriend and Rich People Problems due to a pay-parity dispute. At issue: Lim's reported $110,000-plus payday compared to the $800,000 to $1 million starting offer for her co-screenwriter Peter Chiarelli. "Being evaluated that way can't help but make you feel that is how they view my contributions," Lim told THR, adding that she believes women and people of color are regarded as "soy sauce" — hired to punch up the cultural flavor of a script rather than to substantively craft the story.
September Redux
Ahead of the release of Joker, family members and friends of victims of the 2012 Aurora, Colorado, theater shooting massacre address an open letter to Warner's CEO Sarnoff expressing sight-unseen concern with the Batman spinoff's violent subject matter; they ask the studio to advocate for gun safety. Law enforcement in cities across the country bolsters armed presence at theaters where the movie is screening out of (unfounded) concern for potential acts of domestic terrorism. Later, director Todd Phillips admits he believed the studio would cancel the film's release in light of its myriad controversies.
November
Over Veterans Day weekend, the R-rated Stephen King adaptation Doctor Sleep receives euthanasia at the box office, taking in a mere $14.1 — less than half of what prerelease tracking estimates had predicted the Shining sequel would earn domestically. That opening "terrifies Hollywood" according to one particularly sensational trade paper headline, resulting in a reported $20 million to $25 million loss for Warner Bros.
After having premiered in October, Joker passes $1 billion in worldwide box-office grosses, becoming the first R-rated film ever to hit that benchmark, Warner Bros.' most successful 2019 release, and one of the biggest comic-book movies of all time in the process. But because the studio entered into financial partnerships with the production companies Bron and Village Roadshow (with each reportedly shouldering between 20 and 25 percent of the film's $64 million budget), Warner Bros. stands to earn substantially less than — perhaps as little as half as much — if it had ponied up all the production costs on its own.
December
The Clint Eastwood–directed, ripped-from-the-headlines biopic Richard Jewell flops, but not before Warner Bros. is threatened with a defamation lawsuit from the Atlanta Journal-Constitution. In a letter penned by bulldog entertainment lawyer Marty Singer, the paper warns Eastwood, screenwriter Billy Ray, and the studio that it believes the drama defames the AJC and falsely portrays reporter Kathy Scruggs (Olivia Wilde in the film, shown trading sex for insider information). The letter also demands a public statement by Warner Bros. acknowledging the film's dramatization of events and liberal use of artistic license. Warner Bros. fires back: "It is unfortunate and the ultimate irony that the Atlanta Journal-Constitution, having been part of the rush to judgment of Richard Jewell, is now trying to malign our filmmakers and cast."
Warner Bros. declines to renew rights with the Lego Group to produce movies based on the toy line, and the rights to develop future Lego-based films are sold to Universal. "Everything WAS awesome," blares a posting on Cartoon Brew, "until audiences wised up and realized they shouldn't be buying movie tickets to commercials."
According to a Showbuzz Daily year-end box-office scorecard, Warner Bros. ranks second in worldwide theatrical earnings, hauling in a worldwide total of $3.5 billion to outearn every other studio in Hollywood save one. Disney captures the No. 1 spot with a staggering $9.6 billion take during the 2019 calendar year, having produced an unprecedented 80 percent to the year's top box-office hits.
What Should We Expect in 2020?
Looking to keep its DC Extended Universe winning streak alive, Warner is teeing up two hotly awaited comic-book movie adaptations: Wonder Woman 1984 (which, according to producer Charles Roven, is not a sequel to the $821.8 million-grossing 2017 blockbuster that first teamed director Patty Jenkins and star Gal Gadot; it's "the next iteration" of the story) and Birds of Prey (and the Fantabulous Emancipation of One Harley Quinn), the Suicide Squad spinoff centered around that film's popular "psycho chick" supervillain portrayed by Margot Robbie (who also serves as producer on BOP and pitched it to the studio in 2015).
Summer 2020 will see the rollout of another pair of splashy WB titles: Crazy Rich Asians director Jon M. Chu's big-screen adaptation of the Lin-Manuel Miranda Broadway musical In the Heights (June 26) and writer-director Christopher Nolan's mysterious time-travel thriller Tenet (July 17). Then, taking its theatrical bow a week before Christmas — at the peak of awards season but also programmed into the slot when Disney has released its last three Star Wars entries — comes Blade Runner 2049 filmmaker Denis Villeneuve's megabudget reboot of the space epic Dune, featuring a stellar ensemble cast that includes Timothée Chalamet, Rebecca Ferguson, Oscar Isaac, Zendaya, and Jason Momoa, just to name the top half of the movie's call sheet.
But with Disney having produced an unprecedented 80 percent of 2019's top-grossing hits, nobody in Hollywood realistically expects Warner Bros. to challenge Disney's box-office hegemony. Now, with Disney's absorption of Fox complete and a full complement of event movies from across its divisions — Marvel (Black Widow, The Eternals, Morbius), Pixar (Soul), and Walt Disney Animation (Onward), as well as live-action adaptations of Mulan and the Disneyland ride Jungle Cruise — Disney has achieved a scale that no other studio stands to match in the foreseeable future. According to insiders, that's okay. They say Warner Bros. chairman Toby Emmerich's ambitions remain pretty much the same as they were a year ago: "[To] produce, market and distribute the most diverse slate we can and not play the Disney-Fox game."