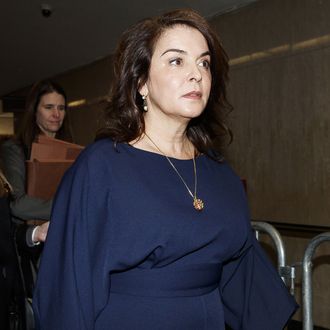 Annabella Sciorrra
Photo: JUSTIN LANE/EPA-EFE/Shutterstock
At 9:48 a.m.,  Sopranos star Annabella Sciorra entered a packed Manhattan courtroom through a side door, walked toward the witness stand, and sat calmly behind the microphone. She was moments away from testifying against Harvey Weinstein, whom she accused of raping and forcing oral sex on her around late 1993. Weinstein looked at her when she took the stand.
"Do you see Mr. Weinstein in court today?" asked prosecutor Joan Illuzzi.
Sciorra started to stand. "Yes."
"Could you point him out?" Illuzzi said.
Sciorra fully stood and pointed.
"He's wearing a black suit and a white shirt and a white tie," she said. She then began to recall the alleged incident.
After a business dinner, Weinstein offered to drive Sciorra back to her Gramercy Park apartment. She got ready for bed and heard a knock at the door. Thinking it might be a neighbor or doorman, she opened it. Weinstein was there. He shoved the door open, she said.
Sciorra's voice wavered, and she became increasingly choked up. A court officer in the corner near the witness stand brought her tissues.
"He started to sort of walk around … looking to see if there was somebody else there," Sciorra said.
"And then he started to unbutton his shirt," Sciorra continued. "He thought we were going to be having sex. I realized that if he was taking off his shirt that in his head, he wanted to have sex, and I did not want to."
"It was just not going to happen," Sciorra said of her decision.  "I was not having sex with him."
Overpowered by Weinstein's size and unable to flee to her bathroom, she wound up in the bedroom.
"He shoved me onto the bed," Sciorra alleged.  "As I was trying to get him off of me, I was punching him, I was kicking him."
"I was just trying to get him away from me, and he took my hands and put them over my head," she said, holding her hands above her head, one hand gripping her other wrist.
"He put his penis inside my vagina, and he had intercourse with me, as I tried to fight," she testified. "But I couldn't fight anymore because he had my hands blocked."
Weinstein stopped and ejaculated on her, Sciorra said.
"Did he say anything?" Illuzzi asked.
"He said, 'I have perfect timing.'"
Before Weinstein forced oral sex on Sciorra, "he said, 'this is for you,'" she testified.
"I didn't have very much fight left inside of me," she said. "I mean, there was not much I could do at that point. My body shut down."
"It was just so disgusting that my body started to shake in a way that was very unusual," she continued. "I didn't really even know what was happening, it was like a seizure or something."
lluzzi asked Sciorra if Weinstein "physically forced" her. Sciorra said yes. Sciorra then said she didn't remember her initial reaction. "I just remember feeling disgusting," Sciorra explained. "I cried a lot. I had a lot of what I now know is disassociating experiences. I spent a lot of time alone." Sciorra testified that she "didn't want to talk about what happened" and started drinking and cutting.
"I had this wall that was white but then I began to paint it like a blood-red color," she said. "I began to cut myself, and I would drop blood from my fingers from my hands, into this masterpiece and I would take wherever I would put the blood, and take pieces of gold leaf, and mark it."
Sciorra said she later ran into Weinstein and tried confronting him. "I tried to talk to him about what happened," she said. "And I told him how I woke up, and that I had blacked out, fainted, and he said, 'That's what all the nice Catholic girls say.' Then he leaned into me and said, 'This remains between you and I.'"
"It was very menacing," the actress continued. "His eyes went black, and I thought he was going to hit me right there."
When Weinstein attorney Donna Rotunno, who told Chicago magazine that she can "get away with a lot more in a courtroom cross-examining a female than a male lawyer does," started cross-examining Sciorra, she tried to undermine her allegations.
"Ms. Sciorra, isn't it correct that you told your friend … that you had awkward sex with Harvey Weinstein?" Rotunno asked.
"No," Sciorra answered.
"Ms. Sciorra in your movies, you're a professional actress correct?" she asked.
"Yes," Sciorra said.
"And you act and play whatever role that requires of you?" Donna said shortly thereafter.
"Yes."
Rotunno also pressed Sciorra on her claims earlier in the day that she was troubled by a "disgusting and inappropriate" box of chocolate penises Weinstein sent her prior to her alleged assault. "When you received the chocolate penises, how did they come packaged?" Rotunno asked?
"They were in a white box," Sciorra said.
"Did they have a card with them?" Rotunno said.
Sciorra said yes; Rotunno asked what it said.
"I don't recall, but it was from Harvey," she said.
"What were the size of these chocolates? How big was the box?" Rotunno pressed.
At that point, Sciorra held up her hands to simulate the box's shape.
Rotunno said that Sciorra's hand gestures indicated the box was eight inches by six inches.
"It was just a box of chocolate penises," Sciorra said.
Weinstein appeared more interested and alert during Rotunno's cross examination than he had at almost any other point of the trial. He kept his eyes focused on her throughout much of the exchange. He nonetheless continued his habit of chewing Mentos throughout the proceeding.
Diner actress Ellen Barkin, who earlier in the morning tweeted her support of "dear friend and warrior" Sciorra, was in the back row of the courtroom.
After the testimony ended and jurors left for the day, it was revealed that actress Rosie Perez might testify about how Sciorra disclosed the alleged rape to her. Illuzzi revealed that if Perez were allowed to testify, she would say that Sciorra told her, "I think something bad might have happened to me. I think I might have been raped." The two women were allegedly on the phone when Sciorra was staying at a London hotel. Weinstein was allegedly banging on Sciorra's door. Perez would testify that Sciorra said, "I don't want him to get me again." If Perez took the stand, she would also recall remarking, "Oh my God, Harvey Weinstein was the man who raped you," Illuzzi said. While Illuzzi was discussing Perez's possible testimony, she complained about Weinstein's behavior. "It's hard to hear with the defendant talking so loud, Judge. If he could just stop talking for a second."
Weinstein faces five counts in Manhattan Supreme Court; in addition to Sciorra, the charges involve ex-production assistant Mimi Haleyi and former aspiring actress Jessica Mann. In addition to them, three other women are expected to testify, also alleging that Weinstein sexually assaulted them. Weinstein does not face charges in New York related to these women's accusations.
Prosecutors also plan on calling Dr. Barbara Ziv, the forensic psychiatrist who testified as an expert witness against Bill Cosby, Friday morning. Ziv is expected to testify about why sexual-assault victims often delay coming forward.
This is a breaking news story and has been updated throughout.
Update, February 24: Harvey Weinstein's verdict has been announced.