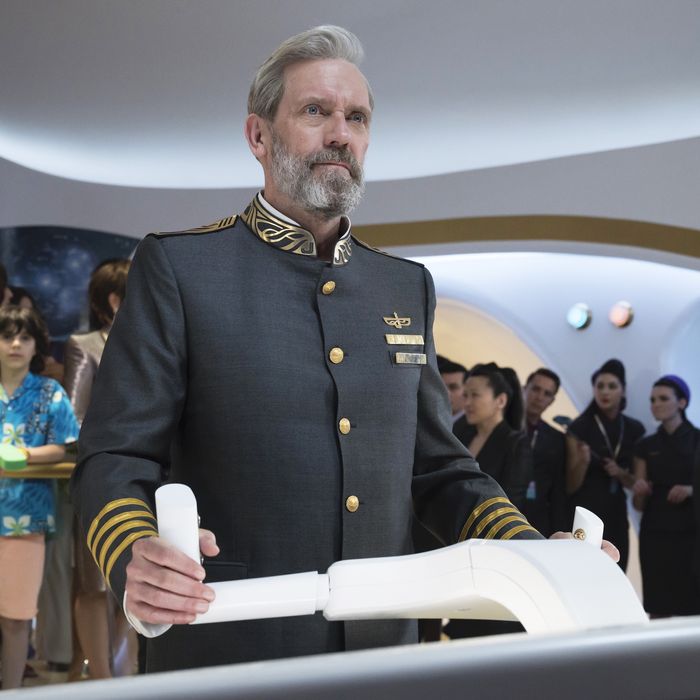 One of my favorite scenes in Paul Verhoeven's Starship Troopers is the funeral ceremony held for Pvt. Dizzy Flores, one of the film's heroes, a Mobile Infantry fighter killed in humanity's pointless, endless war against the space bugs. There's a lot of pomp and circumstance to the event, with Dizzy's friend Lieutenant Johnny Rico echoing society's fascist distinction between citizens and civilians, which gives enhanced rights to the "citizens" who volunteer for service. With all the uniformed soldiers standing in salute, Dizzy's casket is jettisoned into the vast emptiness of space — which, in the film's satirical bent, is the ultimate symbol of a pointless sacrifice.
And now Joe, the engineer in Avenue 5, the only person onboard besides Billie who knew the first thing about astrophysics, gets a send-off of similar ridiculousness, with the ship's passengers and muckety-mucks gathered for the somber occasion. Recall that Joe's death was an absurdity of a different sort: He was outside the ship trying to solve the time delay on transmissions back to Earth and wound up getting stabbed by his own drill. The twist here is that Joe's casket, on permanent loan from Herman Judd, is an 800-pound gold-and-lead behemoth even without his additional weight. But with a ship so large that it exerts its own gravitational force, the casket can't get shot out fast enough to avoid its pull. So the coffin is permanently orbiting the ship, a hilariously macabre monument to the lethal idiocy of the whole operation.
"And Then He's Gonna Shoot Off …" reinforces and extends the themes of the pilot episode, keying into not only the ignorance of the people in charge but the arrogance that often accompanies it. When it comes to big problems, like a space cruise thrown off its trajectory, the correct answer doesn't carry as much weight as the answer everyone wants to hear. Asked to explain what's happening to the passengers, Billie starts with the simplest language she can muster ("The plan was to use Titan's gravity as an assist to save propellent") and immediately gets told to lay off the fancy science talk "Saturn is a big, big planet with a big, big moon called Titan," she counters, which also comes off as too highfalutin'. Technical jargon doesn't mean much to the passengers or to Billie's superiors; they just want someone to tell them they're getting back home sooner than stupid space physics permits.
Into that breach steps Cyrus, played by Neil Casey, whom Silicon Valley fans will remember as Colin, the gaming genius who provides the user base for Pied Piper's decentralized internet only to torpedo the company with his ethical shortcomings. Appearing on deck in a shorts-and-T-shirt ensemble that Captain Ryan dubs "insolent casual," Cyrus submits a dodgy calculation that will have them home in six months, way faster than the three years NASA has estimated. Ryan is thrilled ("You are way less annoying than you were 30 seconds ago"), as are Herman and Iris, who were dreading the cost of turning to NASA for help rather than keeping the expenses in house. In fact, Herman uses the opportunity to tell NASA to fuck off. He tells a rep from the agency that the acronym stands for "Not Anymore Stupid Assholes."
And so Avenue 5 settles further into its comic groove, which posits the ship as a giant metaphor for a Western world run by venal dipshits and populated by consumers who expect everything to be under control or else they'll need to speak to the manager. The ceaseless panic onboard in these first two episodes raises the question of whether the show will find another gear when and if it settles in for the long voyage. A certain buzz of hysteria fills other Armando Iannucci shows, like Veep and The Thick of It, but Avenue 5 hasn't paused long enough to dig deep into any individual relationships or subplots. Its success will depend on whether it can be convincing as an ongoing, multi-season endeavor, rather than a one-joke premise that has been wrung out like a dish towel.
In the meantime, there are some big laughs here. Joe's coffin permanently orbiting the ship is one of those, and it's reinforced by the great visual of its end turning straight up after it fails to bust through the ship's gravitational field. Billie's solution for the other three passengers who died is to put their deconstructed remains into much lighter (and, regrettably, transparent) containers, but the timing of the triple launch coincides with a gravity reset onboard, so all four will indefinitely orbit in plain view of the passengers. ("Now we've got Tutankhamun Joe and three packed lunches circling the ship.")
Some of the cast members have yet to connect, but Zach Woods continues to hold the comedy together as the bedraggled customer-service rep, and Suzy Nakamura is particularly funny this episode as Iris, whose every line is laced with resentment. Ryan tries to express some compassion for her when she tells a melancholy story about rowing her dead grandfather's body back to shore as a child, but even in her most vulnerable moment, she's having none of it. "Oh, wait," she tells him. "That's not a real uniform. That's a costume. Because you're not a real captain, you giant, shitty fraud."
Iris may be the one person in power who won't entirely cave to magical thinking. But for now, she's listening to Cyrus too. She doesn't want to contemplate another three years with these idiots.
Asteroids
• "We hit a patch of choppy space": Ryan the fake space-cruise captain mimics a fake airplane captain.
• I love that Karen has access to a cordless microphone whenever she has something to say. It's not explained. She can just go off.
• Iris hesitating over whether she secretly wanted Herman to use his own coffin at some point draws a great line from Matt: "Come on, that pregnant pause was in its third trimester."
• We occasionally get disturbing windows into the world of this future. Last week, we learned that the moon has been turned into a prison. This week, the possible bankruptcy of the company over this screwup is likened to the time "when the Pacific went toxic." The cold comfort is that humanity has survived climate change to fuck up further.
• Herman makes the scientific assertion that a piano falls at the same rate as a feather or a baby girl because gravity and mass are the same. "They are not," replies Billie. "You know how I know that? Because they are two different words."
• A sign of impending mutiny: "Ask mission control, 'How long do dictatorships last after the first bout of chanting?'"