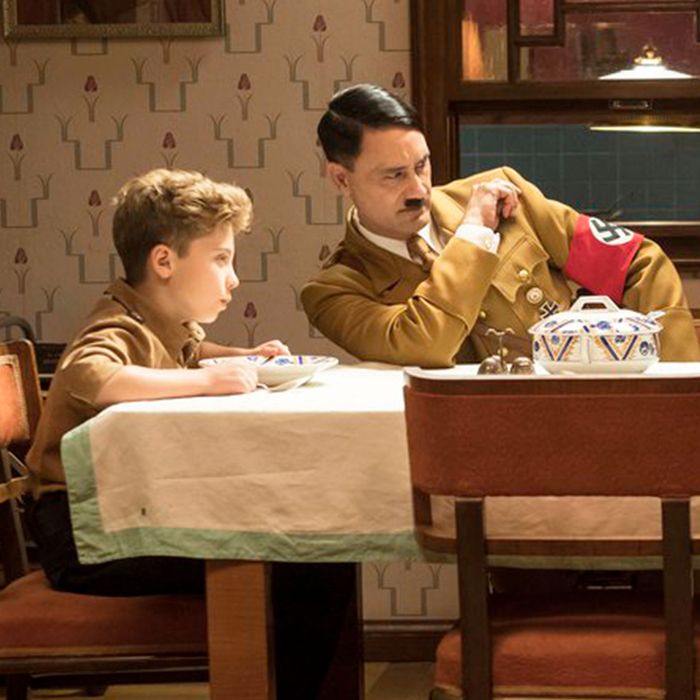 Here are our picks for the singular scenes that Oscar should use to represent each Best Picture nominee at this year's Academy Awards.
Photo: Fox Searchlight
In the absence of an Oscars host, one of the best ways to keep pace during the Academy Awards ceremony is by following the presentations of Best Picture nominees. As the night heads toward the big prize, each of these nominees will get introduced to the audience by either a star tangentially associated with it (see: Diego Luna presenting his former director Alfonso Cuarón's film Roma last year) or, even better, by a star bizarrely not associated with it at all (Goldie Hawn's sweet but curious enthusiasm for 12 Years a Slave). The fanfare lends a sense of importance to the films nominated for the top prize, and it underscores what the Oscars are meant to provide: a chance to love up on all these movies.
The tradition hasn't been without some hiccups. The change in the Best Picture category — from celebrating five films to celebrating anywhere from five to ten (usually eight or nine) — posed a challenge to producers of the broadcast. A four-year period saw two or three nominees clumsily presented together with laughably bad congruity (because The Grand Budapest Hotel and American Sniper are like bread and butter, apparently). In some recent years, Best Picture clips were disregarded entirely. But now, without a host, the clips are more necessary than ever to timing out the evening; among other things, they let the audience at home and in the theater know just how much of the long night is left.
In their ideal form, the Best Picture clips serve two purposes: introducing the movies to members of the ceremony's broadcast audience who haven't seen them, and rousing the enthusiasm of anyone in the audience who has. But recent Oscar producers have leaned heavily into montages, chainsawing the films into what amount to 30-second mini trailers (or, hell, even being so lazy as to excerpt from the preexisting trailers themselves). The practice works best when a single scene is chosen to represent a film, the same as in the acting categories. But choosing the right scene is crucial: You want something that communicates the correct tone, encapsulates both the breadth of the cast and production design, and, logistically, avoids portraying moments that might otherwise be clipped for the acting nominations. (It's also best not to repeat moments we've seen at other awards shows, or have otherwise been memed into submission.)
With that in mind, here are our picks for the best scenes to represent each Best Picture nominee at the Oscar ceremony:
1917
You mean to tell us that 1917 is more than just two hours of George MacKay running toward the camera as bombs explode behind him? For a film whose awards narrative and marketing have focused on selling the unique visual experience, it has mostly repeated the same handful of publicity images. It might be more grabby for the Oscars audience at home to encounter some of the film's many famous cameos, though they aren't very representative of the story overall. The best tonal option, I'd argue, is the quiet moment between MacKay and a French mother underground. Alas, it, too, is less representative of Sam Mendes's larger tale. To both capture the film's intimate sidebars and vast thrills, a better choice would be the airplane crash MacKay and his comrade (played by Dean-Charles Chapman) happen upon while hiding out in an abandoned farmhouse. Big-scale filmmaking wizardry, with the threat of war felt on a personal level.
Ford v Ferrari
By now, we all understand that the gist of Ford v Ferrari is that vroom-vroom go zoom-zoom. We get it, and we'll get plenty of car sounds during the readings of its editing and sound nominations. Outside of that, we've seen Matt Damon and Christian Bale rasslin' in the grass a million times as Bale's wife, played by Caitríona Balfe, punctuates the macho display with the unfolding of a lawn chair. Ditto to sobbing Tracy Letts as Henry Ford Jr. Ford v Ferrari's secret emotional weapon is that it's a story of fathers and sons. Its emotional core is when Bale describes the perfect racing lap to his son (Noah Jupe) against a gorgeous sunset landscape. This scene speaks to the film's automobile obsession, but with subtle nods to its formidable craft and what makes it emotionally resonant.
The Irishman
The full impact of Martin Scorsese's epic is tough to reduce to a singular moment, given its third-act pivot that recontextualizes everything before it. Some of the more dialogue-heavy scenes in the first act, in particular, might make The Irishman look like just another gangster movie. The thematic bridge occurs at the reception honoring Robert De Niro's Frank Sheeran. Here, a passing of the ring from Joe Pesci's Russell Bufalino to Frank foretells the coming fallout, under the gaze of Anna Paquin as Frank's silent daughter, Peggy, and with Al Pacino's Jimmy Hoffa floating around unaware. It's a movie told in knowing glances carrying intense weight, and this sequence couldn't reflect that better.
Jojo Rabbit
Jojo Rabbit's sizable tonal swings make it difficult to find one scene that captures them all, so perhaps it serves the film to distinguish itself among this lineup of nominees by showcasing its comedic side. While it would be lovely to see the film's unsung hero Archie Yates get some airtime, his brightest moments are in the film's more pedestrian scenes. And Taika Waititi's Monty Python–chasing Hitler might be all the more grating to detractors if presented context-free. Instead, the scene where Jojo's mother (Scarlett Johansson) chastises her son's troupe leaders (Sam Rockwell, Rebel Wilson) for their haplessness is the way to go. This establishes the film's stakes and environment, without completely eschewing its comedic tone.
Joker
To force us to watch Joaquin Phoenix's bathroom ballet again would be an act of aggression. And we can all live soundly never seeing those stairs again. It might be best to highlight a scene that touches on some of the topics that have galvanized Joker's most vocal fans — its perspective on mental-health issues and the inhumanity of the system, man. In a scene where Phoenix visits his social worker, we are meant to glean compassion for his great need for public assistance and for the social worker unable to help him because of bureaucratic restrictions. "All I have are negative thoughts," he tells her, and it's the one moment where Joker connects to something grander.
Little Women
Take your pick of any of the group scenes and you'll get a sense of the warm originality of Greta Gerwig's vision for Little Women. (To focus on the climactic argument between Jo and Laurie would do the opposite.) But the scene that might best prove that this is a unique revisiting of well-trodden material would be the one that breaks all of the rules I've talked about above: a frank discussion between mother and daughter. Saoirse Ronan's Jo admits the depths of her loneliness, while Laura Dern's Marmee reveals something personal to her daughter for the first time. The scene marks new territory for their relationship as Jo enters adulthood.
Marriage Story
Which scene from Marriage Story hasn't been overexposed? The centerpiece fight between Scarlett Johansson and Adam Driver is certainly embedded in our brains. Laura Dern's monologue about ingrained sexism has been widely shared online. The film's opening letters of affection became his-and-hers trailers. Indeed, Marriage Story hits hardest when it converges between the sentimental and the painful, when Driver and Johansson face what's irreconcilable between them while still feeling deep affection for each other. The crystalline moment is the gate scene: beginning on a note of minor pettiness, it ends with them looking into each other's eyes as Randy Newman's sweet score plays and the door literally shuts between them.
Once Upon a Time in Hollywood
At its core, Quentin Tarantino's film is a confrontation between the old guard and a new generation. The tapestry of late-1960s culture and counterculture makes the most sense when you step back from the individual vignettes and gaze at the whole; scenes involving real-life players like Bruce Lee or the Manson family or Sharon Tate don't quite give us that scope. So while it would single out Leonardo DiCaprio's performance (he is still nominated, by the way!) over Brad Pitt's, we would choose his scene opposite newcomer Julia Butters. Their chemistry centers the film's playfulness and weariness in one place, all while underlining Tarantino's intergenerational thematic aim.
Parasite
Here's the film that presents the toughest challenge. A showcase montage like the peach sequence might not land as successfully when taken out of context, not to mention it could spoil some of the fun for audiences still discovering the movie. While Ki-woo's (Choi Woo-sik) interview at the Park home would help avoid key spoilers, a moment that doesn't include more of the film's beloved ensemble cast feels like a missed opportunity. As with the film itself, our hearts lie with the Kims. So the film's representative scene should be their drunk snack time in the Park home, where they hijack the absent family's booze and discuss the finer points of their wealth-induced veneer of kindness. End the clip with the buzz from the front door, and you've got a perfect tribute to the film's twisty nature.