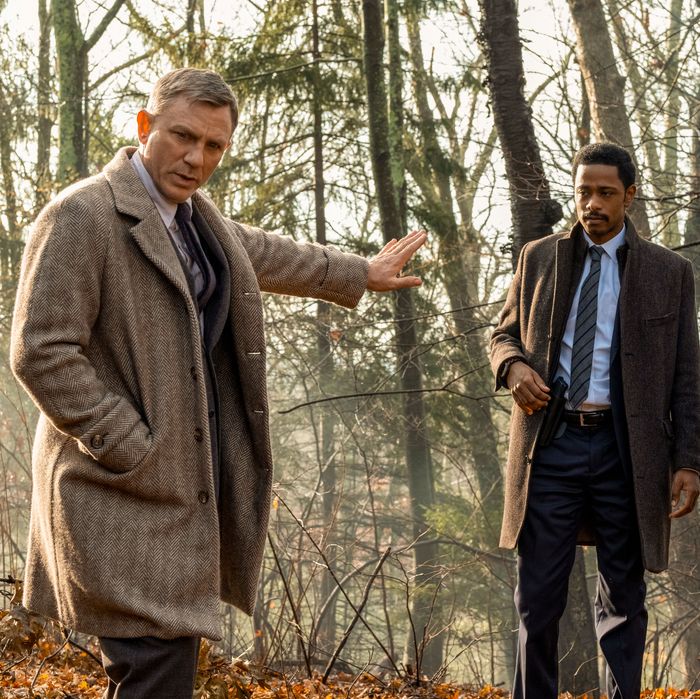 Remember this AMPAS mess?
Photo: Claire Folger/Lionsgate
Disney is invested in getting Avengers: Endgame some serious Academy consideration, with emphasis on serious. The company's For Your Consideration screener of the mega-blockbuster, which served as a series finale of sorts for the Marvel Cinematic Universe's Infinity Saga, features a black-and-white image of Tony Stark (a.k.a. Robert Downey Jr.) and his Iron Man mask, intended to evoke maximum melancholy. It's the kind of image you'd expect from a prestigious arthouse film's campaign, not a billion-dollar franchise installment. All that's missing are the words, in Serif font, "Honor the Iron Man, Honor the Film."
Endgame is not expected to earn any above-the-line Oscar nominations on January 13 — no Best Picture, no Best Director. But if the Academy of Motion Picture Arts and Sciences had gotten its way last year, Avengers: Endgame would likely have been nominated in another category this year: Best Popular Film. Remember that mess? Ahead of the 2019 ceremony, AMPAS announced several changes to the event, including this year's extra-early ceremony. It also shuffled some awards off the televised broadcast, and attempted to add a category just for popular films, to better engage audiences. (Translation: Oscars network ABC wanted better ratings, which AMPAS thinks is tied to how popular the movies honored are.)
Aside from the date alteration in 2020, most of these changes were promptly reversed, with the Best Popular Film category ostensibly tabled for another time. Considering we've heard nary a peep about it since, it's probably safe to assume AMPAS and ABC realized that most of last year's potential Best Popular Film lineup would have just been Best Picture repeats: Black Panther, Bohemian Rhapsody, and A Star Is Born, specifically.
As we wait for the Oscar noms, though, it's fun to consider how this year's Best Popular Film category would've gone. Assuming what many did last year — that "popular" films would've needed to gross at least $100 million domestically, qualifying them as blockbusters — there are two likely Best Picture nominees that would've translated into the Popular Film category: Quentin Tarantino's Once Upon a Time in Hollywood, and Todd Phillips's Joker. But what about the other three slots? Would Endgame indeed have taken one?
Disqualified for Box-Office Gross
Both the film finale for Downton Abbey and the Elton John biopic Rocketman sit just shy of $100 million domestically. If the theoretical Best Popular Film category were not so strict about financial gross, or if either had grossed just a couple more million dollars, they'd be very much in the conversation. As this is a discussion of a category that literally does not exist, we're going to stick with our arbitrary rules, which means they're out.
The Disney Crowd
The movie-making monolith produced most of the highest-grossing films of the year — distributing seven of the top eight, and co-producing the eighth (Spider-Man: Far From Home) — Disney would no doubt have plenty of plays for this category. Avengers: Endgame would absolutely be one, as would the live-action adaptation of Aladdin and the "live-action" adaptation of The Lion King. Animated movies like Frozen 2 and Toy Story 4 certainly performed well at the box office, but considering they're already locks for the Best Animated Feature category, it might've been overkill for them to be considered here as well.
Then there's Star Wars: The Rise of Skywalker, which is certainly popular in terms of gross receipts — but not particularly popular with critics, getting some of the film franchise's worst reviews. It's tempting to say it would've gotten in solely as a tribute to the new trilogy, but we think it wouldn't have been Disney's priority while campaigning, particularly with so many titles. The same could be said for Maleficent: Mistress of Evil, which is the lowest-grossing of Disney's possible Best Popular Film contenders, and Captain Marvel, which would likely be shifted aside to make way for more Endgame campaigning.
We're going to make a bit of a reach and say Endgame would be Disney's only Best Popular Film nominee. The Lion King is the only other we could see crossing the threshold, but … well, we'll explain why there may not be room shortly.
Outside Contenders
Three serious players don't really fit in any category: DC's superhero farce Shazam!, the horror sequel It Chapter Two, and dad car movie Ford v Ferrari. Because Endgame's shadow looms so large, and the Best Popular Film lock Joker also has superhero-movie ties, we think Shazam! would struggle to steal the attention. Considering It's second installment did notably worse with critics than its first, we're skeptical that Warner Bros. could generate heat for it — especially since they'd be campaigning Joker.
That leaves Ford v Ferrari, and it's verrrrry possible that the Christian Bale– and Matt Damon–starring racing movie would've gotten in. The movie has cleared $100 million without much buzz, a sign that the movie's target audience is finding the picture organically, and Bale is a likely Best Actor nominee this year, which means Oscar voters are seeing it. However, it's worth noting that Ford v Ferrari was distributed by 20th Century Fox, which makes it a stealth Disney contender. Again, the Mouse House might want to put all their eggs in the Endgame basket, so that leaves Ford v Ferrari's fate up in the air.
Critical Favorites
Here's the thing about Academy members: Their tastes don't change just because you slap the word "Popular" on a category. If they're not nominating popular movies, it's because they don't ultimately find those movies worthy. It's why last year's Best Picture lineup included three likely locks for a potential Best Popular Film lineup: Voters like what they like regardless of box office.
So movies with critical support that are likely to be competitive in other categories — like Jordan Peele's horror film Us, Rian Johnson's wickedly funny whodunnit Knives Out, and Lorene Scafaria's strippers-and-scammers crime drama Hustlers — are more likely nominees than big-budget critical duds like The Lion King and The Rise of Skywalker.
Final Lineup
Avengers: Endgame
Joker
Knives Out
Once Upon a Time in Hollywood
Us
With Ford v Ferrari as the likely sixth-placer. It's possible Avengers: Endgame could win in this set, particularly if it's Disney's only priority, but we're inclined to say Once Upon a Time in Hollywood would take the gold. After all, like we said, AMPAS members' tastes don't change. Had it stuck around, Best Popular Film could easily have become just another trophy on Tarantino & Co.'s proverbial shelf.