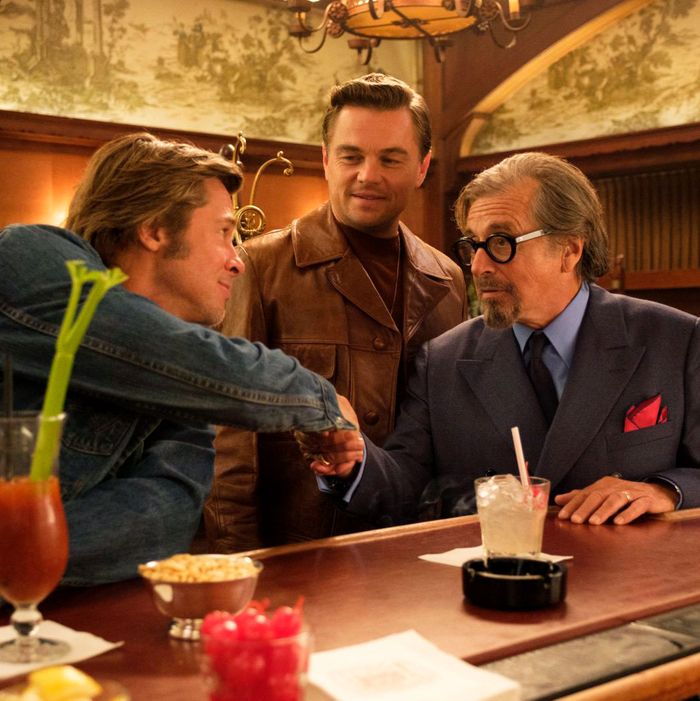 The Best Original Screenplay category is where the party's at.
Photo: Andrew Cooper/Sony Pictures
Seemingly every year, the Best Screenplay categories at the Oscars suffer from an imbalance. Some years are chock-full of prestige adaptations of literary fiction, biographies, or stage plays, while the original scripts are a shallower pool. Other years are heavier on original work, still resulting in a lopsided ledger. And that's not necessarily bad! A "weak" year for a certain screenplay category is when Oscar voters are forced to look beyond the usual bait and into the pool of indies or comedies or animated and foreign films. This year, for example, the screenplays are heavily weighted toward original scripts, and this week's slew of award-nomination announcements (specifically from the Writers Guild of America and BAFTA) underscored just how frenzied the race for those five Oscar nominations for Best Original Screenplay will be.
The nominations shook out thusly:
WGA Film Awards
Best Original Screenplay
1917 (Sam Mendes & Krysty Wilson-Cairns)
Booksmart (Emily Halpern & Sarah Haskins and Susanna Fogel and Katie Silberman)
Knives Out (Rian Johnson)
Marriage Story (Noah Baumbach)
Parasite (Bong Joon-ho and Han Jin-won; story by Bong Joon-ho)
Best Adapted Sceenplay
A Beautiful Day in the Neighborhood (Micah Fitzerman-Blue & Noah Harpster; inspired by the article "Can You Say…Hero?" by Tom Junod)
The Irishman (Steven Zaillian; based on the book I Heard You Paint Houses by Charles Brandt)
Jojo Rabbit (Taika Waititi; based on the book Caging Skies by Christine Leunens)
Joker (Todd Phillips & Scott Silver; based on characters from DC Comics)
Little Women (Greta Gerwig; based on the novel by Louisa May Alcott)
BAFTAs
Original Screenplay
Susanna Fogel, Emily Halpern, Sarah Haskins, Katie Silberman, Booksmart
Rian Johnson, Knives Out
Noah Baumbach, Marriage Story
Quentin Tarantino, Once Upon a Time in Hollywood
Han Jin Won, Bong Joon Ho, Parasite
Adapted Screenplay
Steven Zaillian, The Irishman
Taika Waititi, Jojo Rabbit
Todd Phillips, Scott Silver, Joker
Greta Gerwig, Little Women
Anthony McCarten, The Two Popes
Let's knock out the implications for the Adapted Screenplay Oscar race right off the bat, since it won't take long. This is a shallow pool of potential nominees that the WGA made even more shallow by declaring that The Two Popes (based on Anthony McCarten's play) and Hustlers (based on a New York Magazine article by Jessica Pressler), two movies that will compete as Adapted at the Oscars, are actually originals. (BAFTA sided with the Academy and nominated McCarten's movie in the Adapted category.) Beyond the films listed above, the only other real Oscar competitors in the category would be Just Mercy and Richard Jewell, two films whose awards-season journeys have thus far topped out at scattered Supporting nominations. The real battle will likely boil down to a duel between The Irishman, which will attempt to ride the quiet regret and resentfulness of its characters to the finish line, and Little Women, which is lately benefiting from its star power and a surging wave of appreciation for Greta Gerwig.
Original Screenplay, though? Well, you might as well have Tiffany Haddish call the category "Chernobyl," because it's where the party is at this year, and the WGA and BAFTA nominations proved it. 1917 continues to show its strength in surprising ways; just a day after winning the Golden Globes for Best Picture and Best Director, the Sam Mendes–directed World War I film got a surprising WGA nod for its screenplay. (BAFTA didn't recognize Mendes in this category, but did give the film recognition elsewhere.) If Hollywood's guild members like the film's script this much, don't expect there to be too many guilds that won't go for its technical mastery in cinematography, editing, sound, and production design, too.
1917 joins three films that most people expected to show up on the WGA list: Marriage Story, Parasite, and Knives Out. All three are very script-forward films from auteurist filmmakers and should prove to be solid Oscar contenders. The surprise fifth slot went to the hugely popular teen comedy Booksmart, whose smarts and heart could have some people wondering if it might stand a chance to repeat last year's upset win by Eighth Grade. Add a BAFTA nod on top, and the attention will surely help Booksmart nab a few last-minute Oscar votes.
Almost as big a story as what was nominated was what wasn't eligible in the first place. The WGA is famously the most restrictive guild when it comes to holding the line and making sure only guild members' scripts are eligible. This tends to knock out foreign language contenders like Pedro Almodovar's Pain & Glory and Lulu Wang's The Farewell, both of which were held out of competition. As was the film that is perhaps the front-runner to win the Oscar for Best Original Screenplay: Quentin Tarantino's Golden Globe-winning Once Upon a Time in Hollywood. The WGA omission comes as no surprise, as Tarantino has been something of a conscientious objector to the WGA ever since he was only given "story by" credit on the 1994 Oliver Stone film Natural Born Killers. He's been absent at the WGA Awards ever since. Both of Tarantino's Oscar wins — for 1994's Pulp Fiction and 2012's Django Unchained — have come without WGA precursor support.
But here's the fun part: When it comes to the Oscars, everyone's let back into the pool. All five of these WGA nominees for Original Screenplay will wrestle it out with Tarantino (who did get the BAFTA Screenplay nod), Almodovar, and Wang, plus today's one true snub: the Safdie brothers' Uncut Gems, which took home the prize for Best Director at the New York Film Critics Circle Awards this week. There's even some outside glimmers of hope for films like Bombshell and Dolemite Is My Name, though with a field this competitive, don't count on it.