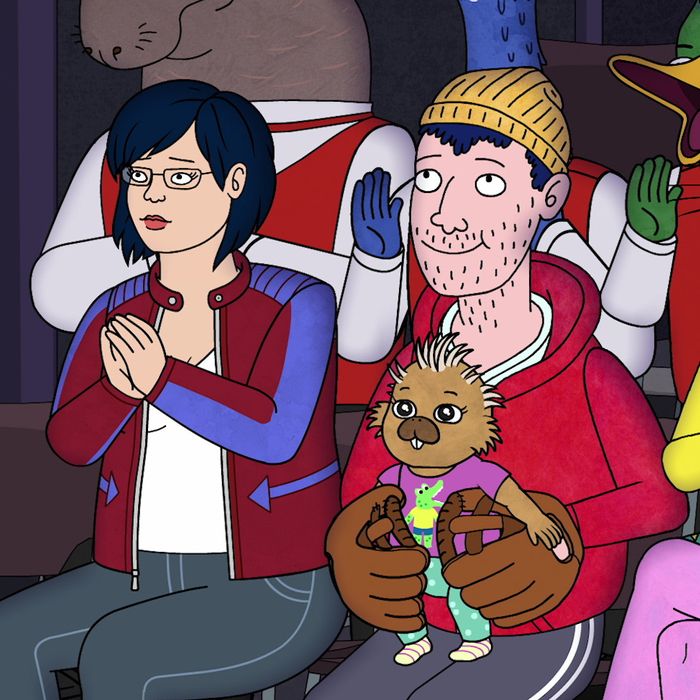 Photo: Courtesy of Netflix
The final season of BoJack Horseman has spread its ensemble all across the country, and apart from galvanizing events like BoJack's acting showcase, it's rare to see everybody in the same room. But the upside to this relatively scattershot approach is an episode like "Good Damage," which largely dispenses with the other characters to take a deep dive into Diane Nguyen.
After a brief hint that her memoir isn't going so hot in the midseason premiere, "Good Damage" drops us straight into Diane's life in Chicago, where she's living with her boyfriend Guy while trying, with limited success, to write a memoir that will enable her to take all the abuse and neglect she's survived throughout her life and turn it into something positive.
In its later seasons, BoJack Horseman has gotten very adept at playing around with the animation itself to get into a specific character's headspace. The rough-hewn, scratchy representation of Diane's writing process is similar to BoJack's inner monologue from season four's "Stupid Piece of Shit," and it serves a similar function, as Diane self-flagellates over her memoir.
The execution is one of the more realistic takes on the writing process I've ever seen, as Diane fixates on the same few incidents: being neglected and insulted by her chauvinist father, being bullied by a girl named Krissy Keating, and the adult relationships that have shaped her life, including Mr. Peanutbutter and BoJack Horseman. These thoughts are peppered with legal concerns ("Check if it's okay to to use her real name"), practical asides ("that's not right English, I'll fix it later"), and self-mocking doubts ("Whiny Diane's Tome of Bellyachin'!").
Diane attempts to tie all these relatively disconnected ideas together with a single half-baked metaphor: A broken salad bowl Mr. Peanutbutter repaired using the Japanese art of kintsugi. In kintsugi, an artist uses gold lacquer to take something that was broken and turn it into a more original, singular, and arguably more beautiful work of art. Diane posits that her life is a bowl that was shattered by trauma and repaired into something more beautiful. Or maybe her life is the cracks?
It doesn't help that Diane's plumbing of her own darkest memories coincides with her decision to go back on antidepressants, which she says makes her both clearer and foggier at the same time. Her only break from the wrenching process is a tossed-off crack at a children's novel called Ivy Tran, Food Court Detective (depicted, appropriately, in animation that's much more distinctive and sharply defined than the animation used to depict her flailing memoir).
Guy ends up sending Ivy Tran, Food Court Detective to Princess Carolyn, who loves it so much that she asks Diane to give up on the memoir and write the children's novel instead. But Diane isn't willing to give up on her memoir so easily. When Princess Carolyn finally asks why Diane is so hellbent on putting all her worst memories onto the page, Diane is ready with an answer: "If I don't, all the damage I got isn't 'good damage.' It's just … damage. What was it for?"
In response, Princess Carolyn gently (and probably correctly) suggests that Ivy Tran, Food Court Detective will do more to help and inspire little girls like Diane than a bleak, harrowing memoir ever could. But Diane's question still hangs in the air: What was it for? The sad and powerful answer is that trauma, on its own, doesn't really have any meaning. The meaning comes from the way each individual survives it and, in the end, learns how to grow both through it and past it. And if she never puts out a memoir that distills all those hard-won lessons into a single coherent package — well, it's a good thing her life itself does the same thing.
Horsin' around:
• Meanwhile, the His Girl Friday-esque reporters Paige Sinclair and Maximilian Banks, who are still chasing down the real story of Sarah Lynn's death, track Penny to New Mexico. Aside from Sarah Lynn's brief appearance alongside BoJack at Oberlin during the bender that ultimately led to her death, Penny doesn't know anything about the pop star — but the experience does make her contemplate whether she should go public with her own story. Her subsequent conversation with Charlotte, in which they debate whether the truth about BoJack's behavior is worth the scrutiny it will invite, is absolutely heart-rending. It also dovetails nicely with Diane's fixation on "good damage," and the question of how we either find or create meaning out of traumatic experiences that would otherwise feel meaningless.
• The very end of the episode returns to Charlotte's phone call to BoJack, as seen at the end of the midseason premiere. In the immediate aftermath of the call, BoJack passes out.
• Weight gain is a fairly common side effect of antidepressants, and I appreciate how BoJack is depicting that realistically without making it the center of Diane's story, and without it sparking any conflict whatsoever in her relationship with Guy.
• The name on Diane's coffee cup is "BLARN" — which was also on Diane's own name tag in 2007, when she worked as a Starbucks barista (and met Mr. Peanutbutter for the first time).
• Maximillian Banks drinks Guten Bourbon, the urban German bourbon Todd briefly hocked all the way back in season one.
• The endless roster of Chicago-Style items available in BoJack Horseman's Chicago includes a Chicago-Style vaccine, which I guess means no ketchup?
• Sofia Coppola can't direct a Robin Hood from Maid Marian's perspective because she's too busy directing a Peter Pan from Wendy's perspective.
• Per Princess Carolyn, Birthday Dad's 0.006 ratings share makes it one of network TV's biggest hits.
• He only gets two lines, but it's still such a delight to see Judah working for Princess Carolyn again.
• If you're still curious about kintsugi, here's a fairly comprehensive article.