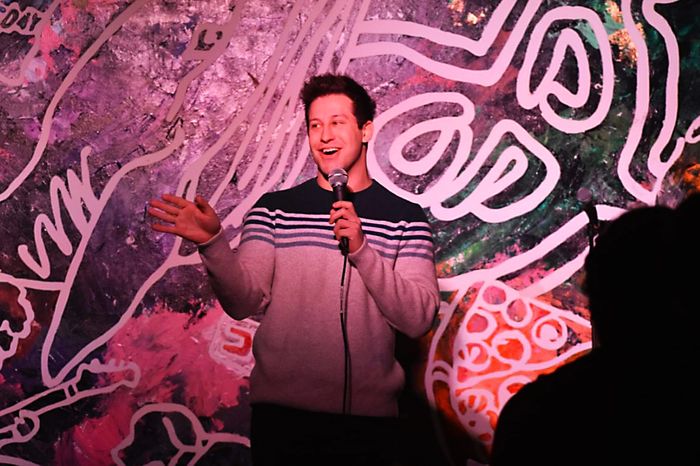 Brandon Follick.
Photo: Devin Chowske/Gray Door Theater Project
Brandon Follick (@follickacid) is a writer and comedy performer originally from the Poconos and now based in Brooklyn. His writing has been featured in Reductress, McSweeney's, and Flexx Mag, and he has performed at the Edinburgh Fringe Festival, NYC Sketch Festival, and Philly Sketch Video Fest. He also co-hosts the monthly comedy variety show Girl's Girls at Starr Bar in Brooklyn.
This week, Brandon and I chatted about Liz Lemon, getting shit-talked on a podcast, and when it will ultimately be over for these hoes.
How did you get into doing comedy?
I remember in high school my friends and I would watch The Office and 30 Rock every Thursday night then come to school on Friday and quote it back and forth. All I have ever wanted to be in life was Liz Lemon, but I didn't know how. Fast-forward to college, where I never did anything related to comedy. I was about to graduate and I made the grave mistake of majoring in biology, but I had a hard time taking my future seriously. My friend suggested I try comedy and I was like, "Okay, that's my dream now, thanks."
I knew wherever I was going next, I wanted to explore the comedy scene, so when my first job brought me to Boston for a year, I took a sketch writing at Improv Boston then got an award that let me take some free improv classes. I was getting lots of positive feedback from my teachers and classmates, so then a year later I moved to New York and did the same at UCB. Not too long after, I got into satire writing and stand-up. And now I'm having a blast! As Liz Lemon says in the episode "Sandwich Day," "I can have it all!" She was clearly talking about both my comedic talents and devouring a sub so she could get through TSA to get to her ex-boyfriend.
I recently learned that someone from my past talked about me on a podcast, which, even though they didn't name names, feels like it should be a crime. I did not consent to ever being talked about, especially indirectly on podcast. I guess the person they were talking about could have been someone else, but it's more dramatic to make this about me. This is why you shouldn't date anyone who is interesting enough to be on a podcast, so this one is actually on me. As the great Bowen Yang and Julio Torres once wrote, "Get rid of toxic in community."
Has social media has changed your sense of humor at all? Do you think social media has changed the comedy scene as a whole?
Hard to say! I feel like I've always had the same sense of humor, but I think the brevity of a tweet has made me better at tightening jokes overall. I feel like I treat Twitter like my storage space for one-liners or validated thoughts that I can come back to later. For the comedy scene as a whole, social media has definitely changed the game. It gives anyone the opportunity to share a joke or funny thought in a public setting. It has also been great for exposing underrated or typically unrepresented comedians to a bigger audience.
Tell us about your monthly show, Girl's Girls. What inspired it? What do you hope to accomplish with it?
My good friend Shelby Slauer and I wanted to host a show together, and we like affirming when someone is a Girl's Girl, so we wanted to invite people who we think are real ones to perform in our comedy variety show. We've been hosting the show for a few months now, and I've been surprised by and grateful for the turnout and fun people seem to have. When coming up with titles, I also came up with DJ Thotify Premium, which Shelby thought was also funny but less clear as a show theme. I hope to one day have someone DJ the show who I can call DJ Thotify Premium. That's a small hope though. We're also open to doing the show as HBO specials. Just something for them (or any other subscription streaming service) to consider!
Something about putting the classic bully phrase "your ass is grass" into the format of a tragic love Tumblr poem written by Rupi Kaur felt really fun to me. I find those poems from Milk and Honey kind of funny sometimes because it's like putting these relatable, accessible ideas into misaligned formats then being like wOaH tHaT's So DeEp! At first I was like, Wait, am I appropriating Rupi's Instapoetry? then I learned she knowingly stole the style, format, and structure from Nayyirah Waheed. Also, those women are genuine artists and I'm someone who will use the only 20 words I know over and over again until I die, so truly, whatever!
Do you have any comedy-related New Year's resolutions?
Every new year I set out to land an incredible writing job, pick up some Emmy wins, and receive the Mark Twain Prize for Humor. I'm ambitious, but those goals can feel like a reach. I'd love to keep doing stand-up, maybe do a half-hour later this year. I've always wanted to do more video sketches, so there's that. I've also been toying with this scripted narrative podcast about Timothée Chalamet and the plot of The Princess Diaries, but I worry that the Timothée bubble is going to burst soon.
I love entertaining the idea that one day I'm going to be an entirely different person. Like one day I'm going to wake up and suddenly be someone who is more stable, doesn't procrastinate, is six-foot-two, etc. And I do wholeheartedly believe that once I achieve those things, my haters won't stand a chance. I'm not talking like growing as a person — I mean completely changing who I am. I feel like I can accomplish those things in like one more year of therapy.
Do you think it'll finally be over for these hoes in 2020?
You know these hoes don't quit. My haters love to stunt on me and see me suffer. Luckily for them, that happens often and endlessly. However, I vow to be an entirely different person in 2020, starting by being six-foot-two.