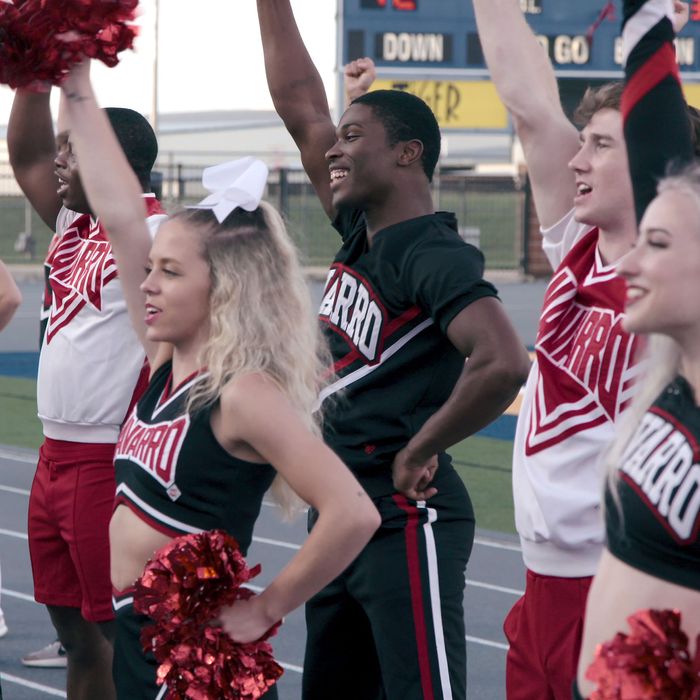 Look at my amazing children. So proud.
Photo: Courtesy of Netflix
My lone complaint about Cheer — the Netflix docuseries chronicling the competition season of the elite cheerleaders at Navarro College in Corsicana, Texas, a place you've probably never heard of if you are not also an elite cheerleader — is that it ends. There are just six episodes and then … nothing. Which, having invested my entire heart and soul into these lives of these athletes, is just not enough.
I wanted more. I wanted more Jerry and more Morgan and more Lexi and more LaDarious. I wanted, nay needed, more Sherbs. And so I turned to Instagram. Which, as you have clicked this story, I assume you would also like to do. So let's cut the throat-clearing and get straight to the list of Instagram handles for you to click and immediately follow, and then maybe unfollow because it turns out it's not super fun to be bombarded with content from people with unachievable six-pack abs at all times. (Just kidding, kids, I love you.)
Gabi Butler
Whomst: The OG queen of the cheerleading world, whom I would very much like to instruct to take a nice long vacation filled with many naps.
Handle: @gabibutler1617
Lexi Brumback
Whomst: The platinum-haired tumbler who can out-flip the guys and has a penchant for trouble. (Not to spoil anything, but we've got an exciting update on Brumback if you've finished the series already.)
Handle: @lexisbrumback
Jerry Harris
Whomst: The heart and soul of the whole damn show, with the best laugh in town. Jerry, if you're reading this, please come visit us and hang out in our office.
Handle: @jerry.h.arris
Morgan Simianer
Whomst: The underdog of the season whose origin story will break your heart and make you root for her more than you already were.
Handle: @morgannlyn
La'Darius Marshall
Whomst: There's no way you've forgotten La'Darius, a perfect storm of talent, a sometimes bad attitude, and a backstory that will make you cry. In case you have, though, he's the one repeatedly described as "extra."
Handle: @ladarius_marshall17
Mackenzie "Sherbs" Sherburn
Whomst: SHERBS! The Navarro Bulldog whose 2018-19 season ends up … well, if you've watched the show you know. SHERBS!!!! Spotters? Where are you?
Handle: @mackenziesherburn
Allie Ross
Whomst: You'll recognize her as the top girl and flyer whose physical safety you were concerned for throughout the duration of the series.
Handle: @alross3
Shannon Woolsey
Whomst: Honestly, I'm sorry, but this show has a lot of people in it and didn't really focus on them all. Shannon is a Navarro cheerleader. You'll recognize her. That's all I got.
Handle: @shannonmaay
Austin Bayles
Whomst: The member of the squad whose injury forces them to stop midway through a crucial performance. Austin, we love you!
Handle: @austin_bayles
T.T. Barker
Whomst: Remember the guy who competed on a different team against coach's orders and got hurt and then she made him practice all day on a hurt back? That's T.T. (This series has a lot of good and heart to it, but that moment certainly raised some red flags.)
Handle: @ttnav
James Thomas
Whomst: Another one of our favorite rookies. (Have you noticed all of these athletes are my favorite? It's fine. Just go with it.)
Handle: @amazingpewetho
Monica Aldama
Whomst: Coach!
Handle: @monicaaldama