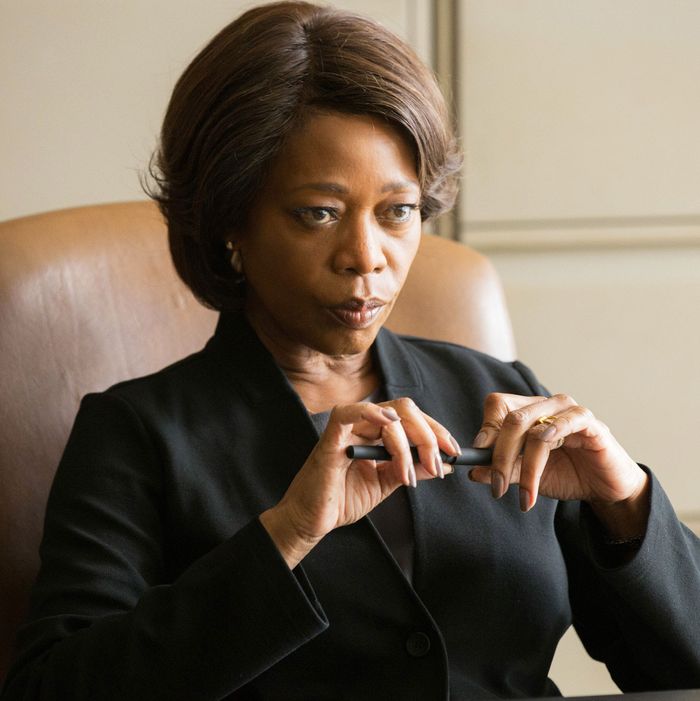 Here is an actor in full command of her skills. That she won't be considered for an Oscar is a travesty.
Photo: Pau Sarkis/Neon
In writer-director Chinonye Chukwu's film Clemency, Alfre Woodard's face is a puzzle I want to solve. The film opens and closes with the contours of her visage and the stories they tell. In the beginning, when we first meet Warden Bernadine Williams (Woodard) her face is steady, as if she's steeling herself for what's to come next: her 11th death-row prison execution. Chukwu often holds firmly on Woodard and the set of her shoulders to complicate and flesh out the emotional terrain of the scenes that follow. Watch as she flinches when the deputy warden, Thomas Morgan (Richard Gunn), offers to role-play the execution to help officers prepare. Study the the downturn of her lips and the shock in her eyes when she realizes her husband Jonathan's (Wendell Pierce) romantic overtures on their anniversary are part of a ploy to make her consider retirement. Drink in the shifting expressions that characterize a drunken night out with Thomas, where she's hoping for reprieve from the darkness squeezing at the edges of her life.
Bernadine is coming off a botched execution that haunts her, and the next one — of Anthony Woods (Aldis Hodge), a man convicted of killing a cop during an attempted robbery, which we learn about through blunt TV segments and radio announcements — is swirling in doubt. Woodard plays Bernadine as a guarded woman with a resolute sense of remove; like the story of Clemency itself, she keeps onlookers at a deliberate distance. This is not a film that provides easy prescriptions; watching it, we're forced to catalogue a slight shift in a character's mood or physicality in order to understand the understated truth of the saga.
Consider the moment when Jonathan explains, during their anniversary dinner, the sacrifices he's made for their marriage. We never learn exactly what these sacrifices were, but we know the burden of them weighs heavily on his relationship with Bernadine, and that she is aware of the harrowing effects of her work. She's beset by strange nightmares of being on the gurney in the execution room. She prefers to spend her evenings on the couch watching late-night TV away from her husband. As Jonathan says to her one evening, "Bernadine, I see you at night and I don't think you want to live in fragments anymore either. I think you want to be whole. Even if it's not with me, I think you want to be whole." She doesn't respond with words at first, but with a shifting facial expression of yearning and understanding and the prickly realization that she's been seen.
Narratively, the political dimensions of the death penalty aren't exactly what beguile audiences here. It's how they're refracted through the stories of Anthony and Bernadine, who communicate untold sorrow and anger in microcosm. Clemency is a critique of the death penalty in terms of how it slowly warps lives. How can Bernadine face herself? the tenderhearted lawyer (Richard Schiff) who defends Anthony asks. How can she face the men she has a hand in killing? How can she justify such barbaric vengeance and consider it justice? (That Bernadine is black speaks to the ways even the marginalized are complicit in the system that controls their lives.) Bernadine's words speak to a resolute confidence, even as the thrum of protesters outside the prison leaks through her halls, but Woodard's face demonstrates the fractures in such a belief system.
Above all else, Clemency is a supreme actors' showcase, backed by a director of fine-tuned emotional intelligence and a cinematographer who understands the depth and beauty of black skin tones. Aldis Hodge gives a coiled performance as Anthony. He's taciturn around prison staff, barely looking at Bernadine when she asks him what he wants for his last meal. But there are punctures in his stoic facade. When Anthony pummels his head against the wall of his cell in an effort to kill himself, he exclaims again and again: "I say when I die!" When Chaplain Kendricks (Michael O'Neill) reads from the Bible to Anthony his only response is a gut-wrenching scream. When he learns he has a son with his high-school girlfriend Evette (Danielle Brooks), an inner light buzzes to life inside of him. The single scene between the two is stitched with heartbreak as Anthony moves from incandescent joy to anger and yearning in the face of Evette's refusal to apologize for the choices she made to protect their son. Even with the fault lines between them, she tries to comfort him. "You, Anthony Woods, are loved. People are fighting for you […] When I die I will only be a memory to a handful of people but when you die — your name will live on for lifetimes." But what kind of salve is remembrance when it comes to unjust death?
The crown jewel of Clemency, however, is undoubtedly Alfre Woodard. Bernadine has a subtle arc that is undergirded by incessant questioning. These questions don't arrive in the form of dialogue, but are written into her complex body movements, perceptible shifts in posture all communicating contradictions roiling beneath Bernadine's surface. A nearly three-minute long shot toward the film's end holds onto Woodard's face, the fading beep of a heart monitor soundtracking tears as they roll down her face. Woodard's muscle jerks and twitches are magnificent: the bend of her brow, the tilt of her head, the hollowed gaze. Here is an actor in full command of her skills, underscoring the fact that Alfre Woodard's awards-season snubbing is a travesty.