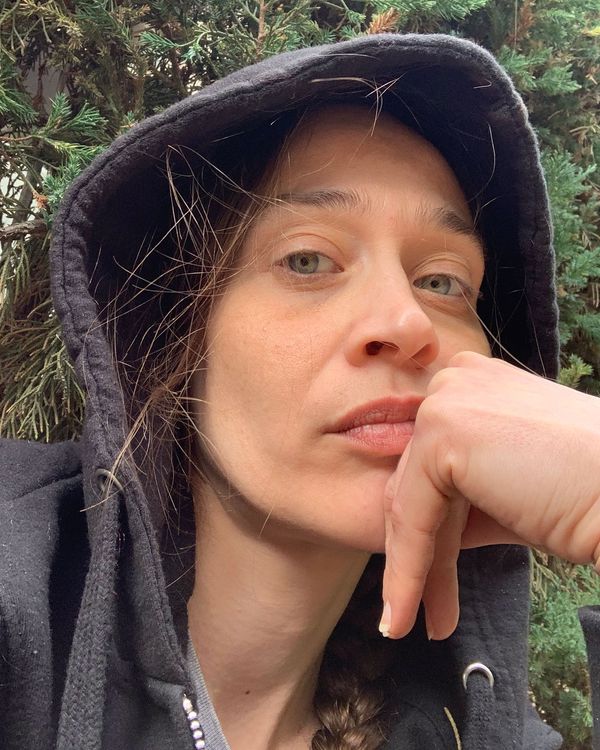 Photo: Courtesy of Fiona Apple
I first spoke with Fiona Apple back in September, after she spontaneously emailed me and gave her first interview in seven years. She was in the midst of working on a new album, her first since 2012's The Idler Wheel, and had quite happily become the sort of homebody who rarely left her house except to walk her dogs. Apple was as generous and warm as she was openly furious about Trump's cruel immigration policies, and she told me that she was planning to donate two years' worth of royalties from her hit song "Criminal" to While They Wait, which helps raise awareness and support for immigrants, particularly those seeking asylum and/or facing family separation.
About a week ago, While They Wait's Scott Hechinger reached out to let me know he'd received a check from Apple for $90,000. Apple has kept in sporadic touch since our first chat, sending me the occasional update and balloon emoji, and after I learned about the donation, she said she wanted to talk about it. She also had updates on the album as well as a few other issues on her mind: whether she'd tour once it was ready, Justin Bieber's chart-gaming, and finally watching Jennifer Lopez doing a mind-altering pole-dance to "Criminal" in Hustlers.
You said your mom was just in town. How was hanging out with her?
It was good. She was here for a while, and I saw her a couple times, and she kept saying, "Can I listen to some of your [new] songs?" I basically made her forget about it. And she was like, "I'm going to the airport, I wanna stop by for an hour before I go to the airport, I want to hear your song!" I don't like standing there and playing songs for anybody. I didn't want to be there, but I also wanted to see what her face looked like. And she had the funniest review. She said, "I feel like this is the musical equivalent of standing at the edge of a cliff, and the only thing that's keeping you from falling is this amazing wind that's keeping you up."
That's so poetic!
I know! I was like, "That's good, Mom."
So she liked it?
I don't know! I thought of that later. She also at some point said, "It must be so hard to be you! Does it ever smooth out? No!"
Is she a writer?
Not professionally, but she definitely could be. She's great with words.
How have you been since we last talked?
When it comes to the end of an album, it's always a strange feeling. I'm happy with it, but I don't know — everything that comes with when you put it out makes me want to step on the brakes. But I'm good.
How close are you to being done?
It's really up to me. It'll be done soon. It's just I have to do artwork and stuff, and I've been dragging my feet a little bit. I don't know. Sometime in a few months, I guess.
Do you have a sense of the aesthetics of it — the title, what it'll look like?
I have some ideas. I know what the title is, but I'm not gonna say right now. [Laughs.] I've been thinking about colors and stuff, but I haven't really done anything.
Do you think you'll tour with this album?
I want to and I don't want to. [Laughs.] It's so scary for me, all that stuff. I'm pushing it out of my mind. In the next two weeks, I have to have a meeting with the band about what our plans are and what's going to work. They're all in other bands, so they have other schedules.
I hope you do. So let's talk about the donations. Tell me a little about where that money is going specifically.
Scott's told me a lot of stuff that I would not have known. It's so funny, I'm sitting here with little notes in front of me about, like, things to say. Every time somebody has a cause, you just know somebody is giving them things to say.
We all know that the border is pretty much closed off to all asylum seekers. The people on the other side, I don't know how to help them. But those on this side, there's over a million of them and they're waiting for their cases to move through immigration court. You don't think about the little things, just being able to survive while getting through court, because it takes such a long time. Like when they come from the warm side of the border and in NYC it's cold. They need warm clothing, food, cell phones to navigate the system. They need to get in touch with their families and to be able to get to their family members, if they're far away — a bus ticket or a plane ticket, to make sure they're not homeless. This is shit that I'd never have known — you have to apply to get work authorization, and to get a green card, you have to have a physical, and that's really expensive. The fund is giving them the money to do these things.
I think it's amazing, to dedicate all of this money and energy to this issue.
Thank you. I don't know that I've dedicated that much energy on it. [Laughs.] It just feels so right. I'm interested in the actual people this is going to. I want to hear about it. Because it's opened up a whole world to me that I care about so much. Scott said there are large chunks of money split up between 15 families that are now dealing with life after being released, and they're represented by RAICES, who's helping them survive. 15 families! I think about 15 families that I know, and put those families in my mind in these situations — there's the Steinberg family, the Miller family, the Wilson family, my friend's families. I imagine them struggling like this, and it just makes you want to run in and open your doors.
Are you planning on meeting or speaking to any of them?
I'd love to. But my first thought when you say that is that I don't want to put them in an uncomfortable position. "Oh, come into this room, say hello to this person and take pictures." I would feel like, Let's let them rest. I don't want to trouble them, but I'd love to meet them.
Can you tell me a little bit about the other charity you were texting me about last week?
Oh! Stand Up for Pits. It's a great organization for pitbulls; I love pitbulls and I've had them for my whole adult life. They have this thing called Spay Neuter Day, where they go into different states, and my donation will take care of Detroit. You end up saving a lot of dogs that would end up in shelters by getting your dogs spayed and neutered.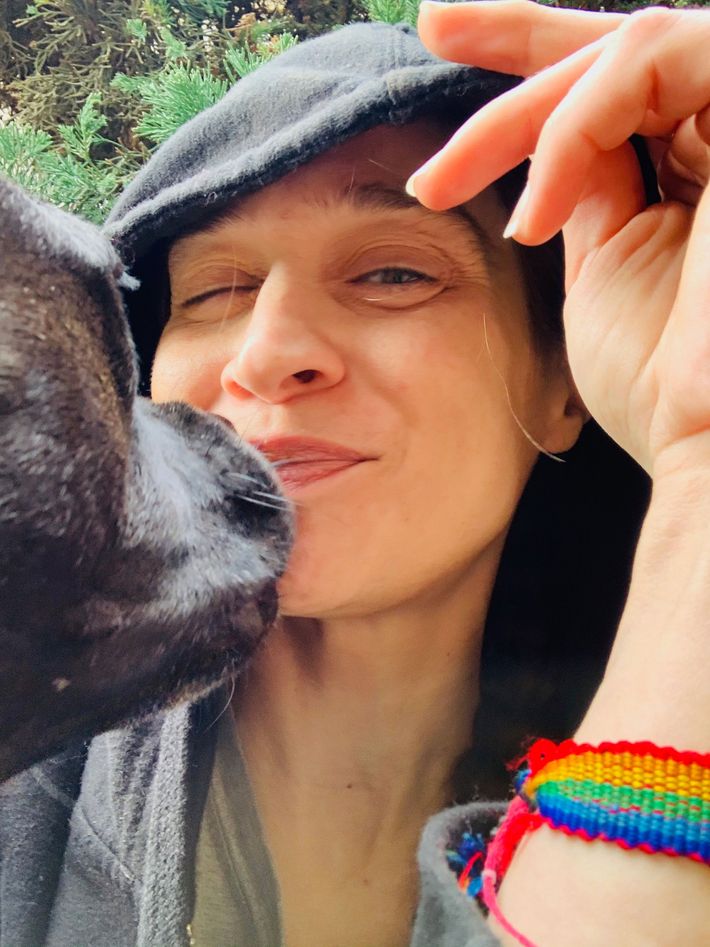 It's hard to hold yourself accountable, so if you make a pledge in public, you have to do it. If I do go on tour, I want my opener to be Stand Up for Pits — they do stand-up comedy, and it all goes to pit-bull rescue.
There's a good reason, if nothing else, to go on tour! I say that totally selflessly with no personal motive.
[Laughs.] I know, right? Do it for the pit bulls! And I want to make up the shows I canceled in South America when my dog died. I don't know if I'll get a big enough budget to go next year, but I intend to make that right someday.
What specifically about touring makes you nervous?
It's basically that I have this general aversion to doing anything social. And it's always a big deal because it's such a long time between and I don't play music for all of these years. It's only a couple years at the end [of a stretch]. For the rest of the time, I don't play my piano for years. I forget how to play everything. I forget that I'm a musician, really, and then I have to learn again. It feels kinda weird to be like, I'm gonna get onstage, because it's like, I don't do that! I just have to ease into that other job again.
You could always do a mini-tour.
Yeah, I'm not gonna go out there and try to do a crazy amount of promo. The climate of art and the music industry is so ridiculous. I feel terrible that anybody would want to be No. 1 as badly as Justin Bieber wants to be No. 1. He was upfront about gaming the system, and I think a lot of people do that, and I just want to be like, "Why? Why is it so important?" And I'm not gonna be, like, getting influencers to promote my shit. That's not gonna happen.
So I feel like I'm stepping back into a business where, like — I'm not in this business. I don't have the tools to play this game, and I don't want to buy the tools to play this game, either. That's what it feels like it's become: a game. A video game, basically. Checking their scores.
It's pretty sad.
It's very sad. And with YouTube going to charts … I don't read this stuff because I'm in this business. It's just really interesting to me. It's the downfall of civilization. And why, why do you want to be an influencer?
Though I don't think you need to play that game, necessarily. The reaction to our first conversation was that people were just so happy to hear anything from you.
Thank you. By the way, Jennifer Lopez was amazing in Hustlers. Constance Wu was amazing. And I fucking love that the whole thing was about their friendship. The ending being about, What does she think of me, does she still love me? And that Jennifer still had Constance's picture with her and it made her cry! It was so beautiful. And obviously the dance was amazing. [Laughs.] I totally forgot that my song was playing during it. You know what I loved? That scene where Ramona is teaching Destiny the moves and it's classical music in the background. I could've watched them pole-dance to classical music forever.
Now, next time you meet her and see her fabulous ass, you'll have something else to talk about.
[Laughs.] I'll be so embarrassed if she saw [what I said]. It's funny, I was thinking about that — Scott [Hechinger] had said in an article, "If anybody thinks that there's no racism in the criminal justice system, just look in one courtroom in Brooklyn." And I thought, If anybody thinks that there's no racism in the Oscars, just look at one year of nominees. Look who gets the recognition and who's ignored again and again.
It's true of almost every awards show. The Grammys, too. Everything feels flawed.
They never are [recognizing the right people]. It's so funny, some people get awards and you're like, I know this award isn't for this movie. It's for a movie they did five years ago that they didn't get the award for.
This world is bullshit! You said it.
[Laughs.] Yes.
Texts from Fiona a couple of days after our interview:
My son Mikaela (King Princess) donated her royalties from her cover of "I Know" to While They Wait Fund! It was used in some show called Dare Me, I think … I'm so proud of her …
How did you meet her and why is she your son?
I got an email almost exactly a year ago, asking if I'd like to collaborate with King Princess on something and they sent me a song of hers, "Dressed in White," I think. And I immediately loved her voice, of course. Then I think my manager forgot to respond and it was too late and I was pissed because I never actually want to do stuff and the one time I did … Anyway, somehow the opportunity came up again, and this time I just made a video of myself saying hello to her and sent it along — then she sent one back and she came over and we just loved each other. It was so easy to hang with her. And I just started calling her "Mijo" at some point as a nickname for Mikaela and also because she's just … she's my son, I can't explain it!
This interview has been edited and condensed.