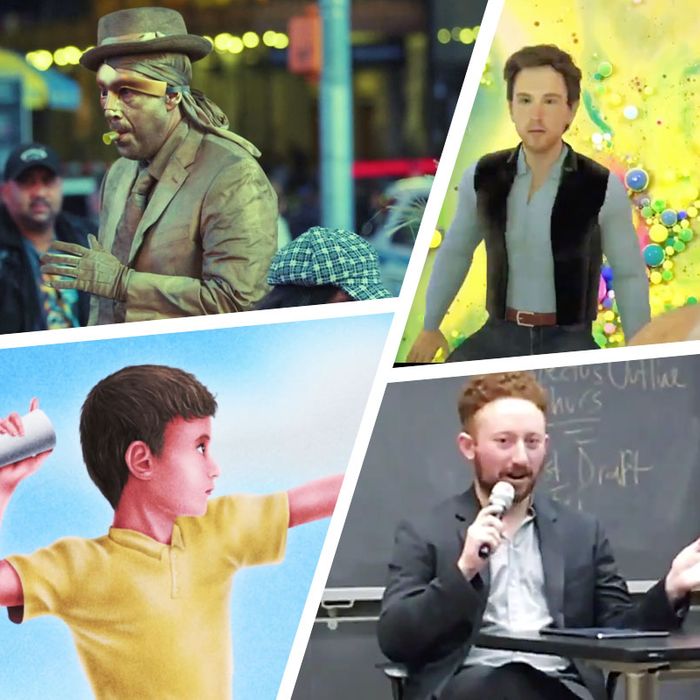 Photo-Illustration: Vulture, Elara/Vimeo, Connor O'Malley/Twitter, Adult Swim/Vimeo and Jeremy Levick/Twitter
Each month, many funny videos are posted to every corner of the internet — from Twitter to Instagram, Vimeo, and sometimes other weird places we'll have trouble embedding. Because you're busy living your life, you might miss some of these funny videos and feel left out when others bring them up in conversation. Well, worry not! We're here to make sure you're not listening in on conversations but leading them … as long as those conversations are about funny internet videos. Here are our favorite comedy shorts of the month.
Actor in a Shakespeare Play Working Really Hard to Make Sure the Audience Gets the Bawdy Sex Joke, by Lizzie Logan
Lizzie Logan absolutely nails something you're 99 percent likely to encounter when watching a so-so production of Shakespeare, which is a performer clocking in countless overtime hours communicating the Bard's double entendres in the most thuddingly literal way possible. "You know what they say about Lord Cambridge," she notes. "His sword is at the ready, but not after dark." What could that mean!?
Conservative Lecturer DESTROYS JSW College Student, by Jeremy Levick and Rajat Suresh
Twitter video darlings Jeremy Levick and Rajat Suresh once again took the pulse of the internet this month with a parody of the sneering "debate me, bro" videos that some people seem to like. We really liked this one, in which Levick tears Suresh apart for suggesting that there is anything snowflake-y in his book Mr. Mouse Goes on a Fun Little Adventure to Happy Town.
Covert Agent, by Joe Klein and Dane Reiley
Okay, so this is one of those videos that's not embeddable because it's interactive and part of eko's proprietary platform. (Remember we told you this might happen in our intro?) But we give you permission to click away from this roundup for a second to watch the legitimately funny tale of a secret agent who must destroy a sentient supercomputer before it destroys him and life as we know it. (Watch it here.)
Goddamn Vacuum's Broke Again, by Mike Cullen
Mike Cullen is an OG "This Week in Web Videos" column favorite. Now, he's back with his patented brand of melodramatic dad humor, and we're sucking it up faster than his broken-ass Dirt Devil. Way faster.
Goldman vs. Silverman, by Josh and Benny Safdie
While Josh and Benny Safdie were busy shooting one of the year's best films in Uncut Gems, they moonlighted to create this perfectly unsettling short about two street performers (Adam Sandler's Goldman and Josh Safdie's Silverman) having a classic, dark, desperate, introspective, hilarious altercation in Times Square.
Hudson Yards Video Game, by Connor O'Malley
We featured this video when it initially dropped, but we'll jump at any opportunity to talk about it again. This journey into the uncanny valley sees Connor O'Malley (Joe Pera Talks With You) creating an open-world video game set in New York's eyesore playground for the wealthy and elite known as Hudson Yards. Whether the game has you avoiding low-income areas or calling your significant other to wish her a "Happy Wive's Day," it's both terrifying to behold and infinitely better than visiting Hudson Yards yourself.
Jay Leno's Empty Garage, by Sam Naismith
Listen, cancel as many older comedians for revolting against PC culture as you want, but for God's sake, don't take their cars. That's the fate that befalls Jay Leno (Sam Naismith) in this extremely, extremely goofy sketch. "Did you hear about this? Did you see this?" sobs Leno as he points to the empty space where his beloved Pontiac Aztek once rested. You almost feel bad for the guy.
Man in a Perpetual State of Being About to Say Something Problematic, by Brian Rodriguez-McGovern
It seems that Brian Rodriquez-McGovern may have been subjected to one skin-crawlingly problematic conversation too many, but he at least survived to include every possible preface to devil's advocacy under the sun in this Twitter video that takes a turn for the Lynchian as it goes along.
Maude, by Anna Margaret Hollyman
Yes, Anna Margaret Hollyman's Maude did the festival circuit in 2019 after a 2018 Sundance bow, but it was only uploaded for public consumption a couple of months ago, and we just caught it. About Hollyman as a nanny named Teeny, who assumes the lifestyle of her boss for one blissed-out afternoon, this short has what is perhaps the most stomach-churning finale of any video covered, and that's a good thing!
The Song in Every Musical That No One Likes, Sarah Smallwood Parsons
Sarah Smallwood Parsons first graced this column in another Upright Citizens Brigade stage video about a woman who mistakenly lets her boob fall out in the middle of a speech. Here she performs in UCB's Characters Welcome Show, playing the old guy in every Broadway musical who sings the slow, boring song no one wants to hear. (Spoiler alert: It's pretty much just "I Dreamed a Dream" from Les Mis, sung by a "dude," but it's still real good.)
Use Cups, by Joe Pelling, Brendan O'Hare and Cory Snearowski
So fucking weird. Criminally under-viewed. From Adult Swim's new short-form effort, Adult Swim Smalls, comes an animated PSA about why you may die if you don't respect and use cups on a daily basis. Will this scare you? Yes. Will you enjoy it? Yes.
The Woman Who Was Slapped by the Pope, by Alise Morales
It was a big month for popes. Five of them, I think. Two fictional versions of actual popes, one fictional Young Pope, one fictional New Pope, and then there was, of course, the real-life Pope Francis, who smacked the hand of a devout woman, played here by Our Cartoon President's Alise Morales, hilariously recounting the incident in the context of an … unusual trip to Italy for the holidays.
Like what you saw? Want to be on this monthly roundup? Show us your stuff! 
Luke Kelly-Clyne is president at Big Breakfast and a watcher of many web videos. Send him yours at @LKellyClyne.
Graham Techler performs at the Upright Citizens Brigade Theatre and contributes writing to the New Yorker. Send him your videos at @gr8h8m_t3chl3r.