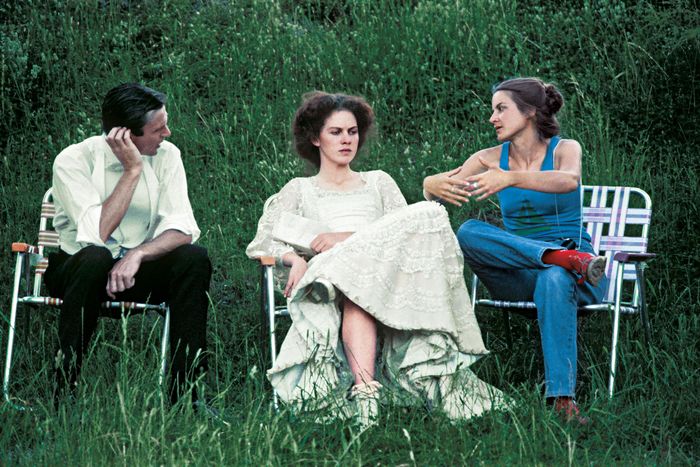 Gillian Armstrong (right) on the set of
My Brilliant Career
with Judy Davis.
Photo: Courtesy Margaret Fink, Producer of My Brilliant Career. National Film and Sound Archive of Australia.
Fame, at least lasting fame — the your-work-goes-down-in-history kind, often accompanied by fat royalty payments — is a club that thinks of itself as an unbiased meritocracy, blind to everything but aesthetic innovation and popular success. It's never quite worked out that way. When we look at the past, we still see generations of great talents who never quite got their due critically or commercially, many of them left relatively unsung. In this ongoing series, our critics pick artists they feel remain underappreciated and tell their stories and sing their praises.
On November 25, the Australian director Gillian Armstrong tweeted that she had "plucked up courage and saw [Greta Gerwig's] new Little Women," the first Hollywood remake since her own version of Louisa May Alcott's novel was released 25 years ago. She continued, "And loved it. Very different! Brave new structure. Fantastic cast. And yes the message sadly needs to be stronger for this generation. Hopefully now men will see and vote."
Gerwig's structure was indeed new and original, leaping back and forth between a rosy past and chill present. What Armstrong was evidently too modest to mention is that toward the end, when the protagonist, Jo (Saoirse Ronan), finds her voice as a writer, Gerwig graciously evokes the heroine of Armstrong's first feature, My Brilliant Career (1979), which starred Judy Davis as a prickly, high-spirited young woman who wants to do something artistic with her life and ends up writing about it. It's a lovely nod to a true trailblazer.
While we whinge about the lack of women directors who haven't had a shot at the brass ring, let's remember that Hollywood had its mitts on Armstrong and let her slip away despite the evidence of her marvelousness. Her work was vibrant and searching and messy in the best, most provocative sense, and she put women's psychology onscreen in ways that were never reductive or programmatic. Her craftsmanship was breathtaking. She had a hell of an eye for composition and color — as good as nine out of ten Oscar-winning directors, if not 9.667. She could pass for mainstream! Yes, she wanted to stay Down Under, which meant she wasn't at all those grisly Hollywood parties. But that's why God made airplanes.
If you were alive at the time, you know Armstrong was a huge deal after the release of My Brilliant Career, the first woman to direct a feature in Australia for nearly 50 years (46 if you're keeping score — there was a pair of sisters in the '30s). Audiences were stunned when, in the final scene, Davis's Sybylla gently turns down the proposal of a rich, handsome, attentive young man (Sam Neill) who'd traveled a great distance (to a farm where she's slopping around in the mud) because she wanted — needed — to control her own destiny. Modern audiences would probably be just as stunned, however much they pat themselves on the back for evolving. People still go crazy for The Bachelor and its –ette.
Although Armstrong had fended off such queries as "Would you faint in the heat of the desert?" or "How will the crew hear your small voice?," she would wince when interviewers asked, "What's it like being a woman director?" Much of the world viewed Australia as a cultural backwater overseen by a boorish, racist white patriarchy, but it was ahead of the U.S. and the U.K. in giving opportunities to women, and Armstrong saw herself as a filmmaker, period, and part of the country's exploding — government-subsidized — film movement.
Her reputation in some circles (festivals, cinema-studies departments) would soon be eclipsed by Jane Campion and Sally Potter, who'd wrestle more explicitly with gender and women's relationships to their bodies. To the dull-witted, Armstrong might even have seemed like a — gasp — middlebrow humanist. It doesn't help her reputation nowadays that arguably her most distinctive film, High Tide (1987), with its major Judy Davis performance, is almost impossible to see legally.
Though she resisted being typed (she first turned down Little Women, thinking it was too obvious a move), her female characters are reliably complex and contradictory. They're exuberant (sometimes to the point of clownishness), and often, like their director, red-haired. They express themselves through performance. Sybylla plays piano. Jo Kennedy's Jackie in the antic New Wave musical Starstruck (1982) will do anything to be a music-video star. Davis's Lilli in High Tide is a bewigged backup singer to an Elvis impersonator and, later, when she needs to get her car back from a repair shop, a reluctant stripper. The mother-daughter team of Catherine Zeta-Jones and a very young, charming Saoirse Ronan in the Houdini drama Death Defying Acts (2007) has a burlesque mentalist act. Jo (Winona Ryder) and her sisters in Little Women create spirited amateur theatricals to brighten their anxious lives. Even the Bible-toting turn-of-the-past-century protagonist (Diane Keaton) of the tragic Mrs. Soffel (1984) plays piano and loves reading aloud — before she leaves the anemic religious realm (and the oppressive Allegheny County jail in which she lives with her bloodless husband, the warden) for ecstatic romantic love with a death-row inmate (Mel Gibson) she helps to escape.
The overbearing landscape is a factor in many Australian films, but what's thrilling in Armstrong's work is how she uses the countryside as an ironic backdrop for highbrow and/or tacky-low culture. Starstruck is a riotous mélange of the natural and the garishly artificial. High Tide moves back and forth between a caravan (a.k.a. trailer) park rich in pinks and teals and a magnificent, primordial shoreline. The central image of the giddy, daft 1997 Oscar and Lucinda (from Peter Carey's novel) is a church fashioned from glass that floats precariously downriver, a foolish but exhilarating gamble to bring exquisite beauty to a wilderness outpost.
Color and the wide screen are so vital in Armstrong's work that I nearly wept with frustration rewatching High Tide on a cruddy VHS that made a mess of her deceptively careful framing and washed out the palette of the cinematographer, Russell Boyd. But Davis's performance as a mother who abandons her infant daughter with her mother-in-law following the death of her husband burned through. Here is the other side of a woman's refusal to let anyone control her destiny: a woman and a teenage girl (Claudia Karvan) with an immense void in their lives, who finally hit the road together.
The inchoate longings of young girls are central to Armstrong's films. She's well known in Australia for TV documentaries tracing the lives of three girls over the decades — films often compared to Michael Apted's Up series without Apted's limiting prism of class.
Armstrong didn't work with the formidable Davis again after High Tide, and that's too bad. Good as Cate Blanchett is in Oscar and Lucinda and the tight French Resistance thriller Charlotte Gray (2001), Davis adds an element of wildness, of what Camille Paglia calls "chthonian nature."
Apart from the studio-mangled Cuban immigrant drama Fires Within (1991), Armstrong's films — stylistically different as they are and with different screenwriters — are all of a piece. Maligned for Diane Keaton's too modern demeanor (and terrible hair), Mrs. Soffel has a deliberate, "classical" rhythm that barely contains its frenzied last half-hour and a climax that evokes the bloody-in-the-snow killings of Bertolucci's The Conformist. Oscar and Lucinda is an epic like no other — it's dizzyingly light on its feet. The Last Days of Chez Nous (1992) is her most emotionally tangled chamber drama, in which a writer (Lisa Harrow) is too engaged with getting her metaphorical house in order to keep her husband from running away with her younger sister. Armstrong's Little Women is less exuberant than Gerwig's superb new version, but it holds up: There are revolutionary impulses bubbling up beneath that stately, old-fashioned technique.
At 69, Armstrong still works on smaller projects. Her 2015 documentary, Women He's Undressed, is an eye-popping portrait of the gay Australia-born Hollywood clothes designer Orry-Kelly, who lived his life without a whiff of hypocrisy — in contrast to his onetime lover, Cary Grant. Armstrong cast an actor as Orry-Kelly, who makes barbed comments from a rowboat off the coast of Australia, using camp in the service of an emotional purity that leaves most talking-heads docs seem marooned onshore. Needless to say, studios should be throwing projects at her. The book should not be closed on her brilliant career.
*This article appears in the January 6, 2020, issue of New York Magazine. Subscribe Now!
More From 'The Undersung'