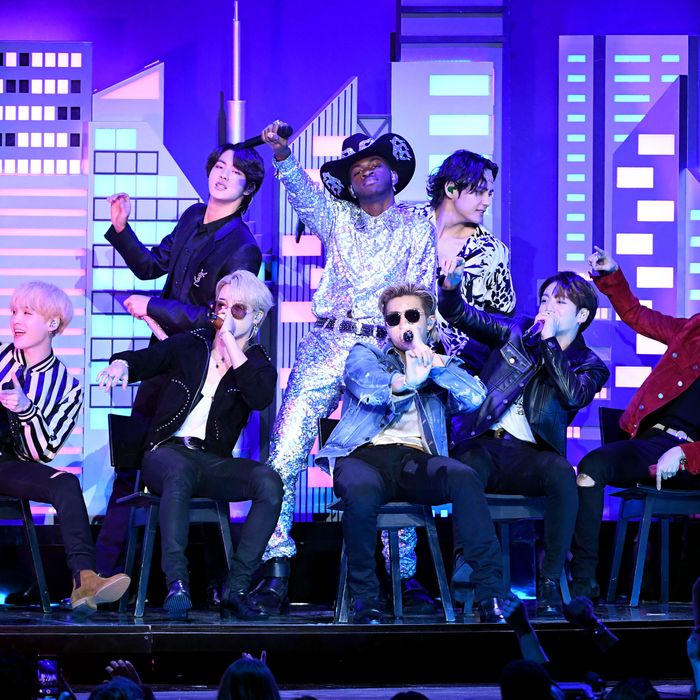 BTS and Lil Nas X on their way to the "Seoul Town Road."
Photo: Kevin Winter/Getty Images
The Grammys are ostensibly music's biggest night, but once again, Sunday night's awards felt more like music's longest night. Looming over the celebration were two unexpected happenings: the sudden death of NBA legend Kobe Bryant, and the news of turmoil within the organization, prompted by Recording Academy president Deborah Dugan's ouster. Could there be a more chaotic time for the Grammys to … happen? The roster was stacked: performances from Billie Eilish, Ariana Grande, Lil Nas X (featuring Billy Ray Cyrus, BTS, Mason Ramsey, Diplo, and Nas himself), and Aeorosmith. The 63rd ceremony was also the final show to be produced by Ken Ehlirch (famous for producing the Grammys for 40 years, and also one iconic Ariana Grande tweet). To send him off, the Grammys closed with a "Fame" tribute that can only be described as Cats adjacent. Here are the highs, lows, and utter whoas of this year's ceremony.
HIGH: Lil Nas X, BTS, Billy Ray Cyrus, and more bring back the song of 2019
"Old Town Road" just might be the song of 2020 too after Lil Nas X brought Billy Ray Cyrus, BTS, Diplo, Mason Ramsey, and big, original Nas to the Grammys stage. Performing a medley of their "Old Town Road" remixes, the cowboys took turns taking their horse down the old town road, with Nas joining at the end. Nas and Lil Nas X on the same stage sounds like a 140-character max Twitter joke, but that's Lil Nas X's original art form, so we'll let it slide in honor of NasMaraj.
HIGH: Alicia Keys, seated at her piano, shames Grammys' lack of diversity
Alicia Keys opened up the Grammys by throwing shade in the most relaxing way possible: over melodic piano music. The two-time Grammys host called for diversity and respect in music amid the Recording Academy's own controversy. "We refuse the negative energy, we refuse the old systems, we want to be respected and safe in our diversity, we get to be different, we get to be unique," she talk-sung. Keys's monologue (which was part prose, part song much like her classic "You Don't Know My Name" — shout out Michael) highlighted a few of the artists of color up for awards tonight, like BTS, Lizzo, and Lil Nas X.
LOW: Aerosmith, Run-DMC, and two random audience members "Walk This Way"
Prop comedy is not for the faint of heart. Aerosmith, Run-DMC, Grammys executive producer Ken Ehrlich, someone, anyone should've thought of that before deciding to let the rappers bust through a cardboard brick wall. Even the intern who stacked 'em up, didn't stop and think, "This might look whack?" The mess it left on the Grammys stage doesn't even compare to the mess that was Steven Tyler bringing two random audience members onstage for an impromptu kick line. They quickly went ahead and walked this way right off the stage.
WHOA: Tyler, The Creator wins Best Rap Album
Surprise! Up against J. Cole's Revenge of the Dreamers III, Meek Mill's Championships, 21 Savage's I Am > I Was, and YBN Cordae's The Lost Boy, Tyler, the Creator won his very first Grammy. Issa Rae handed the award to her fellow Los Angelo, who was visibly shocked by his win. Next to him, his mother screamed and cried. "To my mother: You did a great job raising this guy," he began, thanking his managers, his labels, his fans.
HIGH: A Star Is Born wins two Grammys, 478 days after it was released
Listen. When you write your highs and lows of the 2020 Grammys, you can address anything you'd like. As for me and my house: we still have love for Ally Campana (Lady Gaga), Jackson Maine (Bradley Cooper), and Bradley Cooper's Tom Ford bronzer! The erstwhile Star Is Born duo took home two awards Sunday night, for Best Compilation Soundtrack for Visual Media and Best Song Written for Visual Media for "I'll Never Love Again (Film Version)."
WHOA: Demi Lovato powers through her comeback performance.
Demi Lovato got the entire audience at the Staples Center standing for her first performance since overdosing in 2018. The vocal powerhouse began singing her new single "Anyone" in tears and quickly needed to start over. The second time, there was no stopping her. Lovato wrote and recorded the song four days before her near-fatal overdose and subsequent hospitalization. "A hundred million stories and a hundred million songs," Lovato cried out, resilient in white. "I feel stupid when I sing / Nobody's listening to me." Now, the whole world's listening.
HIGH: Billie Eilish's Record of the Year acceptance speech
It's not called the Recording Academy anymore, it's called the Billie Eilish stan club. The teen swept the big four awards: Album of the Year, Song of the Year, Best New Artist, and Record of the Year, the latter announced while she was still backstage with another just-won trophy. Eilish returned to the stage to accept her newest "bad guy" trophy and could only say "Thank you," and sweetly backpedaled off the stage.
WHOA: Alicia Keys brings out Boyz II Men to honor Kobe Bryant
How would the Grammys address the passing of Kobe Bryant, his daughter Gianna, and seven others hours before the start of the show? Alicia Keys's' dexterity as host was on display here, as she honored the NBA star's passing. "We're all feeling crazy sadness right now. We never imagined in a million years we'd have to start a show like this," she said. "We're literally standing here, heartbroken, in the house that Kobe Bryant built." A light illuminated Bryant's two retired Lakers jerseys, and Boyz II Men entered the stage to join Keys in singing, a capella, "It's So Hard to Say Goodbye."
LOW: Ariana Grande sliding into the splits during her "7 Rings" performance.
Okay, having the technical ability to do the splits while singing is a definite win, but we have to celebrate Ariana Grande get low, like "Shawty had them Apple Bottom Jeans, boots with the fur" low, on the Grammys stage somehow! The singer pulled out not one, not two, nor three looks tonight, but five, including a post-performance green gown. Grande, who was nominated for five Grammys but came up empty-handed, wore two gray ball gowns on the red carpet, then switched to somber black to sing "Imagine." Finally, she put on her big girl pjs (read: lingerie) for "7 Rings" and finally tucked her ring away in a box, finishing off the Thank U, Next era.
HIGH: Billie Eilish singing "when the party's over"
Who knows why Miss William Eyelash Curler chose to do a slow song for her first-ever Grammys performance? Who thought it would bring mine cynical eyes to tears? Eilish was accompanied by her brother Finneas, and they delivered a breathy, teary rendition of one of When We All Fall Asleep Where Do We Go?'s most somber ballads. The power, the control, the emotions! And she didn't even need a highlight reel of her own childhood or a crying parent in the first row to do it. Ahem.
WHOA: Ken Ehrlich makes us watch Ben Platt and Camila Cabello sing Fame. 
It's Ken Ehrlich's Grammys and he has certainly proven that he can do whatever he wants. For Ehrlich's final Grammys as executive producer, he brought together a bunch of celebrities so distinct from one another that we can't even group them together concisely. Ben Platt, Camila Cabello, Common, Misty Copeland, Gary Clark Jr., and more performed to "I Sing the Body Electric" from the musical Fame while students from the Debbie Allen Dance Academy pranced around. Naturally, it was a fever dream mixed with a Netflix irreverent comedy mixed with one of Rachel Berry's nightmares. Big Cats energy. Going forward, let's all promise to consult Mr. Schue before performing any risky musical theater.