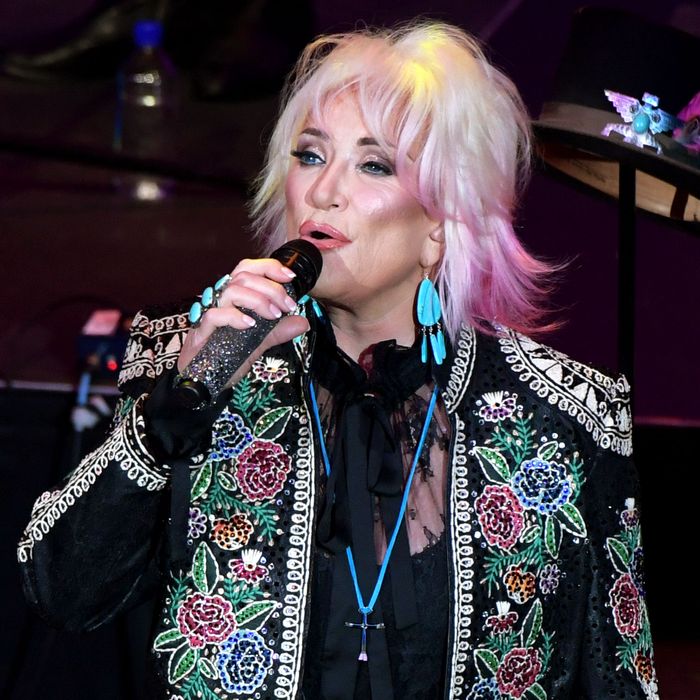 How country music outlaw Tanya Tucker might win her first Grammy nearly 50 years after her first nomination.
Photo: Jason Kempin/Getty Images
Tanya Tucker was a teen star in the thoroughly adult world of country music in the 1970s, schooled in singing with feeling and grit by her father Beau, who also managed her, and entrusted with poignant, weighty material by her legendary Nashville producer Billy Sherrill. Lightly rocking, loosely swinging, string-swathed, southern gothic tales like "Delta Dawn," "What's Your Mama's Name," and "Blood Red and Goin' Down" repeatedly landed her on the charts. By the '80s, her music began to be overshadowed by tabloid coverage of her partying, but she mounted a comeback with another established Nashville producer, Jerry Crutchfield, and spirited, supple, modern country hits stretching into the mid-'90s. In that two-decade span, Tucker netted ten Grammy nominations, including her first at age 15, without winning once.
In the years that followed, she gradually faded from prominence, lost her most steadfast advocate — her dad — and couldn't find a label home for her recent recordings. To the public, she never seemed to transition into the venerated idol category that's awaited other country veterans beyond their commercial heydays; certain male stars whose careers overlapped with hers — from George Jones and Merle Haggard to Waylon Jennings and Willie Nelson — were idealized for their battle-scarred gravitas and country authenticity as they aged.
It wasn't until a persistent series of phone calls in 2018 that Tucker gained unexpected new champions in Shooter Jennings, the stylistically unbounded son of country outlaws Waylon Jennings and Jessi Colter, and the folk-rock ringleader Brandi Carlile, along with her bandmates, twin brothers Tim and Phil Hanseroth, all a generation Tucker's junior and bent on helping her make an album that would command respect. They're the reason 2019's While I'm Livin', her 25th album and first with new material in nearly two decades, conveys an earthy, throwback sound and songs that magnify her story of scrappy survival.
But the penultimate track, "Bring My Flowers Now," is a piano ballad from her own imagination, a stirringly plainspoken appeal for whatever honor she's due. It's already having its intended effect: She's a Grammy contender for the first time in decades, up this week for Song of the Year, Best Country Album, Best Country Song, and Best Country Solo Performance. Ahead of the 2020 Grammys, Vulture spoke to the award-show underdog.
A lot of life happened in 20 years. I have two other projects I'd been working on. It got very frustrating that nobody wanted to sign me. Believe me, everybody in town had their shot. My managers took all these songs to 'em and tried to get me a deal, and nobody was interested. Brandi and Shooter being at the helm of this project helped me a lot. They were the ones that took a shot and believed in me — believed I could do more than I really believed at the time.
It was a completely opposite situation, to have songs custom-written for me. I'd always taken a song and just made it my own. When I first heard these songs, I just didn't know if they were gonna be strong enough for me. I had a little trepidation about it all. But Shooter assured me that if I didn't like it, I didn't have to do it. I didn't know Brandi from Adam, had never heard her sing except while we were in the studio. She was in the vocal booth with me most of the time, which is another thing that's never happened. She was just sitting there with her headset and a mic: "Hey, try it this way, try it that way." The only time I got maybe a little rebellious was when Brandi wanted me to do "The House That Built Me." I go, "There's nothing I can bring to that song that Miranda hasn't already brought." I told her four or five times, "I ain't doing it." But Ms. Brandi has her way of talking to me and getting me to do something. By that time, we had recorded a lot of the record, so I had developed a lot of faith and trust in her.
I had the idea for "Bring My Flowers Now" forever. As a kid, I never understood why people brought flowers after people were dead. It just didn't make sense to me. I was always thinking of bringing flowers as a proverbial thing; it's saying you love somebody. I guess it took me growing up to really grow into what I was trying to say. And it took the twins and Brandi to help finish the song; they were the catalysts, kinda the butter to my bread.
After the studio, I went back to work. I was off doing my thing. I'm going back on the road. I'm playing Tucson. I'm in South Carolina. I kinda let the chips fall. But as soon as the record came out, I was really, really shocked that the response was so quick. I'd never had that happen in my whole career. Sometimes I have the thought if I'd had this kind of stuff — social media — back many albums ago, all this would've happened a lot sooner, because people were exposed to the new record that would never go buy a record of mine.
All of the Grammy nominations surprised me, but Song of the Year really got me. I told them that I wasn't coming back to the Grammys years ago, because I didn't think that they gave country music any respect. I said, "Look at this backside real good, because I ain't coming back. You need to put us on the damn TV. Country music is big." They do that now, and I hope to hell I had a part in that. Guess what? I'm eating my words. I may gain a few pounds.
I'm not real fond of sitting in an audience and waiting to hear my name called, and don't expect it to get called, but I do appreciate the people that voted for me, because I am their winner. I told my fans, "You are my greatest award." But it's so cool to be honored and acknowledged by your peers, people that actually do what I do. Brandi and Shooter and the band and all the crew and my PR people and management, those are the ones I really would like to win it for.
I've got a team now. The only one missing is my dad. But I don't think he's missing; I think he's right here. Because he always told me, "One of the biggest records you'll ever have, Tanya, is the one you write yourself." And I think that's happened. I think the song's happening. I guess it's a little different having a resurgence of a career even bigger than before at 61.