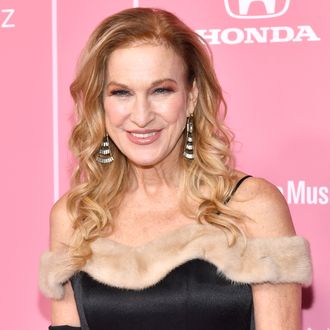 Yikes.
Photo: Emma McIntyre/Getty Images for Billboard
Recording Academy president and CEO Deborah Dugan has been put on administrative leave a week before the Grammy Awards. In a statement to New York, the Academy cited concerns from the organization's Board of Trustees, "including a formal allegation of misconduct by a senior female member of the Recording Academy team." The type of misconduct has not been specified. The Board has also commissioned two independent third-party investigations of the allegations against Dugan. "Board Chair Harvey Mason Jr. will serve as interim President and CEO pending the conclusion of the investigation," the statement said. The Grammys will proceed as planned.
Dugan has only headed the Recording Academy since August, when Neil Portnow exited the position. Portnow left months after saying women needed to "step up" to be recognized by the Academy. Dugan told Variety last year that she was trying to bring a new tone to the Academy: "There's a lot more communication, and there have been huge efforts to make sure we're more inclusive and more diverse. I want us to be of the industry, but also ahead of it — pioneering, and not catching up."
Update, January 17, at 8:50 a.m.: Some sources believe that Deborah Dugan's dismissal is part of a "coup." Insiders told Variety that Dugan was enacting "too much change" for some of the more senior executives in the Academy and board. "She may have been asking questions like 'Why is the board so large?' and 'Why are we spending so much money?'" another source added. "There are people who had been there for years who knew they were going to be let go, and who knew they would not get a job that paid as well anywhere else." One source claimed to have details about Dugan's alleged misconduct. They told Variety that an unnamed female employee lodged discrimination complaints against Dugan and sexual harassment complaints against another unspecified employee, adding that the situation became "very nasty."
A source also told the New York Times that Dugan's removal was related to a complaint filed by Neil Portnow's former assistant who worked for Dugan temporarily. The assistant accused Dugan of having a bullying management style, which led the employee to take a leave of absence. Representatives from the Academy did not respond to Variety's request for comment on the claims and declined to comment beyond the initial statement.
Update, January 18: A new report in the New York Post claims that Deborah Dugan was ousted after she submitted a detailed memo to the Recording Academy's human resources department about alleged "misconduct inside the organization, including sketchy voting practices, financial mismanagement and conflicts of interest." Dugan reportedly submitted the memo a few weeks ago and stated that "something was seriously amiss at the Academy."