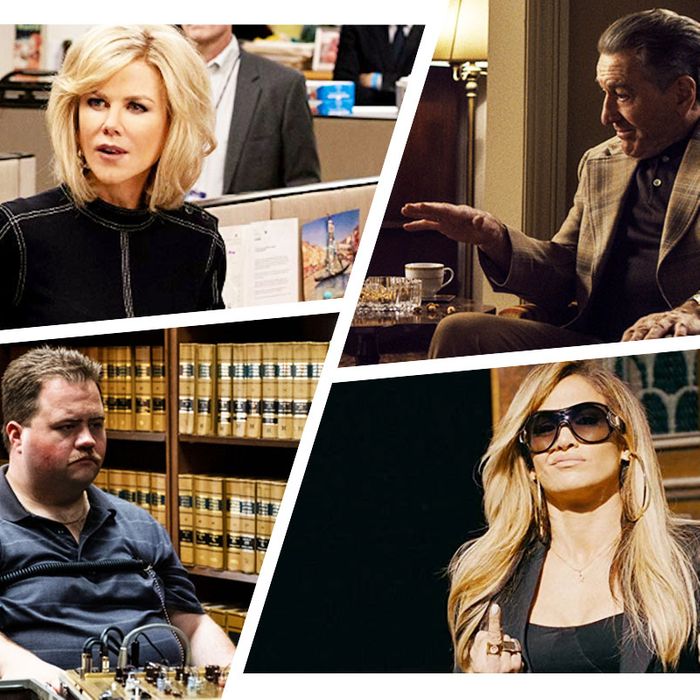 The sheer volume of unexpected studio handoffs this awards season reflects new uncertainties roiling Hollywood.
Photo: Vulture and Courtesy of the Studios
In October 2018, two weeks before filming on Bombshell was set to start, the ripped-from-the-headlines drama already seemed like an Oscars fait accompli. Its primary producer, Charlize Theron, was set to don prosthetics and star as former Fox News host Megyn Kelly. Nicole Kidman and Margot Robbie had respectively committed to portraying Gretchen Carlson and a composite character nicknamed "Anchor Barbie." The film would tell a story of sexual harassment and coercion at the hands of Fox News co-founder Roger Ailes, whose behavior compelled a lawsuit that ultimately led to his ignominious ouster. Jay Roach had signed on to direct the script by Academy Award–winning screenwriter Charles Randolph (of The Big Short fame), and the $35 million Me Too–inspired movie was going to be financed and distributed by Annapurna Pictures, with personal oversight by multibillionaire head honcho Megan Ellison herself.
But just before cameras were set to roll, a cash-crunched Annapurna suddenly pulled out of the deal. With no hope of effectively rescheduling its A-list cast for a later shoot, Bombshell needed to roll into production without the studio or kiss its awards-season dreams good-bye. Theron opted for the former, taking just days to personally attract new financing and distribution plans. "Charlize was relentless," Roach told Vulture at a recent Golden Globes event in Hollywood, just days before the film would be nominated for a trio of Academy Awards. "She called her reps and said, 'You've got to save this.' Her power and collaboration in this process was imperative. It was essential."
Bombshell is one of no fewer than four films to go hat in hand in search of cinematic salvation ahead of the 2019–2020 awards season. They began life at one studio before seeing distribution agreements dissolve, forcing the projects to wander into the wilds of an increasingly adult-movie-averse Hollywood. The practice of selling a film's distribution rights to another studio is hardly unusual — in recent memory, Paramount sold international theatrical rights for Annihilation to Netflix, and the scandal-prone Weinstein Company pawned off Paddington 2 on Warner Bros. — but the sheer volume of such transactions this awards season represents a new twist in the prescribed Gold Derby narrative. Oscar contenders used to represent fixed points on a studio's release slate for months, if not years, ahead of their release. But this year's Q4 do-si-do reflects the new uncertainties roiling Hollywood in a time when the name Fox can vanish with a Thanos-like snap from all ongoing Disney output, and streaming services have seemingly, irrevocably, altered the calculus of what kind of mid-budget films wind up onscreen at all.
Exhibit A: The Irishman's unexpected pivot from Paramount to Netflix. In 2017, the announcement that Martin Scorsese's longtime studio home had sold his long-gestating mobster epic to the streaming behemoth caused a kind of industry entropy. Scorsese, after all, had established himself as one of cinema's foremost evangelists, a self-styled keeper of the theatrical moviegoing-experience flame. But when Paramount balked at Irishman's ballooning, nine-figure price tag — a by-product of the expensive digital de-aging process required to visually turn back the ravages of time for stars Robert De Niro, Al Pacino, and Joe Pesci — and with the floppage of Scorsese's 2016 passion project Silence still very much front of mind, the filmmaker was forced to reckon with a choice between Irishman's being and nothingness. In turn, he took the best worst option: streaming with a token theatrical run in exchange for a $140 million budget, no strings attached.
"There's no doubt that seeing a film with an audience is really important. There is a problem, though: We have to make the film," Scorsese said at a press conference before The Irishman's international premiere. "We've run out of room, in a sense. There was no room for us to make this picture for many reasons. Having the backing of a company that says that you will have no interference, you can make the picture as you want — the trade-off being it streams, with theatrical distribution prior to that. I figure, that's a chance we take on this particular project." (The Irishman is up for ten Academy Awards, including Best Picture and Best Director for Scorsese.)
Like Bombshell, the bottom also dropped out on director Lorene Scafaria's Hustlers thanks to Annapurna Pictures' cash chaos. By 2018, the producer-distributor behind such Oscar-winning titles as American Hustle and Zero Dark Thirty had burned through some $200 million in cash reserves. Annapurna benefactor and Oracle co-founder Larry Ellison (who is also father to studio boss Megan Ellison) was reportedly demanding increased discipline to staunch the company's financial bleeding. Suddenly distributor-less, Hustlers' producers offered and quickly sold the project to the mini-major studio STX Entertainment, which has built a reputation for mounting star-driven movies on relatively economical budgets.
The movie was ultimately left out of the Oscars running, but Lopez picked up a Los Angeles Film Critics Award for Best Supporting Actress in addition to nominations in that category from the Golden Globes, Screen Actors Guild Awards, Critics' Choice Movie Awards, and Independent Spirit Awards. "I think nowadays studios are taking a lot less chances and STX was willing to take a chance on this," Hustlers producer Jessica Elbaum told Vulture. "We were prepping by February, we made the movie in March, we wrapped it in May, and the movie's coming out in September, which is insane."
Among 2018–2019's crop of studio-hopping awards contenders: the Dick Cheney biopic Vice was put into turnaround by Paramount before landing a theatrical rollout by Annapurna, and the PG-13 Queen creation myth Bohemian Rhapsody started out as a Sony title before pogoing to Fox. In the 2017–2018 Oscars graduating class, only the ice-skating bio-drama I, Tonya lacked a concrete distribution deal before being acquired at the Toronto International Film Festival by the indie tandem of Neon/30 West that September.
Add onto the 2019–2020 heap the fact-based drama Richard Jewell, which initially took shape as a passion project for Wolf of Wall Street co-stars Leonardo DiCaprio and Jonah Hill, who signed on as producers in 2014 with Hill eyeing the role of Jewell: a security guard who discovered a backpack bomb at the 1996 Atlanta Olympics, heroically cleared bystanders before it exploded, then was subsequently vilified in the media as a potential suspect. By the following year, the film was inching toward preproduction at Fox, with filmmakers, including Paul Greengrass and David O. Russell, reportedly circling the director's chair. Then, last year, shortly after Disney acquired Fox in a paradigm-shifting, multibillion-dollar deal, the newly monolithic studio "began looking at the various slates and deciding what would fit under new divisional mandates," according to The Hollywood Reporter.
The upshot? Disney-Fox sold Richard Jewell to Warner Bros., for decades the studio home of multiple Oscar winner Clint Eastwood (who had been expressing an interest in helming the project for several years). Eastwood hustled the movie — now starring Paul Walter Hauser in the title role — into production last June for a November release. And Richard Jewell premiered at the AFI Fest that month, landing on the National Board of Review's ten best films of 2019 almost immediately after, with Kathy Bates receiving an Academy Award nomination for Best Supporting Actress for her turn as Jewell's long-suffering mother.
By contrast, Bombshell's studio switcheroo was much swifter. With the film's shutdown closing in fast, Theron reached out to Bron Studios, a backer of her 2018 domestic drama Tully, which signed on as financier within six hours of her phone call. Through Theron's continuing efforts (with backup from her fellow producers and director Roach), the movie secured Lionsgate's commitment as distributor ten days later.
Despite falling short of breakeven at the box office, Bombshell nabbed the Stanley Kramer Award from the Producers Guild of America, which honors a "production, producer or other individuals whose achievement or contribution illuminates and raises public awareness of important social issues" in addition to Oscar nominations for Theron (Best Actress) and Robbie (Best Supporting). "Charlize brought us all together and she had so much clout in this situation," Roach says. "It all depended on this close collaboration with her."