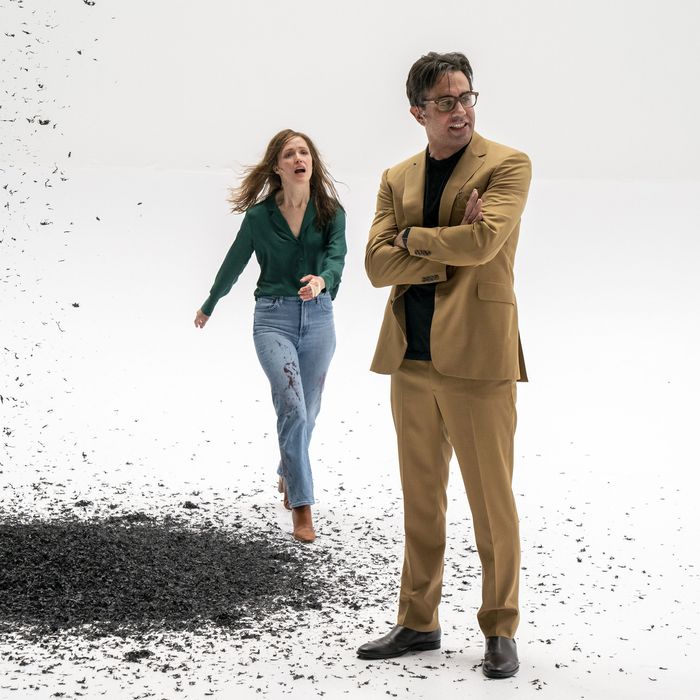 Rose Byrne and Bobby Cannavale in Simon Stone's adaptation of
Medea,
at BAM.
Photo: Richard Termine
The one thing most people know about Medea is that she's the one that killed her kids. Other details from Euripides' fifth-century Greek tragedy might have softened in memory, but that one—she's a wronged wife who murders her own children—tends to stick. Thus we're meant to worry from the very first image of Simon Stone's modernization/adaptation of Medea. As the audience filters into the BAM Harvey, two boys, one playing on an iPad, the other messing around on his phone, wait onstage as we take our seats. We know the show runs 75 minutes; we set our watches; 74…73… If that kid is watching a movie, he definitely won't live to finish it.
It's important to know—despite the promises of the poster, the title, and the hot-eyed publicity photos—that this is not actually your chance to see Rose Byrne play Medea and her partner-in-life and fellow movie star Bobby Cannavale play Jason. Instead you'll see them in a new domestic drama about ex–pharmaceutical researcher Anna and her estranged husband and colleague, Lucas, whose lives—full of depression, infidelity, and ill-judged medication—eventually reflect an older tragedy. As he did with Yerma (which toured to the Park Avenue Armory in 2018), the Australian Stone writes and directs a modern drama that very gingerly follows the outline of its namesake. In both cases, the important connection to the older play is the drive towards a tragic conclusion. The connection also, of course, flatters the material.
At the beginning of Stone's Medea, Anna has just gotten out of the mental hospital. Lucas picks her up, seems a bit weird about the hug, and gets even weirder about spending time at the family house with her and their children, Edgar and Gus. (There are two actors for each of the children's parts; I saw Jolly Swag and Orson Hong.) Opaque references eventually give way to revelations about what put Anna away: Furious about his affair with a much younger woman, Anna had started poisoning Lucas's food. But she's better now! Lucas was totally right to have her committed! In the play's best scene, Anna drops back into the center of her baffled family, winding her sons easily around her finger and coiling snakily around Lucas as well. A little insult gets the kids on her side (ugh, dad's cooking) and a sidelong explanation ("He just worries because he loves me!") puts her suddenly back in control. Cannavale overdoes it in most of the show, blustering enough for four or five different schnooks. But in this one section the couple's very different ways of moving tells us everything we need to know. Byrne darts around him like a minnow; Cannavale turns slowly. Why does air seem so much thicker for him?
Stone built the production originally in a collaborative process with Ivo van Hove's Toneelgroep Amsterdam, and so it's no surprise that the now-familiar Euro-chic video design dominates. The set is made out of white screens. As the show begins, a huge one lifts up, hanging like a billboard over the stage. We frequently see projections there, first steady close-ups of Anna's face, then live shots, filmed by the children, who run around with a camera making a documentary of their homelife. The rest of the set is deliberately edgeless, featureless, soft. Designer Bob Cousins curves the white floor and walls into each other at some invisible horizon line, blurring the space into a seamless white void. This sort of bright nowhere is usually sci-fi shorthand for otherworldly storage—Under the Skin, The Good Place, and The Matrix all use it—or the backdrop for a fashion editorial. Bodies float there, shadowless. And van Hove-ishly too, Stone then sullies the clean room—with blood when Anna first starts taking her revenge, and with a beautiful falling column of black ash that piles up, like a hellish version of autumn leaves.
The glowing whiteness gives the actors little anchor (many of them seem quite lost), but it does put enormous visual emphasis on the clothes. The costume designer, An D'Huys, has put Cannavale in an unstructured camel-colored suit that seems to slouch to the ground in defeat while still on his body, while Byrne wears high-waisted jeans and the saddest, hangdoggiest brown wig in the world. We can see she's not going back to work at the lab, even if she can't. It's also clear that she's not going back to the lab because no lab like it exists. The details Stone tosses into his script are sketchy and unconvincing, then lurid and absurd. For instance, the owner/boss figure Christopher (Dylan Baker) acts as though his medical research facility is a dynasty. His 20-something-year-old daughter Clara (Madeline Weinstein) is Lucas's on-and-off lover, and he's eager that they reconcile. "Get her pregnant," he says to Lucas, coarsely, "so that she really knows you mean it." Lucas is pushing 50, and he's patently a loser. What kind of father does this? Of course, Christopher is behaving just as Creon does in Euripides' play, but Stone's script has moved too far afield from its source for that to be a sufficient reason.
It's difficult to keep Stone's Yerma out of your head while watching Medea. The comparison is unflattering. In Yerma, Billie Piper was dangerous—a glass-box set seemed to be keeping her contained for our protection—and the power of her performance blotted out the script's occasional illogic. Byrne, on the other hand, is doing something skilled but much smaller. Her Anna contains a calculated pseudo-warmth that's right for the character's sociopathy, but she hasn't got Piper's eclipsing quality. She's good, but she's not distractingly good. And the whole around her simply isn't strong. Stone's play, its non-Euripidean details incorporated awkwardly from a gruesome 1995 case, keeps lurching in and out of believability. The ancient drama—in many cases a more profound meditation on women's power—fights Stone's 2019 scenario, to the point that neither the eerie old tragedy nor the modern realistic treatment has what it needs to survive.
In both Medea and Yerma, well-off couples with diazepam prescriptions are thrown into the pit by a woman's derangement. What is it about that formula that so draws Stone? Looked at in one light, he writes roles women will want to perform, and actors are drawn both to the magnificence of the originals and the approachability (you can wear jeans!) of the modernization. Totally reasonable. But this kind of new-play-slash-adaptation also uses the canon as an excuse to sneak in some deliciously forbidden prurience, paranoia and misogyny. Of course we wouldn't say that a woman worried about her fertility was going nuts—that's just Lorca! And we would never traffic in fantasies about homicidal women—that's just Euripides! But these are new texts, written now. Strip the titles away, and what do we have? Elegantly designed episodes of those TV shows that reenact murders. Call it Women On the Brink: Classics Edition.
But then turn it off.
Medea is at the Brooklyn Academy of Music through March 8.