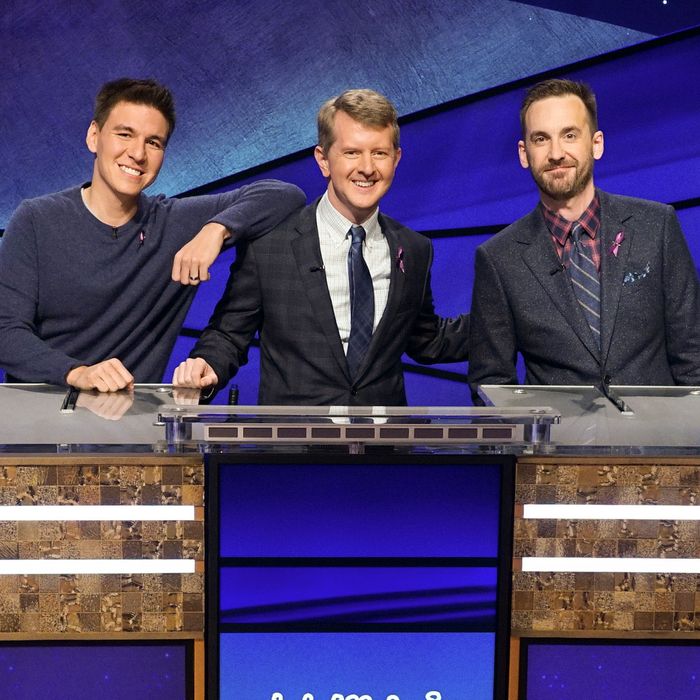 Alex Trebek is the ultimate GOAT, obviously.
Photo: Eric McCandless/ABC
Update: I've never been happier to be proven wrong! Congrats to Ken.
I enjoy lurking on Twitter far more than actually taking the time to post anything, a stealth activity that was made particularly enjoyable last week when Jeopardy!'s Greatest of All Time tournament made its grand debut. You see, James "Abbott" Holzhauer and Ken "Costello" Jennings are terrific at tweeting, and, as the show's executive producer told me earlier this month, they're pretty fond of each other when the cameras stop rolling, too. The past few days have subsequently been full of amusing memes:
Impromptu celeb fan clubs:
And some very important, very legitimate behind-the-scenes spoilers:
There was also the following Photoshop job, which, after a moment of contemplation, made me dust off my proverbial tinfoil hat and realize Holzhauer and Jennings were shifting the tone of their tweets to amusing contempt for their opponent. Brad Rutter has yet to win a match in the tournament and is considered to be vastly underperforming in the presence of his fellow GOATs, with one of his games even ending in negative digits. (L'horreur.) I stared at this tweet again and again and again, devouring the responses along the way. I knew it could only mean one thing.
The message is simple: Rutter is going to win the tournament.
How do I know this? I really don't. I can't stress "unsubstantiated theory" enough. But as someone who loves a good redemption story and a social-media red herring as much as the next reality-TV enthusiast, I'm going to read into Holzhauer's jeers and Rutter's relative Twitter silence — minus a few RTs and trying to get himself free rounds of country-club golf — as the fuel that's going to ignite Rutter's inevitable comeback.
Even Jennings is beating up on the guy! As competitive as the trio might be, these jokes would be pretty mean-spirited … unless, that is, Rutter ultimately stages a come-from-behind victory and cements himself as the true Jeopardy! GOAT. Don't be surprised when he gloriously rises up from the bright-blue ashes of his name doodles, buzzer in hand, as his trickster competitors try to put us off the scent with all those disses.
Or as Holzhauer himself would say: I'm all-in [shoves imaginary poker chips] with this theory.