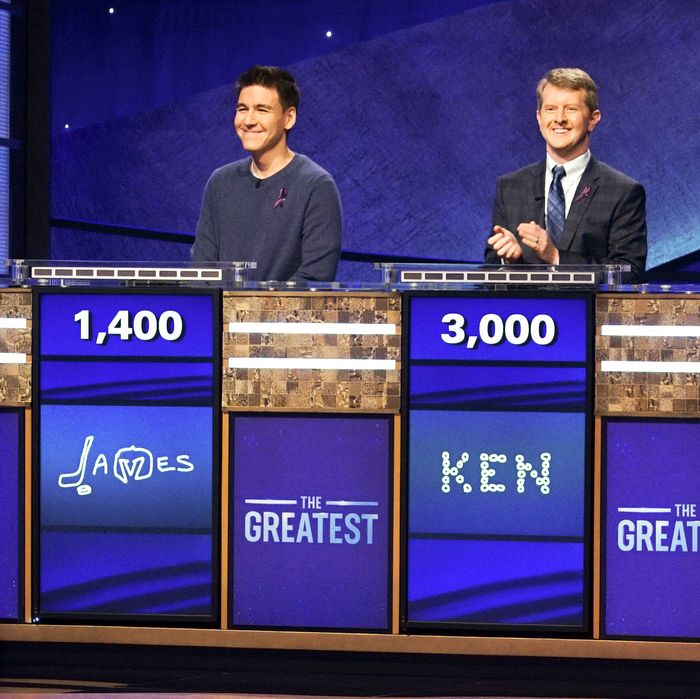 At least
try
a doodle, Brad.
Photo: Eric McCandless/ABC
If you're one of the millions of people enjoying Jeopardy!'s Greatest of All Time tournament — whether or not you're getting the clue answers correct, because a Before, During, and After category should be a crime — don't forget to divert your eyes to the podiums from time to time. Because, with every new match since the tournament's debut last week, James Holzhauer, Ken Jennings, and (sort of) Brad Rutter have embraced their inner artiste with those rectangular blue canvases, as if they were simultaneously competing for GDOAT status. (Greatest Doodler of All Time, obviously.) With the help of our Pulitzer Prize–winning art critic Jerry Saltz, we decided to rank all these nameplates for a nice, buzzer-free activity.
12. Brad Rutter, Match No. 1
Give Rutter credit where it's due: He's so comfortable with his all-caps signature, he finds the very thought of embellishment to be gauche. "Brad, you're going to lose," Saltz added. "Stop making sense."
11. Brad Rutter, Match No. 3
Same as it ever was. Look where Rutter's hand was! (On the buzzer.)
10. Brad Rutter, Match No. 2
It looks like the B and R are holding hands here. Aw.
9. James Holzhauer, Match No. 1, Game No. 2
With no disrespect to Rutter's bottom three-peat, Holzhauer's foray into basic signaturism is elevated by his commitment to creativity: He changed his doodle for every game, as opposed to every match. A true legend!
8. James Holzhauer, Match No. 3, Game No. 2
Have you ever seen a more whimsical J? Asking for a friend.
7. James Holzhauer, Match No. 2, Game No. 1
Holzhauer could very well have a target on his back (an intellectual one, that is) if he ends up winning a second match. "If James isn't winning," Saltz noted, "he's got a pretty creative mind anyway."
6. Ken Jennings, Match No. 2
This writer thought Jennings hearkened back to a fun, simpler time of early aughts bubble letters. Saltz thought it "looked like a logo for cigarettes."
5. James Holzhauer, Match No. 2, Game No. 2
Stronger, more futuristic bubble letters? Or a stronger, more futuristic cigarette logo for a galaxy far, far away? Your call.
4. James Holzhauer, Match No. 3, Game No. 1
You can take Holzhauer out of Vegas, but you can't take the professional sports bettor out of Holzhauer. "James likes hockey or ancient Greek war helmets," Saltz suggested. "I hate hockey, but whatever." Why not both?
3. Ken Jennings, Match No. 3
If only Jennings had other colors besides white for his trek into Pointillism. "Busy mind, Ken," Saltz said. "Busy mind." Who is Georges Seurat?
2. Ken Jennings, Match No. 1
Jennings has us nostalgic for the opening title sequence of TV's greatest spinoff with his tasteful ode to the Space Needle. "Ken's graphic message is obvious," Saltz said. "He's saying it out loud and he's proud that he lives in, boom, Seattle. As if that means anything." We're coining this style now for future art historians: Neo-Frasier.
1. James Holzhauer, Match No. 1, Game No. 1
And it's back to Vegas inspiration for Holzhauer, who, in a daring move, added a second, spades-y dimension to his poker cards. "This shows him thinking off the page in a different way," Saltz noted, "and breaking it up."