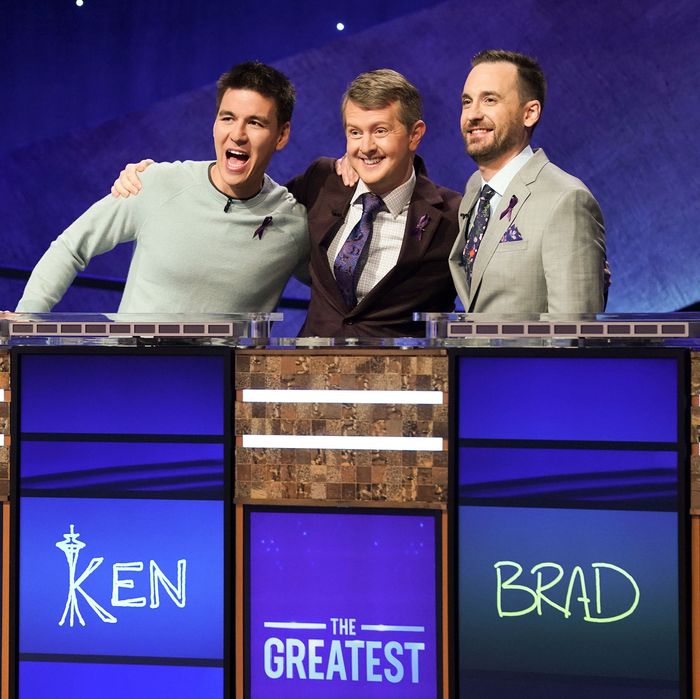 Frasier
vibes in the middle.
Photo: Eric McCandless/ABC via Getty Images
Ready, set, buzz! The first match of Jeopardy!'s hotly anticipated (with good reason) Greatest of All Time tournament aired on Tuesday evening, with ultimate smarty boys Ken Jennings, James Holzhauer, and Brad Rutter duking it out in the intellectual battle of the ages. Match One (remember, each hour-long "match" consists of two back-to-back games) ended with Jennings as the victor by a very slim margin, which was made possible, unsurprisingly, by those fickle mistresses known as Daily Doubles. Here's a quick rundown of the trio's scores and how they all respectively achieved their grand totals. Always remember: Drinking wine and yelling nonsense at your television screen technically counts as playing.
First Place: Ken Jennings, 63,400
In the first game, Jennings, aided by a Daily Double and making it "true" (a.k.a. doubling his score), went into the Final Jeopardy round with 33,200. He and his fellow opponents answered the Presidents and Bible category correctly, with him earning 45,000 in total. Jennings's second game was a bit more modest thanks to a lack of Daily Doubles, and he went into Final Jeopardy! with 18,400. He bet a smaller amount, was correct with his answer yet again, and wound up with a grand total of 63,400.
Second Place: James Holzhauer, 63,200
Shockingly, Holzhauer didn't find any Daily Doubles in this match, but was still nearly able to pass Jennings by a $200 margin. He went into the first Final Jeopardy with 16,600 and busted out his all-in moves to double it to 33,200. Holzhauer's second round was similar, with 15,000 doubled to 30,000, giving him a socloseithurts total of 63,200. He also got in an amusing taunt against Rutter, because … sportsmanship!
Third Place: Brad Rutter, 10,400
Daily Doubles were Rutter's kryptonite throughout the entirety of the match: Despite landing on three (3!), Rutter answered them all incorrectly and bet them "true" each time. Because of this, he trailed his opponents considerably the entire hour. He went into the first Final Jeopardy round with 5,200 and successfully doubled it to 10,400. The second game was an slight improvement with 10,000 going into Final Jeopardy, but, thanks to not knowing the correct answer for the Astronomy category, he lost his entire savings and went back to an even 0.
VIP: Alex Trebek saying the word "bitchin"
Honorary GOAT: James's new signature