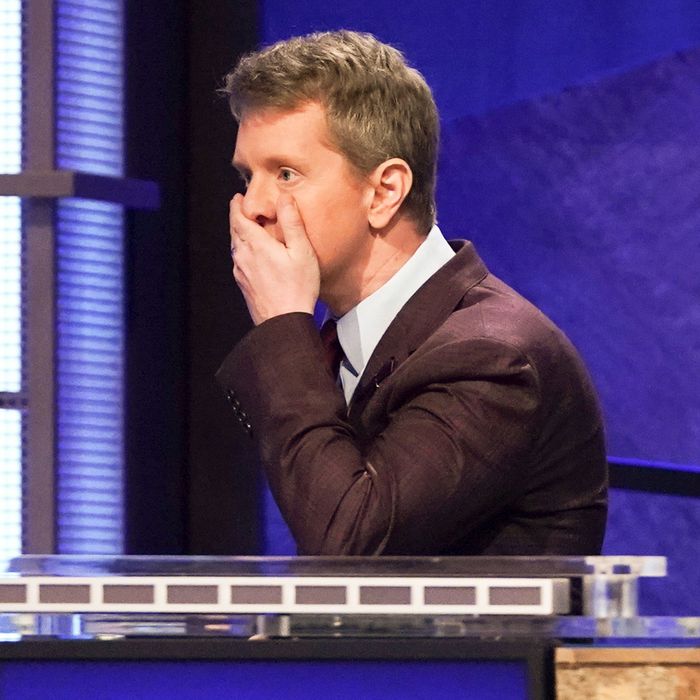 Photo: Eric McCandless/ABC
As much as ABC would've liked the ratings for a few more days, we've found our GOAT — and we're not talking about the ruminant mammal. (Or Alex Trebek, because, obviously, he's already achieved eternal GOAT status.)
Ken Jennings has been crowned the winner of Jeopardy!'s Greatest of All Time Tournament, where he defeated his venerable opponents, James Holzhauer and Brad Rutter, in a Match 4 nail-biter. Jennings' win secured him a cool $1 million bump in funds, while Holzhauer and Rutter get to add a respective $250,000 to their Premium Rewards Savings accounts.
So [places fingers on the buzzer] how did we get here? The match's first game was excitedly neck-and-neck between Holzhauer and Jennings, with our boy Jennings edging him out slightly with a 32,800 total over 22,800. (We'll just get this out of the way now: Rutter continued his dismal streak of matches and barely made a dent in any of the game play. What a shame!) The first Final Jeopardy round, about Grecian geography, was answered correctly by both of them, which we'll leave right here for you to ponder:
This area of Greece, home to Pan, is synonymous with a rural paradise; it's a setting for Virgil's shepherd poems the "Eclogues."
Then this happened, which was incredible. (Sorry again, Rutter.)
The second match, in a nice switch, had Holzhauer hustling his way to a solid lead, with the two games concluding with the sports bettor leading 40,400 to Jennings' 23,000. The Final Jeopardy question about Shakespearean dramas, though, only got a correct answer from Jennings, and, thanks to Holzhauer going all-in with his wager, the rest is history:
He has 272 speeches, the most of any non-title character in a Shakespeare tragedy.
This answer should've also been counted as correct, but whatever.
Someone pour some icy Gatorade on this guy! U-S-A! U-S-A!
Despite Jennings earning the bragging rights that he's literally the greatest, smartest, and Frasier-est contestant in the history of Jeopardy!, Rutter still remains in first place as the show's all-time winnings earner with $4.6 million. Jennings now follows by $3.3 million, while Holzhauer is in third with $2.7 million. But frankly, who cares about the hay. We have a GOAT!