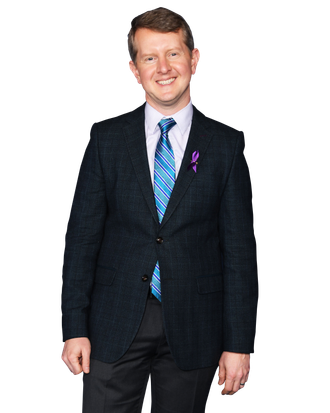 Photo: VALERIE MACON/AFP via Getty Image
Frasier Crane. Kurt Cobain. Ken Jennings. Only one of these Seattle icons just won Jeopardy!'s Greatest of All Time tournament, with KJ transforming into his final initialed persona, GOAT, with a formidable win over fellow contestants James Holzhauer and Brad Rutter. And he only needed four matches (with a healthy dosage of amusing tweets) to do it! With a $1 million bump in funds and eternal bragging rights in his pocket, Jennings hopped on the phone with Vulture to tell us all about his intellectual decathlon of a lifetime — as well as why he initially said no to the whole thing.
Ken! Congratulations.
I must admit, I'm doing great. You've found me in a good mood, Devon.
I openly wept at your win last night. I was so happy.
I appreciate vulnerability in a journalist. I don't know if you could tell on television, but I was weeping. It meant a lot to me. I got very emotional. I was very relieved. I was pretty sure going in that I didn't have much of a chance. I was pleasantly surprised.
How would you describe your level of confidence going into the tournament?
Low. What's lower than low? Rock bottom. I'm 15 years older than from where I once was, a young, cocky Jeopardy! phenom, and I've started to slow down a little. I've been beaten by Brad on the show multiple times, and I've been watching James and seeing how unstoppable he looked. I told the show, "I don't want to do this tournament, I'm out." But they talked me back into it. I finally decided it was probably the last time I'd ever play the show and almost certainly the last time I'd ever to play with Alex — the real GOAT. I finally figured I'd go and have a good time. It turned out to be a pretty smart play.
Wait, so you didn't want to do the tournament at all?
Which sure looks pretty dumb now. [Laughs.] I told the show, "Really, you already want to do a Ken, James, Brad showdown? No, I don't want to do this anymore. I'm out of my prime." And then I got some emails strongly telling me I should change my mind.
Did the money help?
You know, not really. The main thing about this tournament was the bragging rights. All three of us are doing just fine on our game show winnings. You don't want to say that because it's not relatable, as they say on television, but it's true. You're watching three Jeopardy! millionaires. Nobody needs the money. It's really about how much we love the game.
Can you speak to how your preparation and strategy changed to face off against James and Brad, as opposed to competing against just Brad in the past?
Brad is a known quantity. I know that he's capable of being faster than me and knowing answers I don't know, and there's not a lot I can do about that. I just hope for some breaks. I usually don't have great luck against him. But in the case of James — what was interesting is that we all knew the finalists going into the tournament, which is never the case for Jeopardy! I watched hours of tapes of James, and I know Brad drove to the studio to see him play live, because we wanted to get some intel on this guy. How do you possibly contain that? What I learned watching the tapes was that you can't be intimidated by him, because he's going to scare you, and you're going to have to play just like him. Brad and I immediately realized that whoever won this tournament was going to be who played James's game the best. He's that dominant of a player. He made us play his game.
That strategically aggressive style.
Find those Daily Doubles and bet huge at every opportunity. Whoever does that is going to win.
What was the energy in the room like before the first match commenced?
I came in very anxious. The funny thing is — and I almost think James and Brad thought the same way — arriving at the studio actually calmed us down, because we have such great memories there and enjoy playing the game. As soon as the game starts, you just lock in on that. There's no time to worry. You're trying to keep up with the game. All three of us had enough experience to really enjoy it, play really loose, and have fun. Of course while keeping a laser-like focus to win. I think that came across on television, too.
I always love silly Final Jeopardy responses.
I thought maybe Jeopardy! hardcores would turn up their noses at that and not want any fun. They've been watching a certain way for decades. But we really did have fun! James jumpstarted a little bit of trash-talk and feuding on Twitter. He's a pro-wrestling fan and you can see that in his approach to the game. I've never felt confidant playing Jeopardy! that way, and admittedly it was fun to throw a little shade.
James was a meme savage on Twitter.
The first thing I admired about James was how he was good on Twitter. On Jeopardy! he has this unusual and intense presence, and I thought, Oh God, what's this guy like? And then when I saw he was great at tweeting, that's when I respected him. Winning on Jeopardy! is hard, but being funny on Twitter is harder. I admire the confidence of it. You know what the show needs? More memes.
You said last year that if you ever faced James in a tournament, it would psychologically be an uphill battle for you, given factors like an age difference and preferred strategies. Now that you've played him and won, was the experience as difficult as you anticipated?
It turned out not as difficult as I thought it would be to play his big-money game. It was very seductive. That's the dark side of the show, going all-in on those Daily Doubles. I guess that means I have some gambling addiction inside me waiting to be tapped. I should be careful going to Vegas now that James turned me into a depraved sports bettor type.
You often look pleasantly surprised when you get certain clues correct.
That is not a put-on! Some people are like, Why is Ken pretending he doesn't know things? The fact is I do a lot of guessing on Jeopardy! The clues are written to reward intuition. Generally, when I have a good feeling about a clue, I'll buzz in. James is just a robot. He's completely accurate all the time, but he doesn't buzz in unless he's sure. That's the most impressive thing to me about him. He knows all that stuff. Meanwhile, I'm just following hunches a lot, and I'm relieved I don't shoot myself in the foot more often.
Why do you think Brad struggled so much throughout the tournament? Did that come as a shock to you?
I can't emphasize this enough: Brad was undefeated until now. He's unbelievable and the most tenacious player I've ever played against. He always finds a way to win. He just never found his footing. I think that shows you how big of an element chance is in a game and how much luck there is. He found so much luck finding Daily Doubles, but found all the hardest ones. I would've gotten the majority of those clues wrong myself. He took those bullets. He's an incredibly talented Jeopardy! player and I think it's a bummer that viewers haven't seen him unleashed — because it's really something to behold. Brad seems genuinely happy for me to win. He gave me a big hug and said the nicest things. He's a class act, as is James, because obviously they wanted to win as badly as I did. I was very touched by how sweet they were about the whole thing.
Besides Alex Trebek divulging that he saw Knives Out and loved it, did he share any other amusing anecdotes throughout your four matches?
Rian Johnson was so excited that Alex was a fan. I'm glad I could bring that into the world. I hung out with Alex a little bit. He joked about how Jeopardy! needs someone younger and more vital, so he's going to recommend Betty White. I asked him what he had for breakfast one of the days, and he responded, "a Pepsi and a Baby Ruth." One thing he told me is that he's been touched by the outpouring of love he received after he announced his cancer battle. He means so much to us, and he genuinely didn't know how important he was. He told me, "Ken, most people don't get to hear all this, because it starts after they die. But I'm here for it." I thought it was a beautiful way to see this chapter in his life.
Does this win seem like a natural endpoint to your Jeopardy! career?
Yeah, I'm out, Devon. I'm hanging up my buzzer. I didn't call a press conference or anything, but this is it for me. I don't know how I could top it and I don't want to keep playing past my prime, which I'm already kind of flirting with. I don't know the pop star categories anymore! I'm too old with a lot of trivia now. With Alex, who I see retiring at some point soon, I can't imagine ever playing the game without him, either. I can't imagine a better way to go out than this tournament.
I just want to get this marinating in your head: Everyone I speak with wants you to replace Alex as host when the time comes. Likely in 50 years, but whenever the time does come. You really are the natural successor.
It's very flattering because I'm such a huge fan of the show. To even think about that would require imagining a version of Jeopardy! without Alex, and I'm not emotionally prepared to do that at any point.
You keep thinking about it for the next 50 years.
I'll be older than Betty White, and I'll be dragged out of the old folks' home in 2105 to host Jeopardy! in my walker.