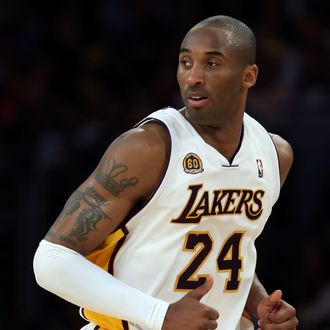 Photo: Lisa Blumenfeld/Getty Images
41-year-old basketball legend Kobe Bryant, along with his teenage daughter Gianna, tragically died in a helicopter crash on Sunday morning in Calabasas, California. It's currently unknown what caused the crash, but the helicopter reportedly burst into flames after going down on a hillside amid foggy flying conditions in the area. Nine people in total died in the crash, which is currently being investigated by the FAA. Bryant, who spent the entirety of his 20-year career with the Los Angeles Lakers, broke an astounding amount of records during his time on the court, and dedicated his post-retirement life to various philanthropic and business pursuits outside of the sports world. Read on for social media tributes dedicated to Bryant from friends, teammates, and fans.
Sunday's NBA games, which are proceeding as usual despite Bryant's death, have also been paying tribute to the player in various poignant ways. The Toronto Raptors—San Antonio Spurs game began with both teams allowing the shot clock to expire in honor of Bryant.
Other social media reactions are below:
Update, January 26, 8:30 p.m.: More tributes to Bryant have poured in, including from fellow NBA star Dwayne Wade and a thread from Alex Rodriguez. The WNBA additionally honored Bryant's daughter Gianna.
Update, January 27, 1:00 p.m.: Close friends and celebrities continue to pay tribute to the Oscar winner, his young daughter, and the several other victims. NBA star Dwyane Wade followed up his initial tweet with an Instagram story thanking his late friend. "When I came in the league, I chased him," he said. "That's who I chased. I wanted to be respected by him."
Update January 30, 9:30 a.m.: The world continues to mourn Kobe Bryant. Beyoncé shared her condolences to Vanessa Bryant on Instagram, posting three photos of Bryant and his daughter. The official Los Angeles Lakers paid tribute to their legend, Gianna, and the seven other lives lost. "Words cannot express what Kobe means to the Los Angeles Lakers, our fans, and our city," they wrote in a thread on Twitter. "More than a basketball player, he was a beloved father, husband, and teammate. Their love and light will remain in our hearts forever."