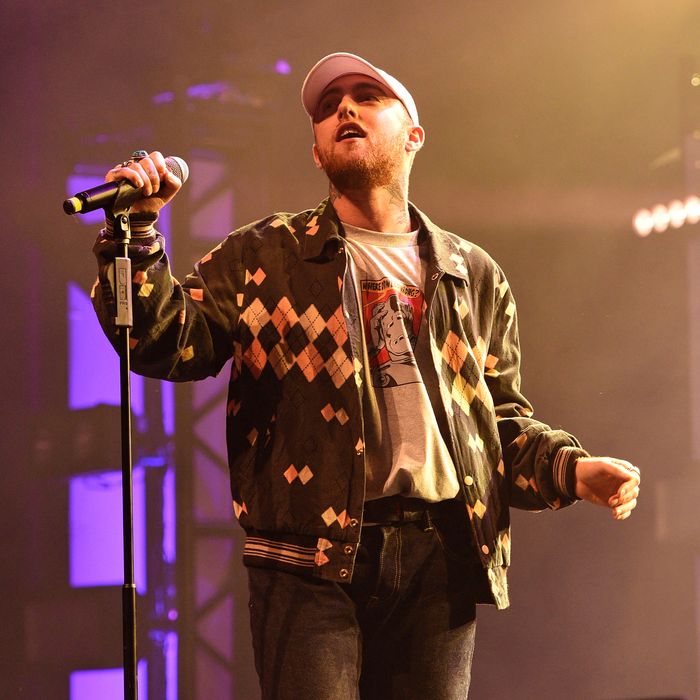 With the release of
Swimming
's twin and photographic negative,
Circles
, we get new insight into where Mac Miller was headed.
Photo: C Flanigan/FilmMagic
Over the last year or so, through chance or subconscious ambition or some cosmic provenance, I've gotten to speak with a number of people who knew and worked with Mac Miller in his lifetime. They all give a similar account. Earl Sweatshirt compared his friend to a pirate ship on the go: "He was moving real fast." Flying Lotus recalled frequent updates regarding new music when the two lived in the same neighborhood in California: "Mac was the best because he was that dude who would always come over with a new batch, every season … He made me feel lazy, and I'm working." "He wanted people to know that there was way more to him than his indie-rap success," Pharrell told me last month. "He wanted people to know the layers and the depth of his potential." Mac's career was a delicate dance; he worked hard to get loose from expectations and step into his true potential. He managed by giving the audience a little of what he knew they wanted followed by a little of what they might not know he wanted.
You can see this push and pull in the impressive range of Watching Movies With the Sound Off, Faces, and GO:OD AM, and later in the wild swings taken with The Divine Feminine and Swimming. It's present in the music Mac made outside those albums, in songs made public and ones that have yet to see the light of day. He grew a following and then set about leading the flock out to higher ground. When we spoke on the release date for 2016's The Divine Feminine and I asked a question I'd posed to him during the sessions — namely, whether he was worried about alienating fans who came to his music specifically for lyrical gymnastics with a collection of love songs where he sang as much as rapped — he told me quite succinctly that, "People need to expand their minds, me included. The mind is never done expanding."
Mac made good on his end. Swimming bridged the contemplative, melodic side of his music explored in songs like "Rush Hour" and "REMember" with the flair and confidence of "Break the Law" and "Here We Go" and guest features alongside the likes of Earl, Schoolboy Q, and Vince Staples. It supposed that he could be both devastating and sweet at the same time, that the hardest kind of writing is the honest kind. Truth is the most lacerating bar. True to form, he was already evolving again by the time we heard that one. By the summer of 2018, before Swimming's release, he was exploring new concepts already, studying icons of the past and buzzing with melodies from his favorite classic rock songs. It would be a while before the question of what that was leading to would be answered. Today, with the release of Swimming's twin and photographic negative, Circles, we get new insight into where Mac Miller was headed.
The new album picks up where Swimming left off, spiritually and creatively, further consolidating the composite elements of Mac Miller's creativity into a unified whole. It'll be a hard left for some listeners. It's not a rap album in the traditional sense. Rap is a brush in its toolkit; so are funk, folk, and psychedelic rock. "Woods" pairs drum programming evocative of '80s R&B with gauzy keys, a plaintive vocal, a curt rap, and guitar played by Wendy Melvoin, of Prince's Revolution and the offshoot, Wendy & Lisa. Mac sings over the hip-hop drums of "Complicated" and raps on top of the stately jazz guitar on "Hand Me Downs." The blend is seamless and unpredictably shiftless. Circles is, by turns, quiet and cozy but also stripped and unnerving. The production, helmed by Swimming collaborator Jon Brion, is lush but also light in its touch, as are the vocals, which unpack tough ideas in low, raw tones. "If life is but a dream, then so are we," Miller muses on "I Can See." "Why I gotta build something beautiful just to go set it on fire?"
Circles gives voice to the nagging notes of inadequacy that linger in the margins of our greatest triumphs, movies of uncertainty that play against the backs of our eyelids when we turn out the lights at the end of the night. Do people like me? Is my best good enough? Have I discovered my life's purpose? Is true love on my horizon? Confident people doubt themselves just as hard as anyone else; their fear is just as true as their bluster. In sharing these parts of himself, Mac Miller arrives at his purest, most compelling artistic statement, a stab at the caliber of songwriting achieved by titans of the form. Circles is overcast with a chance of sunshine, both the storm and the ray of light that eventually cracks through the gray sky. You have to deny frequent and poignant moments of uplift in order to call it purely sad; its silver lining comes at the cost of a lot of cloud cover.
The emotional duality of this music is never more profound than in the cover of "Everybody's Gotta Live," a song by Arthur Lee of San Francisco psych-rockers Love. The chorus — "Everybody's gotta live, and everybody's gonna die" — is steeped in the chilling acceptance of the inevitability of mortality that powers Lee's greatest writing. (If you haven't already, make haste for the bleak 1967 Summer of Love rejoinder Forever Changes.) Death is a part of the cycle of life but not the point of it. The point is to love as much as we can in the space between our tombstone dates. As Mac once put it in "Senior Skip Day," "Enjoy the best things in your life / Cause you ain't gonna get to live it twice." Circles echoes that message in no uncertain terms, the message of "Ladders," the message of "Aquarium," of "Objects in the Mirror" and "One Last Thing.": Seek out what you're good at, and who you're good with, and never look back.
The last time I saw Mac Miller, he said something that has been my key to understanding the music he left behind in the last year of his life: "I really wouldn't want just happiness. And I don't want just sadness either. I don't want to be depressed. I want to be able to have good days and bad days." Much will be made of the stark contrast between the warm, perseverant Swimming and the wearier, groggier Circles. I see Malcolm in the balance, a poet who made the most of 26 years between heaven and hell, a stargazer who did his best to stay grounded until the clouds came calling.