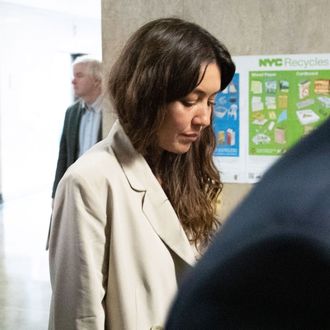 Former
Project Runway
production assistant and Weinstein accuser Mimi Hayeli.
Photo: Mark Lennihan/AP/Shutterstock
Mimi Haleyi took the witness stand in Manhattan court Monday, where she alleged, in harrowing detail, that Harvey Weinstein had forcibly performed oral sex on her in July 2006. The former Project Runway production assistant walked into court at 9:41 a.m. Her initial demeanor was almost businesslike, despite her being poised to tell a roomful of strangers about an alleged trauma that has haunted her for years.
When Haleyi sat down at the witness stand in Weinstein's rape and sexual-assault trial, the defendant looked at her and popped a Mentos into his mouth. Weinstein is charged with five counts for the alleged assaults on Haleyi and a woman named Jessica Mann, who was publicly named only last week. They include two predatory-sexual-assault counts, one count of criminal sexual act in the first degree, one count of rape in the first degree, and one count of rape in the third degree. Sopranos actress Annabella Sciorra's allegation that Weinstein had raped her in late 1993 is part of the predatory-sexual-assault counts and is being used by prosecutors to argue that Weinstein had a pattern of nonconsensual sexual activity. Weinstein has denied all allegations of nonconsensual sexual activity.
"Do you know somebody named Harvey Weinstein?," asked assistant district attorney Meghan Hast.
"I know who Harvey Weinstein is, yes," Haleyi said.
"Do you see him here in the courtroom today?"
"I do," Haleyi said, rising in her chair and nodding toward Weinstein.
Hast's questioning initially explored the progression of the interaction between Weinstein and Haleyi before the alleged sexual attack. Hast tried to establish that Haleyi had wanted to have a business and social relationship with Weinstein and only that. Through questioning, Hast tried to establish that Weinstein had viewed Haleyi as a target because she lacked both means and a network upon her move to New York from London.
When Haleyi and Weinstein first met, in 2004 at a film premiere, she was working for legendary Monty Python and the Holy Grail producer Michael White. When she ran into Weinstein at Cannes in spring 2006, White was ill, and she was in need of work. 
At their first meeting in Weinstein's hotel suite, Weinstein allegedly asked for a massage. Haleyi refused and left the room feeling "humiliated," thinking she would never hear from him again about work. She was surprised to hear back from a Weinstein Company employee telling her there was an opportunity with Project Runway. She went to New York City and worked on the show. 
Weinstein allegedly pressured Haleyi join him in Paris for fashion shows, even bursting into her apartment one day to demand that she go. When Haleyi said, "You know, you have a terrible reputation with women," he seemed offended — but he backed off. She did not go to France with him.
Haleyi said she had agreed to go to Weinstein's apartment in Soho on July 10, 2006. Although Haleyi had rejected Weinstein's Paris invite, she had accepted a plane ticket to Los Angeles from him and did not want to be rude. A driver allegedly picked Haleyi up at her East Village apartment and drove her to Weinstein's loft; the driver took Haleyi upstairs and then left. Weinstein greeted her, and they had a "normal exchange." They sat on opposite sides of the sofa, a few feet from each other, Haleyi said.
"Really soon into me being there, he kind of came towards me and lunged at me, trying to kiss me," Haleyi said. "I got off the sofa and said, 'Oh, no, no." 
Haleyi allegedly rejected Weinstein and pushed him away, but "he would just pull me back and keep kissing and fondling me, and I got up, and I tried to walk away from him," she said.
"He was coming towards me physically, and I was backed into a bedroom in the corner that was on the edge of that open-space area," she continued. "I was backwards, because he was pushing me with his body until I got to the bed, and I fell backwards onto the bed and I tried to get up, and he pushed me down."
"I just said, 'No, no I don't want this to happen. This is not going to happen. I'm on my period,'" Haleyi said, breaking into tears. "I was just trying to tell him anything to make him stop." 
"And also I tried to reject him. I mean, I did reject him, but he insisted. And every time I tried to get up off the bed, he would push me back and hold me down," she said. "Then he pushed me down, he held me down, he held me by my arms."
"And then I said, 'No, no,' and at that point I started realizing what was actually happening: I'm being raped," she said.
"When I realized what was actually happening, I started weighing my options in my head. I thought, I'm not able to get away from him … If I escalate this, if I scream 'Rape!,' will someone hear me?" she said. "If I start kicking even harder, will I have a chance to get away, and will I actually get to the elevator, the only elevator, out into the street, without him catching me? And if I do get all the way downstairs, will the driver be there, standing by, ready to scoop me up? Is the driver in on it?" 
"I couldn't even get away from him at all, let alone get out of the apartment," Haleyi said. "Ultimately, after a while, I just checked out and said to myself, Endure it."
"He held me down on the bed, and he forced himself on me orally," she continued. "I had a tampon in there. I was mortified."
"He forced himself on me orally, and he put his mouth on my vagina … I kept trying to tell him, 'No, don't go there,' and 'Don't do that. I'm on my period. I have a tampon in.'" 
"It was as if he didn't believe me. And he said something like 'Where is it, then,' like that," Haleyi said. "He literally pulled my tampon out." 
Later that month, Weinstein wanted to meet with Haleyi at the Tribeca Hotel. She agreed. Hast asked her why she had agreed to meet him.
"He was very persistent and insistent," Haleyi said, explaining that she thought their meeting would somehow enable her to regain a sense of power.
After Haleyi went to Weinstein's room, "almost instantly, he basically just took my hands like that and just pulled me toward the bed," she said. Haleyi later said she didn't consider it an assault because she "didn't physically resist." 
"He said things like 'You're a whore and a bitch," Haleyi recalled. "He thought that would somehow turn me on."
"I was lying there very motionless and saying, 'I'm not a bitch, I'm not a whore.'" As Haleyi recounted this statement, Weinstein shook his head.
On cross-examination, Weinstein's lawyer Damon Cheronis repeatedly asked Haleyi questions about her ongoing communications with Weinstein after the alleged incident at the Tribeca Hotel. 
Cheronis pointed out that Weinstein had bought her a plane ticket to London in August 2006. Through questioning, he also revealed that she continued to pitch him projects and ask for work after the alleged incidents. 
This is a breaking news story and has been updated throughout.
Update, February 24: Harvey Weinstein's verdict has been announced.