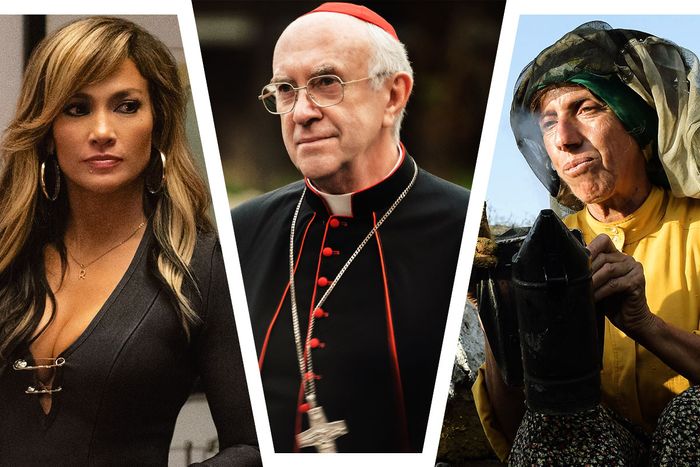 It was a good morning for popes and Macedonian beekeepers, a bad one for drug-scamming strippers.
Photo-Illustration: Vulture, STXFilms, Netflix and Neon
Take the drama of a presidential election, and then make the whole thing rest on the opinions of a few thousand voters, very few of whom care about the opinions of people on Twitter. No, I'm not talking about the Iowa caucuses, I'm talking about the 2020 Oscar nominations, which caused plenty of consternation on Monday morning. Let's run down the biggest snubs and surprises of the 92nd Academy Award nominations.
Jennifer Lopez's snub headlined a morning of Oscars gatekeeping.
If you wanted a sign that the tastes of Oscar obsessives don't always line up with the tastes of actual Oscar voters, one of the morning's first categories gave you a hard lesson, as Jennifer Lopez's Hustlers performance was left out of Supporting Actress. Lopez had been widely pegged as the category's No. 2 behind Laura Dern: She was the breakout performer in a critically acclaimed, Zeitgeist-y hit, with an iconic musical number to boot. It's tempting to say that this was a case of the internet going gaga for someone and assuming Oscar voters would naturally follow suit, but Lopez did make it into most of the major precursors, scoring nominations from the Golden Globes and SAG. Ultimately, Hustlers was hamstrung by the notion that this frothy crime caper was not an "Oscar movie," a notion that, as we saw all over this morning's nominations, often privileges the grandiose, the gritty, the masculine. IndieWire's Anne Thompson, whose barometer is usually closer to the median Oscar voter's than the rest of us might like to admit, had been putting cold water on Hustlers' chances since September, noting that the film was unlikely to play well with "tony Academy voters, who want their Oscar contenders to shine with the patina of art." Voters did not cotton on to the film's sly social commentary; to them, it might as well have been Avengers: Endgame.
The Academy went with an all-male directing slate, and a nearly entirely white field of acting nominees.
The presence of three women of color in the Best Actress race meant that, no matter how hard they tried, the Oscars could not go full BAFTAs — they were almost certainly going to consider Awkwafina, Cynthia Erivo, and/or Lupita Nyong'o. In the end, they went with only one: Erivo, whose role in the inspirational historical biopic Harriet hewed closest to the standard Oscar mold. But the other three acting categories went 100 percent Caucasian, as Eddie Murphy of Dolemite Is My Name, Song Kang-ho of Parasite, and Zhao Shuzhen of The Farewell joined Lopez in being shut out. The crafts categories were better, as Parasite's success meant plenty of South Korean creatives got their due, but the Best Director field was, as expected, another all-male year, as Todd Phillips rode the Joker wave into a directing nomination over Little Women's Greta Gerwig and Portrait of a Lady on Fire's Céline Sciamma. You can rationalize plenty of these individual choices — Us was a horror movie that came out in March, Song wasn't the campaigner that Marina de Tavira was last year, Gerwig's movie was slightly less beloved than other Best Picture contenders — but taken together, it's hard not to see these nominations as the Academy retreating to familiar notions of what types of film it should be canonizing.
Joker and 1917 proved their strength with surprising nominations.
Two Best Picture nominees got a serious boost by showing up in unexpected areas of the ballot. Joker led all comers with 11 nominations, a tally that included nods in Costume, Sound Mixing, and Makeup & Hairstyling. And 1917 pulled off an Original Screenplay nod, a major feat for a film that's almost entirely wordless in the second half. Before this morning, each was considered a second-tier threat to take home the top trophy — now, they're asking questions.
Both of those popes proved infallible.
On the surprises side, no movie had more a pleasant morning than The Two Popes, which at times had felt like Netflix's fourth-string contender this Oscar season. Though the Globes loved the Catholic two-hander, most of the guilds roundly ignored it, and its best chance at a nomination seemed to be in the thin Adapted Screenplay category. Lo and behold, not only did Popes score in Screenplay, but both of its stars get acting nods, as Anthony Hopkins received his fifth career nomination, and Jonathan Pryce cracked the extremely competitive Best Actor field over the likes of Taron Egerton, Adam Sandler, and Christian Bale. (I suppose it was not surprising that voters considered them a package deal: After all, the movie's not called "The One Pope.") The success of The Two Popes can be taken as a bellwether for this morning's theme: For voters, recognizing a liberal-humanist dramedy about a beloved world leader, filled with familiar faces from HBO dramas, was like falling asleep in a comfortable recliner.
A24 was almost completely shut out.
It wasn't so long ago that A24 offerings like Moonlight and Lady Bird were the darlings of the Academy's hipper segments. But in recent years, the indie studio has fallen off the Oscar map, and this year its ostensible heavyweights Uncut Gems and The Farewell blanked entirely. In all, A24's only nomination came for the black-and-white cinematography of The Lighthouse. In a shortened season, it's possible voters were less inclined to go exploring unfamiliar territory: Forced to choose between screeners for Richard Jewell and Uncut Gems, time-pressed viewers may have chosen to go with the movie with the established Oscar pedigree.
Honeyland became the first film ever nominated in both Documentary and the foreign-language category.
A24's title as the Academy's favorite indie distributor seems to have been nabbed by Neon, which not only handled Parasite but also succeeded in turning Honeyland, a vérité documentary about a struggling Macedonian beekeeper, into the summer's buzziest doc. Its efforts paid off with the news that Honeyland had not just made the grade in Best Documentary, but also in Best International Film, where new rules opened voting up to any Academy member who'd watched all the short-listed films. It became the first movie to ever double up in those categories. For an awards-season underdog, the honors could not have been sweeter.
Apollo 11 was snubbed in Best Documentary.
Honeyland's spot in Documentary was made possible in part because that branch decided to snub one of the ostensible front-runners, Apollo 11, a moment-by-moment retelling of the moon landing constructed by newly unearthed archival footage. The doc branch is not entirely dissimilar to a high-school cafeteria, and this snub was entirely keeping with its penchant for shutting out movies that seemed to be riding high. (The Mr. Rogers documentary Won't You Be My Neighbor was last year's victim.) The format may also be to blame: Though the film was a staggering accomplishment when seen on the gigantic screen of the Walter Reade Theater, I've heard from viewers who watched it on a TV and said they were bored to tears.
Other contenders who couldn't crack the field …
• Not only did Eddie Murphy go unrecognized in Best Actor, but Ruth Carter's spectacular blaxploitation ensembles for Dolemite Is My Name got left out of the Costume category.
• Weeks after Taylor Swift's "Beautiful Ghosts" got left off the Best Original Song short list, Beyoncé also got the cold shoulder from Oscar voters, as her Lion King number "Spirit" was left off in favor of perennial nominee Diane Warren's song "I'm Standing With You," from the Christian family drama Breakthrough.
• Frozen II was snubbed in Best Animated Feature, the worst the Oscars have treated this franchise since John Travolta uttered the words "Adele Dazeem."