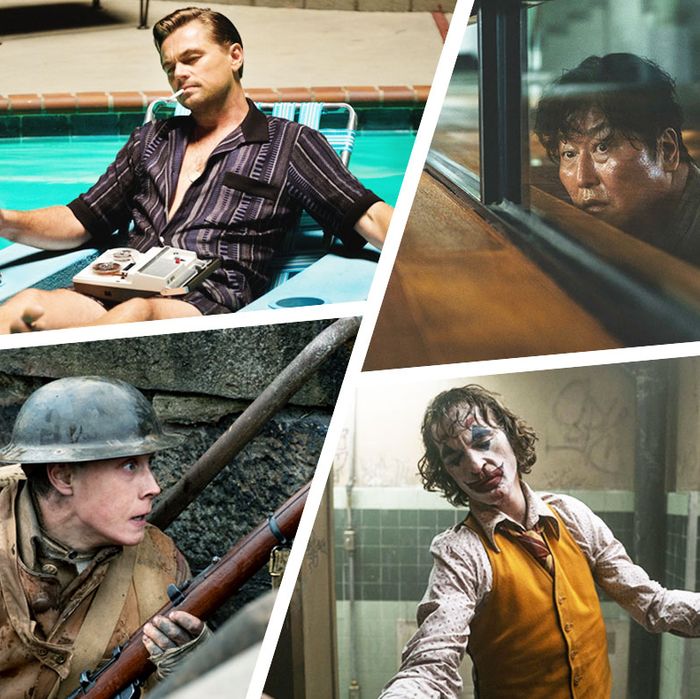 You can make a case for
Once Upon a Time in Hollywood
,
Parasite
,
1917
, or even
Joker
.
Photo-Illustration: Vulture, Columbia Pictures, Universal Pictures, Warner Bros. and Neon
The knives are back in, the gems have been cut, and the bombshells did not go off. With Monday's Oscar nominations, the Best Picture field has been officially narrowed down to nine lucky contenders. Now, of course, it's time for prognosticating — which movie right now stands the best chance of taking home the big trophy? I'll have better intel over the course of the next few weeks, and the guild results have the potential to shake things up majorly. So think of this less as an official prediction, and more of a back-of-the-envelope handicapping of where the race stands in the first week of phase two.
9. Ford v Ferrari
James Mangold's auto-racing drama was the most shocking inclusion on nomination morning: a solid hit, but not a blockbuster; well-liked by critics, but hardly a sensation. FvF's candidacy seems to be powered by strong support from the below-the-line contingent: It's the rare Best Picture nominee to go entirely unrecognized in the directing, writing, or acting categories. Like building a car for a major corporation to compete at a 24-hour race in France, just getting in is the win here.
8. Marriage Story
In their fervor to reward the season's big sweeping epics, voters seem to be slightly downgrading Noah Baumbach's nuanced domestic drama. Even so, silver linings abound: The film looks poised to come out of Oscar night with the Supporting Actress trophy, and could add a second win in Original Screenplay if the race breaks right. And Baumbach and Greta Gerwig both missing the cut in Best Director may be just the kind of shared hardship that brings couples closer together.
7. Little Women
What a difference expectations make! Little Women performed basically as well as Marriage Story did in the nominations, with the former's Costume nomination making up for the latter's extra acting nod. And yet, since Little Women hadn't gained much traction in the precursors, its Oscars journey feels more like a rousing comeback. Though Gerwig's directing snub hurts, it may also spur even more passion for Little Women among its fans.
6. Jojo Rabbit
It's remarkable how closely Jojo Rabbit is hewing to the path previously trod by Green Book, a film it would not seem on the surface to have much in common with: Both films premiered at TIFF, where they won the People's Choice Award, then bowed to muted reviews and a slightly underwhelming box-office performance, before ultimately being embraced by awards voters (the Academy's directing branch excepted). Jojo Rabbit has attracted a fraction of the furor that greeted Green Book, which ironically enough could put a snag in its Best Picture hopes, since supporters may feel less protective of it. But just like its predecessor, the film's themes of empathy and understanding may catch on with voters who want to send a political message.
5. Joker
This kitchen-sink drama about an aspiring stand-up comedian got a big boost by earning the most nominations of any film this year, showing up in Best Director and all over the crafts categories. Joker seems to enjoy a broad base of support, and its billion-dollar box-office haul will earn points from voters anxious about the Academy's pop-cultural relevance. Still, while you're quaking in your boots at the words "Best Picture Winner Joker," remember this: If there's one film that could be affected by the preferential ballot, it's this one. While the media controversy around the film clearly didn't impact its chances, the superhero skepticism felt by many in the industry — personified this fall by Martin Scorsese — could knock its chances of taking the big prize.
4. The Irishman
As Sasha Stone notes, The Irishman is actually the only film to nail all the strongest predictors of a Best Picture win: top nominations from DGA and SAG, and nods in Oscar's writing, directing, acting, and editing categories. So why does it no longer feel like a front-runner? Blanking at the Globes didn't help, and if the film was truly such a juggernaut, you'd think Robert De Niro would have gotten nominated somewhere. Furthermore, one subplot of this year's race is the Academy rewarding films that were made to be experienced in theaters, which can't help but ding this Netflix release. There's still time for the guild awards to reshape the narrative, but if things don't turn around, I could also see a world in which The Irishman goes zero-for-ten on the big stage.
3. Parasite
The preferential ballot may boost Parasite, an incredibly timely social satire that seems to be the most widely loved nominee in the field. To nab the ultimate Oscar, it will have to clear two major hurdles. The film didn't get an acting nomination, a sign that American voters may be seeing it as a purely technical exercise. Even more significant: In all of Oscar history, a foreign-language film has never won Best Picture. Parasite is great, everyone agrees, but it's almost certainly going to win Best International Film, and is a strong threat in Best Director. Is Bong Joon Ho's film so head-and-shoulders-above everything else in the race that it deserves to take home all the big trophies? You might say yes, but Academy voters who like to spread the wealth may disagree.
2. 1917
The film that barely anyone had seen six weeks ago has made the season's final stretch a lot more interesting. After winning the two biggest prizes on Globes night, 1917 continued its winter offensive by storming into the Oscar nominations, coming out with ten in all. Of those, the Original Screenplay nod might be the most crucial: It would have been easy to leave off this mostly wordless entry; that voters chose to recognize it anyway is a sign of the movie's surprising strength. (The lack of an acting nomination does hurt, but considering the film is built around a near-unknown, that had been priced-in from the jump.) I've long compared 1917 to Dunkirk, another technically audacious war film that cracked Best Picture, but while the latter was taken mostly as an intellectual exercise, Sam Mendes's movie seems to be hitting viewers emotionally — a prerequisite for contending here.
1. Once Upon a Time in Hollywood
An Oscar strategist I spoke to this summer mentioned how Once Upon a Time seemingly checks all the boxes needed for a Best Picture contender: It's a box-office hit … and an expertly crafted period piece … about the magic of the movie industry … filled with stars operating at the peak of their powers … directed by a filmmaker with an Oscar pedigree but who has never taken home the top prize. A lot has happened in the race since, nothing yet has managed to shake Quentin Tarantino's film from the top spot in most pundits' predictions, especially as each new rival seems to come with a potentially fatal flaw. (Once Upon a Time's own Achilles' heel is a miss in Best Editing, which seems eminently survivable.) Tarantino's rewritten history plenty of times; will this be the year that he finally writes his name into Oscar history?