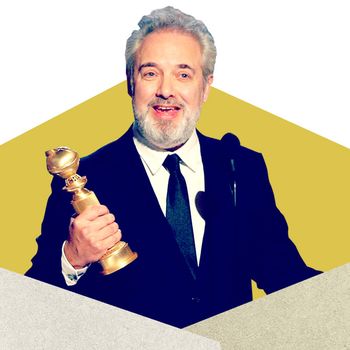 Sam Mendes accepts the Best Director trophy for
1917
at the 2020 Golden Globes.
Photo-Illustration: Vulture and Getty Images
How do you measure the impact of the Golden Globes on the Oscars race? On the one hand, the Globes are handed out by a more-or-less random group of 90 foreign journalists who have absolutely no overlap with the Academy. On the other hand … they're also on TV! As Sasha Stone put it, the Globes "function best as an audition for winners," a test run for Oscar voters to double-check how they feel seeing a particular candidate ascend to the podium. Last year, Glenn Close delivered a barnstormer of a speech, but it was Olivia Colman's endearingly giggly moment that Academy voters, in their heart of hearts, wanted to see repeated. (The same holds true for snubs: After the Globes decided they were totally fine not giving A Star Is Born any of the big prizes, the Academy realized it was, too.) With this season's accelerated schedule, Sunday night's Globes telecast occurred smack-dab in the middle of Oscar nomination voting. So who came out of the Beverly Hilton the night's biggest winners?
Any list of this season's contenders must start with 1917, and at the Globes that was true not just alphabetically: Sam Mendes's single-take WWI thriller was the night's most shocking winner, taking home nearly as many surprise victories as the German Army in the fall of 1914. First, Mendes triumphed over the likes of Bong Joon Ho, Martin Scorsese, and Quentin Tarantino in Best Director, then the film followed it up by nabbing the night's ultimate prize, Best Motion Picture — Drama. A late-breaking contender that didn't start screening until the weekend before Thanksgiving, 1917 was considered to be at a slight disadvantage in the shortened season, but perhaps that was the wrong way of thinking about it: Considering the season's breakneck pace, was there value in being one of the most recent movies voters saw? The film has made a last-minute surge in the waning days of the race, with fans raving not just about its technical wizardry but also its emotional tale of human perseverance. Besides Cinematography, where it is justifiably the frontrunner, 1917 should be considered a strong threat in Director, and has ascended into the top tier of Best Picture contenders as well. And the film's star, the near-unknown George MacKay, should not be counted out of the Best Actor field, either.
In terms of pure numbers, Quentin Tarantino's Once Upon a Time in Hollywood was the night's biggest winner, taking home three trophies on a night when no one else won more than two. As has often happened throughout his career, Tarantino took home the Screenplay prize as a consolation for losing out in Director, before the film finished its night by winning Best Motion Picture — Comedy/Musical, as expected. Tarantino has never won Picture or Director at the Oscars, and Sunday's results strengthened the case that Once Upon a Time may be the film to finally get him over the hump; as my colleague Alyssa Wilkinson noted, its three Globes wins were the exact same trio that Green Book won last year. (Though from looking at Twitter, Hollywood seems not to have received the full Oscar Villain treatment just yet.)
The Best Picture race's other ostensible frontrunners had more forgettable hauls. Parasite had to make do with just the Best Foreign-Language Film trophy, while The Irishman was shut out completely. Combined with Marriage Story going one-for-six, it was a rough night for Netflix — all the more so because, unlike the Oscars, the Globes don't have an anti-Netflix contigent that can helpfully be blamed anytime things don't go the streamer's way. The Big Red N is well-known to covet Oscar gold, and it will be intriguing to see how its small army of awards strategists responds to such a public setback.
The acting categories more or less went as expected, with a quartet of Oscar frontrunners — Joker's Joaquin Phoenix, Judy's Renee Zellweger, OUATIH's Brad Pitt, and Marriage Story's Laura Dern — all claiming the trophies in their respective fields. Of those, Dern was the only victory that felt slightly like a surprise, as Hustlers' Jennifer Lopez had been widely pegged to upset in Supporting Actress. That Lopez didn't probably signals the death knell to her hopes of taking home the Oscar. If you're into reading tea leaves, though, some pundits noticed what they thought was a "muted" response to Zellweger in the room itself. As for how Phoenix's gonzo acceptance speech played with voters, I'm guessing that when it comes to Joaquin Phoenix, a certain amount of weirdness comes priced in.
Meanwhile, in the Musical/Comedy acting categories, the HFPA gave a boost to two contenders who'd been circling the edges of their respective races. Rocketman's Taron Egerton has been the hardest-working man in Hollywood this season, and his efforts were aptly rewarded by a voting body that prefers to honor actors in musicals whenever possible. His Oscars journey will be tougher, but he can rest easy knowing he's done all he can. (Though he probably should have hugged Elton John.) And The Farewell winner Awkwafina did her Best Actress candidacy a solid with a heartfelt acceptance speech that should earn her some more consideration from voters who've yet to mark their ballots.
The Globes don't really have crafts categories, but they do give out two awards for film music, each of which provided some much-needed clarity to murky Oscar races. In Best Original Song, Elton John and Bernie Taupin's win for their Rocketman number "I'm Gonna Love Me Again" was the first major award these two longtime collaborators have won together, a factoid Oscar voters will surely remember. And in Score, Hildur Guðnadóttir's win for Joker proved an uncontroversial way for voters who loved the supervillain origin story to signal their support without doing something really twisted like giving Todd Phillips Best Director.
Finally, in one of the night's most welcome surprises, the Best Animated Film category went to Missing Link, the sole nominee that was not a remake or sequel. Zoom out, and you saw original stories winning prizes all across the board. Martin Scorsese may have gone home empty-handed, but in that, at least, the Globes gave him something to smile about.