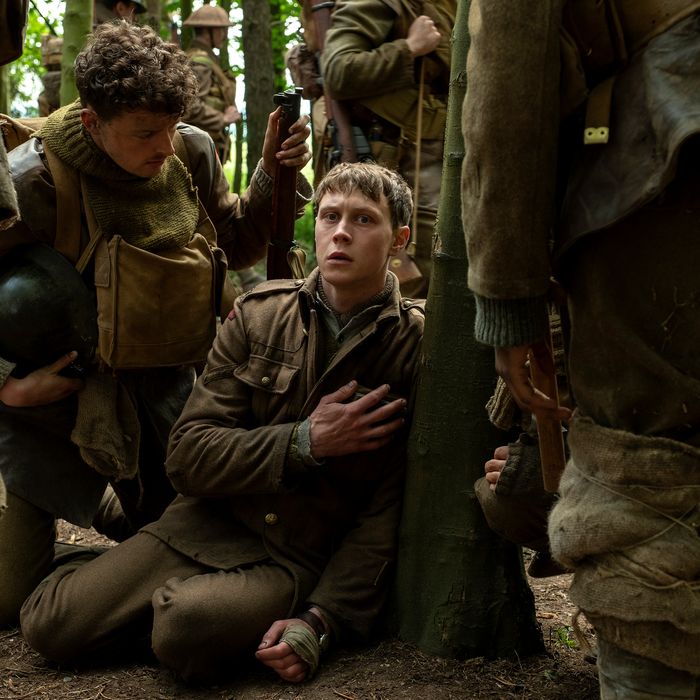 George MacKay accepts the trophy for Best Sprint at the Runners Guild Awards.
Photo: Universal Pictures
If there's one habit that distinguishes today's Academy voters from those a generation prior, it's that they prefer to spread the wealth. The avalanche of Oscars that fell into the arms of The English Patient, Titanic, and Return of the King does not come around much anymore; in the 2010s, no movie ever won more than Gravity's seven. But this year, thanks to voters concentrating their favor on a small handful of films, four different contenders came away from nomination morning with the chance to score double-digit trophies: 1917, The Irishman, Joker, and Once Upon a Time in Hollywood. Of that quartet, 1917 seems likely to end up the night's biggest winner, as the film's victories at the precursors have strengthened its Best Picture case, and its myriad technical accomplishments should bolster its chances in the crafts categories.
A sweeping middlebrow epic with a British pedigree, 1917 can feel like a slight throwback to an earlier Oscar era. Will its awards haul also give us flashbacks to those '90s ceremonies? Let's examine the film's chances in each category, starting where it's strongest.
Best Cinematography
Roger Deakins had to wait decades before taking home his first Oscar, finally winning two years ago for Blade Runner: 2049. The wait for his second should be shorter. 1917's single-take conceit is its big creative showstopper, and credit for that achievement will duly go to Deakins, which will surely be a happy moment for his many fans.
Best Picture
1917 has won at the Golden Globes, which are voted on by international journalists who love Elton John concerts. It has won at the Producers Guild Awards, which are determined by the same kind of preferential ballot as the Oscars. It has won at the Directors Guild Awards, which are chosen by the industry's most discerning artistes. With the exception of its SAG snub, it's won everywhere, from everyone. In a season where momentum is paramount, 1917 looks like the one to beat.
Best Director
Picture-director splits are more common in the era of the preferential ballot, and with Parasite thriving, Bong Joon Ho has become a popular Best Director pick, especially as his film's likely win in Best International Feature should put a damper on its Best Picture chances. (Call it the Cuarón Precedent.) Even so, Mendes got a big boost with his win at the DGAs over the weekend, as the two directing prizes have only diverged three times in the past 20 years. Consider 1917 to have the edge in this race, too.
Best Visual Effects
The Academy likes to reward prestige pictures in the visual-effects category, so while many pundits are pegging Avengers: Endgame for the win, the fact that the Marvel Cinematic Universe has gone zero-for-nine makes me think there's an opening here. The only other Best Picture nominee in the field is The Irishman, whose de-aging effects have proven much more contentious than 1917's single-take trickery.
Best Sound Editing
The vroom-vroom sounds of Ford v Ferrari are in pole position, but you should never count out a war movie in this category, which has gone to Dunkirk, American Sniper, and Zero Dark Thirty in recent years. If you want more reasons for optimism, the latter famously tied with Skyfall, another Mendes film.
Best Sound Mixing
Ford v Ferrari is favored in Sound Mixing as well, but despite occasional rumbles that voters can't tell the difference between them, splits in the sound awards do happen. Especially when there's a war film in the race — surely you recall Hacksaw Ridge pulling off the surprise win over in this category three years ago?
Best Original Score
Globe winner Hildur Guðnadóttir's haunting Joker score is the frontrunner here, but 1917 foregrounds its music nearly as much. Composer Thomas Newman has an appealing narrative on his side: He's been nominated 14 previous times without a win. Will 1917 be the movie that finally helps him catch up to cousin Randy?
Best Production Design
1917 can boast of a unique achievement in production design, as its sets had to be painstakingly constructed to match the exact distance the actors covered in each sequence. But while those battle-scarred landscapes certainly bring the horrors of World War I home, can they match the time-machine transformations of Once Upon a Time in Hollywood, or the Parasite house that's full of secrets? If 1917 can pull off the win in what's traditionally one of the first categories of the night, brace yourself for a wave.
Best Original Screenplay
Like a responsible parent, Oscar voters like to give their Best Picture picks enough love that they feel appreciated, but not so much that they get spoiled. Accordingly, in the modern era a movie that wins the top prize also usually takes home Director or Screenplay, but not both. 1917 feels much more a directing achievement than a writing one, making this space the perfect spot for voters to reward Parasite or Once Upon a Time in Hollywood. In the unlikely event that 1917 wins this one, it's probably winning all of the above categories, too.
Best Makeup and Hairstyling
The makeup category just expanded from three nominees to five, and it's hard to see this nomination as anything other than stumped voters just giving up and writing down a movie they liked. 1917 can pry this Oscar out of Kazu Hiro and Bombshell's cold, dead hands.