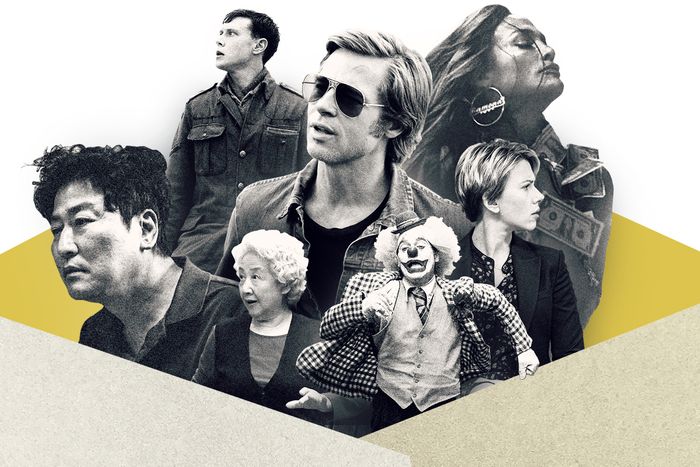 Which way will the Academy zag this year?
Photo: Vulture and Courtesy of Studios
Welcome to the most intense phase of this shortened awards season, when news piles up like so much dirty laundry. We could barely spend 24 hours digesting the Golden Globes results and WGA nominations before the "Super Tuesday" of precursor nominations brought a bevy of fresh story lines in a single workday. The BAFTAs gave us an all-male directing field, and an entirely white slate of acting nominees, a dispiriting vision of a possible Oscar future. The DGAs gave us an unexpected Taika Waititi directing nod. And the PGAs … well, the PGAs nominated the ten films most pundits expected them to, but at least that proved that we're not all totally out of the loop with our predictions. Mere days later, and we find ourselves on the brink of Oscar nomination day: Initial voting is over, and the Academy's choices will be unveiled to the world bright and early Monday morning.
While this week's developments provide a sense of the way the industry as a whole feels about this year's field, the Oscars would not be the Oscars if they were completely predictable: They are the Academy Awards, not a machine that tabulates guild nominations. Often AMPAS voters like to go their own way, though that direction is determined not just by the influx of new membership, but by each season's specific cultural wind. Two years ago, the Oscars got auteur fever, letting their new faves Greta Gerwig and Jordan Peele into Best Director, and throwing six nominations to Phantom Thread, a film that had barely shown up at any of the precursors. Last year, after the controversy over the Best Popular Film Award, they went mainstream, giving crucial nominations to box-office hits like Black Panther, Bohemian Rhapsody, and A Star Is Born. (Though sadly, in the case of one specific man, not every crucial nomination.)
Which way will the Academy zag this year? To find out, we're taking an expanded view of the field for Oscar Futures this week: Picture, Director, and all the acting categories, as always, and also taking a look at the Screenplay categories, the newly renamed Best International Film, and Best Animated Feature.
Best Picture
Safe: 1917, The Irishman, Jojo Rabbit, Once Upon a Time in Hollywood, Parasite
On the Bubble: Bombshell, The Farewell, Ford v Ferrari, Joker, Knives Out, Little Women, Marriage Story
Three movies have been nominated for the top prize by all the major guilds: The Irishman, Jojo Rabbit, and Parasite. Throw in Once Upon a Time, which was ineligible at the WGA, and 1917, the big winner from Globes night, and that feels like a solid top five. Acting vehicles Joker and Marriage Story — our top-two Oscar villains as recently as last week, though that's probably changed — each have enough support to get in. That gets us to seven. How many Best Picture nominees will we see this year? I can't say this is based on anything more than a gut instinct, but this feels like an eight year, and of the remaining contenders, Little Women is the only one that I can see whipping up enough No. 1 votes to make it in. (If it's nine, I'd bet on Ford v Ferrari's technical excellence before the cozy wit of Knives Out.)
Best Director
Safe: Bong Joon Ho, Parasite; Sam Mendes, 1917; Martin Scorsese, The Irishman; Quentin Tarantino, Once Upon a Time in Hollywood
On the Bubble: Pedro Almodóvar, Pain and Glory; Noah Baumbach, Marriage Story; Greta Gerwig, Little Women; Todd Phillips, Joker; Taika Waititi, Jojo Rabbit
Our quartet of top directors has shown up everywhere so far, and as each of them has the auteur bona fides that appeal to this imposing bunch, I have a hard time envisioning any of them being left off. That leaves one spot for everyone else. Waititi is perhaps too much of an awards-season interloper for a branch that sees itself as a gatekeeper, while Baumbach feels likely to get the "Nice work, now run home to Screenplay" pat on the head. The full-court press for Gerwig over the past month could pay dividends, and the fact that Adam McKay is a two-time directing nominee means we should never rule out Todd Phillips, no matter how you or I may feel. But I'm counting on the global taste of this very international branch, which nominated three non-Americans last year, to tip things over in favor of Almodóvar. In a field where so many filmmakers were working off a model designed by someone else, Pain and Glory feels singularly personal. (I also want to say a word for my favorite dark horse, Céline Sciamma; with her Portrait of a Lady on Fire ineligible for International Film, support for Sciamma's staggering achievement could find flame here.)
Best Actor
Safe: Adam Driver, Marriage Story; Joaquin Phoenix, Joker
On the Bubble: Antonio Banderas, Pain and Glory; Christian Bale, Ford v Ferrari; Robert De Niro, The Irishman; Leonardo DiCaprio, Once Upon a Time in Hollywood; Taron Egerton, Rocketman; George MacKay, 1917; Eddie Murphy, Dolemite Is My Name; Jonathan Pryce, The Two Popes; Adam Sandler, Uncut Gems
Regular readers know that this has been the most unpredictable acting category all season long. And yet, just going by the precursors, it actually seems to coalesce: The foursome of Driver, DiCaprio, Egerton, and Phoenix has made it in at the Globes, SAG, and BAFTA. Of those, it's tempting to assume Egerton is the odd man out … except that he's the rare actor in this Über-serious field who's mounted a full-scale charm offensive. That paid off with a Globes win Sunday night, and with his momentum building, I think he's in. At times I'd harbored notions that DiCaprio might fade thanks to a hangover from his Revenant win, but as Once Upon a Time continues to surge, that feels increasingly unlikely as well. So we're left with a clown car of contenders trying to get in the door for spot No. 5. Banderas feels like the go-to critics' pick, and Sandler would be a hoot, but I'll go with a more sober choice: The outpouring of emotion from the industry every time the Irishman guys get together has convinced me that, despite him being all but left for dead after the precursors, it's going to be Robert De Niro. I'm telling you, it is what it is.
Best Actress
Safe: Scarlett Johansson, Marriage Story; Charlize Theron, Bombshell; Renée Zellweger, Judy
On the Bubble: Awkwafina, The Farewell; Cynthia Erivo, Harriet; Lupita Nyong'o, Us; Saoirse Ronan, Little Women
Best Actress isn't quite as stacked this year as it has been in the past, which could make for an unpredictable morning. Two celebrated transformations and one knock-down, drag-out performance in a likely Best Picture nominee make up our top tier. Considering the Academy's well-known penchant for inspiring historical biopics, Erivo, too, feels solid, despite her BAFTAs snub. (We can chalk that up to that body's equally well-known penchant for neglecting performers of color.) Of the others, Awkwafina helped her case with a spot-on acceptance speech at the Globes, and but did it come too late in voting to make a difference? As much as I'd like to see her become the first Asian-American woman to get a Best Actress nod, I have an inkling that Academy members will go for Little Women more than the guilds did, which has me leaning Ronan instead.
Best Supporting Actor
Safe: Al Pacino, The Irishman; Joe Pesci, The Irishman; Brad Pitt, Once Upon a Time in Hollywood
On the Bubble: Jamie Foxx, Just Mercy; Tom Hanks, A Beautiful Day in the Neighborhood; Anthony Hopkins, The Two Popes; Song Kang-ho, Parasite
Pitt is likely to saunter to victory on Oscar night, but there could still be surprises in store come nomination day. Hanks has shown up everywhere so far, but he may be hamstrung by a film that sidelined his Mr. Rogers in favor of a moping journalist. I think he still makes it in, as will both Irishman fellows; the big headline will be Song Kang-ho, who seems liable to benefit from voters' nearly inexhaustible passion for Parasite.
Best Supporting Actress
Safe: Laura Dern, Marriage Story
On the Bubble: Kathy Bates, Richard Jewell; Annette Bening, The Report; Scarlett Johansson, Jojo Rabbit; Nicole Kidman, Bombshell; Jennifer Lopez, Hustlers; Florence Pugh, Little Women; Margot Robbie, Bombshell; Margot Robbie, Once Upon a Time in Hollywood; Shuzhen Zhao, The Farewell
No category was shaken up more than Supporting Actress over the past week. After serving as the presumed No. 2 to Dern all season long, Lopez got snubbed at the BAFTAs, causing a few influential pundits to drop her completely. (Here I remind you that the BAFTAs also failed to nominate last year's winner in this category, Regina King. Hmm.) That same slate came with double Robbie nominations, something she won't be allowed to do at the Oscars, but which raises an intriguing possibility: Will voters choose to honor her for Once Upon a Time rather than the fading Bombshell? That would be a huge show of force for the ostensible Best Picture front-runner, but it's probably about 10 percent too spicy to be plausible. Let's slot Robbie's Bombshell performance in alongside Dern and Lopez, then pencil in Johansson in recognition of Jojo's all-around strength. I have to give the final spot to Flossie Rose herself, whose assured performance single-handedly makes Little Women's shuffled timeline worth it.
Best Original Screenplay
Safe: Marriage Story, Once Upon a Time in Hollywood, Parasite
On the Bubble: 1917, Booksmart, The Farewell, Knives Out, Pain and Glory
I nearly had a conniption when Once Upon a Time didn't show up at the WGA nominations, before my co-workers helpfully reminded me that Quentin Tarantino is not a member of the guild. It should have no problem getting in at the Oscars, nor will its fellow Best Picture heavyweight Parasite or the cerebral Marriage Story. This category also feels like the perfect place to reward Rian Johnson's intricately constructed whodunit Knives Out. The winning teen comedy Booksmart got in at both the WGAs and the BAFTAs, but I think the Oscars will prefer to go with Lulu Wang's family saga The Farewell, a weightier option. 1917 was a surprising inclusion at the WGAs, but unless it's winning Best Picture, the nearly silent film feels like an easy miss here.
Best Adapted Screenplay
Safe: The Irishman, Jojo Rabbit
On the Bubble: A Beautiful Day in the Neighborhood, Joker, Little Women, The Two Popes
This category features some potent Best Picture contenders, but behind them the bench is not very deep. It's basically these six, a huge chasm, then, I dunno, Dark Waters? Though her Best Director candidacy is on the bubble, expect Greta Gerwig to find a friendlier reception here, and with Joker popping up all over the guild noms, the prospect of a screenplay nomination for Todd Phillips's film no longer feels like a fucking comedy. If it's down to Beautiful Day versus Two Popes, expect the witty papal two-hander to come out ahead — no Hail Marys needed.
Best International Film
Safe: Les Misérables, Parasite, Pain and Glory
On the Bubble: Atlantics, Beanpole, Corpus Christi, Honeyland, The Painted Bird, Those Who Remained, Truth and Justice
This category has a new name, and it also has a new voting method: Instead of the committees that used to pick nominees, now any Academy member who's seen all the short-listed films can vote. That probably won't affect Parasite and Pain and Glory, legitimate threats all over the ballot that would be surefire nominees here no matter the process. (As a Portrait of a Lady on Fire fanatic, I am incapable of objectively judging Les Misérables, which nabbed France's official submission instead, but since France has been nominated more times than any other country, I will allow that its film board probably knows what it's doing.) For the other two, I'm going with Mati Diop's Cannes sensation Atlantics, and Honeyland, which also made the doc short list, and seems to have the most mainstream buzz: Everyone says that if you only see one vérité documentary about Macedonian beekeepers, this is the one.
Best Animated Feature
Safe: Frozen II, How to Train Your Dragon: The Hidden World, Missing Link, Toy Story 4
On the Bubble: Abominable, I Lost My Body, Weathering With You
The Globes used their fifth spot in this category to troll Disney, nominating The Lion King even though the company wasn't campaigning it here. The Academy's animation branch is a little too staid to follow suit: Films have to be officially submitted, and Lion King wasn't*. Since Oscar typically saves a seat here for artier European efforts, I think the French dismembered-hand travelogue I Lost My Body takes it by a nail over Japan's Weathering With You.
*This post has been updated to reflect the fact that The Lion King was not an official submission in the Oscars' animation category.