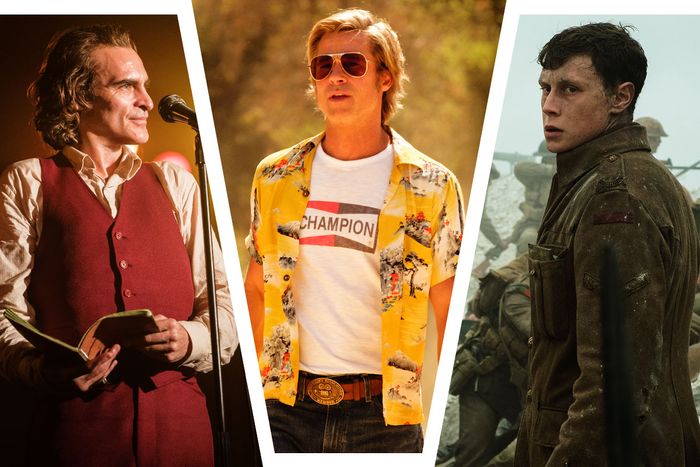 Will it be
Joker
?
Once Upon a Time in Hollywood
? Or even
1917
?
Photo: From left: Courtesy of Warner Bros., Courtesy of Universal Pictures, Courtesy of Columbia Pictures
The Academy Award nominations are out, and the race is on to determine this year's Oscar villain: the film it becomes the duty of every enlightened movie fan to root against.
In the past, Oscar villains tended to be movies that triumphed over more worthy contenders (like when Dances With Wolves beat Goodfellas for Best Picture), or movies that felt so strategically "Oscar-y" that their success seemed annoyingly preordained (think The King's Speech). But in the current era of intense political polarization, the standards for villainy have shifted. Beginning with the 2016 season, which took place amid the election and inauguration of Donald Trump, the Oscar villain is now the movie whose values are considered congruent with the cultural forces that brought him to power.
How does a normal movie transform into an Oscar villain? It's different every year: Some films are born Oscar villains, some achieve Oscar villainy, and others have Oscar villainy thrust upon them. But as the leading expert on the topic, I've developed a general formula outlining the process.
1. The film usually debuts to much acclaim at one of the fall festivals, and is immediately pegged by awards-watchers as a major Best Picture contender.
2. The film then premieres to a divisive reaction among the public. But crucially, it retains the imprimatur of awards-season success. A consensus emerges among detractors that the film needs to be taken down a peg.
3. Most important, there is the sense that the film is bad not just on an artistic level, but on a political one as well. Often this opinion emerges from a disparity in values between Twitter progressivism and Hollywood progressivism, and while you can absolutely make valid critiques of both, only one of them gave Best Picture to Green Book.
4. Finally, the group dynamics of Twitter come into play. When high-status social media users begin dunking on a potential villain, the film is marked: It becomes an easy target for those who would like to boost their progressive bona fides, and thus become high-status social media users themselves. This creates a self-perpetuating cycle that lasts all the way until Oscar night. (Three weeks earlier this year, by the way, for no reason whatsoever.)
If you haven't spotted this year's villain yet, try tweeting a nominee's name with the eye-roll emoji and see what kind of reaction you get. Or read this guide to the Best Picture race, in which we rank the nominees not by their likelihood of victory but by their likelihood of being crowned this year's Oscar villain. Come the big night, you may find it fruitful to draft some tweets about how the winner was in fact the worst film of the year.
Unproblematic Faves
In order to root against something, it helps to also have something to root for. These are the movies online progressives will be pulling for this year.
9. Parasite
Also nominated for: Directing, Original Screenplay, International Film, and 2 technical categories.
This may be the easiest rooting decision we've seen in years: No movie from South Korea has ever cracked the foreign-language category before, much less broken through all over the ballot. But even though Bong Joon Ho's Hitchcockian satire earned six nominations, it remains an underdog, especially since the film received zero acting nods — a sign that the Academy still has a blind spot when it comes to Asian performers. Politically, the film's scabrous tale of class rage is pretty unimpeachable too.
8. Little Women
Also nominated for: Actress, Supporting Actress, Adapted Screenplay, 2 technicals
Little Women initially seemed destined to be one of this season's Goliaths, but after sag snubbed Greta Gerwig's literary adaptation and reports emerged of male Academy members skipping screenings, Twitter began clamoring for Oscar to give the movie its due. This public-pressure campaign worked, to a point: The film received six nominations, including a spot in Best Picture, but Gerwig was left out of the all-male Best Director lineup, which of course helped solidify its status as the ultimate dark horse. Just don't mention white feminism!
Dad Movies
This is an incredibly male year for Oscar movies, and I would be surprised if either of the films below pass the Bechdel test. Luckily, since they both have this issue, it's hard for any one of them to be singled out for it!
7. Ford v Ferrari
Also nominated for: 3 technicals
The sheer dad-ness of James Mangold's auto-racing drama has made it the subject of some ribbing. But, like many real dads, the patriarchal elements of FvF feel more goofily out of touch than truly harmful.
6. The Irishman
Also nominated for: Directing, Supporting Actor (twice), Adapted Screenplay, 5 technicals
Oddly, this film's three-and-a-half-hour run time only helps it in this particular matter: Clowning on its protracted length is such an obvious dunk that it crowds out more political critiques. (Could we call such an outrageously long movie a sign of masculine entitlement? Cinematic manspreading?) Besides, Martin Scorsese has been publicly feuding with comic-book fanboys, a demographic pegged as problematic by default.
Not Gonna Win, So Not Worth Hating
In another universe, these could have been the movies everyone spent the fall making fun of. But neither has quite taken off as a serious Best Picture contender, so there's not really any point.
5. Marriage Story
Also nominated for: Actor, Actress, Supporting Actress, Original Screenplay, 1 technical
The weekend that Marriage Story debuted on Netflix, what had previously seemed like a widely beloved domestic dramedy was treated to a classic online backlash with many viewers proclaiming it overrated. Plus, its similarities to director Noah Baumbach's own divorce turned out to carry quite a bit of political baggage: From there, it didn't take much effort to paint the movie with accusations of misogyny. But since Marriage Story has faded from the conversation, this wave may have already passed. The movie's most likely Oscar win should come for Laura Dern, and how can you be mad at Laura Dern?
4. Jojo Rabbit
Also nominated for: Supporting Actress, Adapted Screenplay, 3 technicals
While this twee romance between a young boy in the Hitler Youth and the Jewish girl his mother is hiding has received a muted reception from audiences and critics, Oscar voters lieben the Third Reich comedy, so the movie remains a threat in several categories. Also, it's the film that got Scarlett Johansson a second Oscar nomination in a year when only one woman of color got an acting nod — more than enough to earn a side-eye, if not outright villainy just yet.
Most Oscar Villainous
Come Globes night, you may find it fruitful to pre-draft some Tweets about how each of these movies was the worst film of 2019.
3. Once Upon a Time in Hollywood
Also nominated for: Directing, Actor, Supporting Actor, Original Screenplay, 5 technicals
This film is not overtly political, but you don't have to scratch too deep to uncover a reactionary streak: Quentin Tarantino's industry fantasia is marked by its nostalgia for a time when men were men, babes were hot, and hippies were punchable. And Tarantino himself remains a controversial figure. But while the movie once seemed like the Best Picture frontrunner, it now seems to have been overtaken by 1917 and Parasite, so the grumbling may quiet down.
2. 1917
Also nominated for: Directing, Original Screenplay, 7 technicals
Sam Mendes's "single-take" World War I thriller broke into the race late, so it hasn't taken the same level of fire its competitors have. But now that the film's big win at the Producers Guild Awards has it looking like a Best Picture frontrunner, brace yourself for that to change. (Discussion topic: Does this story of human perseverance downplay the horrors of the actual conflict?) We'll see if being matched up against Parasite in the season's final stretch is enough to turn the very careful 1917 into an Oscar villain.
1. Joker
Also nominated for: Directing, Actor, Adapted Screenplay, 7 technicals
Many films in the awards conversation are problematic for one reason or another, but only one debuted to fears that it would spark actual violence. Joaquin Phoenix's performance catapulted Joker into the Oscars race; the movie's incoherent politics and director Todd Phillips's comments about PC culture have done the same in the Oscar-villain race. What's worse, it could actually win. It got the most nominations of this year's field, and Academy members who love the film seem to see no issues with it whatsoever. If it triumphs, expect to watch the world burn.
*A version of this article appears in the January 20, 2020, issue of New York Magazine. Subscribe Now!