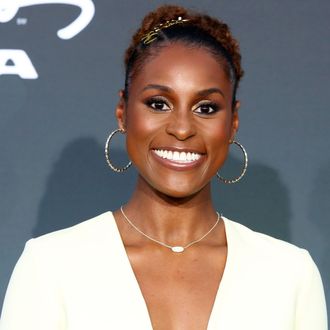 She did what she had to do.
Photo: Gabe Ginsberg/Getty Images
If the Oscars are woke enough to have two actors of color announce the 2020 nominations, they should've known someone was gonna clap back about their decidedly un-woke list of nominees. Issa Rae and John Cho had the honor of announcing which white men had been nominated for the Academy Awards Monday morning. Everything was going great until the Best Director category reared its ugly head. Rae read off the nominees for Best Director: Bong Joon Ho for Parasite, Sam Mendes, Todd Phillips, Martin Scorsese, and Quentin Tarantino for their movies about white people. Before moving to the next category, Issa Rae gave a not-so-warm "Congratulations to those men," a play on Keke Palmer's "Sorry to this man" and an echo of Natalie Portman's "And here are the all-male nominees" from 2018. There's layers to this shade. There's history. And there's truth. Greta Gerwig's Little Women, Lulu Wang's The Farewell, Lorene Scafaria's Hustlers, and Marielle Heller's A Beautiful Day in the Neighborhood were all snubbed for Best Director. Little Women was even nominated for Best Picture. So, it's not like the Academy didn't have options. Bong Joon Ho is the only man of color on the list, so the Academy isn't doing great on that front either. Issa Rae did what she had to do. Then, she got right back to joking with John Cho and, presumably, deciding what she's gonna spend this Academy money on. After-party with all the black acting nominees? Oh, wait, that'd just be her and Cynthia Erivo … never mind.