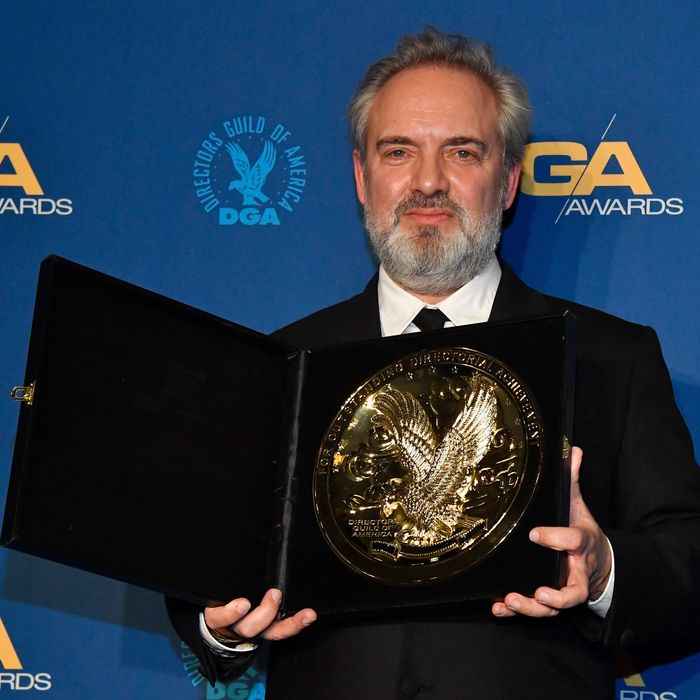 1917
director Sam Mendes holding what looks to be a very uncomfortable award from the Directors Guild of America.
Photo: Frazer Harrison/Getty Images
In the final spring of World War I, the German army put everything it had into one late push, attempting to knock Britain and France out of the war before the allies could be bolstered by reinforcements from the United States. They almost made it, getting within 80 miles of Paris before their advance sputtered, and the rest is (literally) history. I don't know if Sam Mendes and his collaborators studied the 1918 offensive when it came time to plan 1917's own awards campaign, but the way things are going, their own last-minute charge seems to be working exactly as planned — and if anyone stands a chance of getting between them and their goal, you can bet that this time, they won't be Americans.
1917 came into the season with a bang, winning the two biggest Golden Globes before it had even opened wide, then pulling in great box-office numbers once it did. Its run since then has seen the film triumph almost everywhere it's been eligible, scoring ten Oscar nominations, top honors at the Producers Guild Awards, and this weekend, a win for Mendes at the Directors Guild of America Awards (plus a well-deserved trophy for Roger Deakins at the American Society of Cinematographers Awards). The combination of honors from PGA and DGA is particularly promising, as contenders that win those two guilds have a strong track record of carrying both the Best Picture and Best Director prizes at the Oscars. There is the recent exception of La La Land, which dominated the guild awards before being famously upset by Moonlight in Best Picture — but that came in a unique season, during a very particular moment in modern American history. In this shortened Oscars race, there just might not be enough time for too many twists and turns.
If there is a late spoiler, the likeliest dark horse seems to be Bong Joon Ho's Parasite, which took home Best Ensemble at the SAG Awards last weekend, pointing to strong support from the largest branch of the Academy. Every time the two films have gone head-to-head this season, 1917 has come out on top. But that statistic begs for an asterisk: Parasite's biggest wins have come from SAG and the American Cinema Editors' Eddie Awards, neither of which nominated 1917. It's not like 1917 was ineligible at those. Shouldn't those misses count for something?
Well, sort of. It's easy to write off the lack of love for 1917's editing as a reflection of the film's single-take conceit. (Like 1917, Birdman didn't get an editing nomination at the Oscars either, though it did get an Eddie nom.) And the SAG snubs can be explained by a multitude of factors: The film only has one real character, who happens to be played by an unknown Brit, competing in an incredibly tough Best Actor field. The late entrance meant 1917's first screenings were perilously close to SAG's voting window, too.
The surest outcome we can predict after this weekend is that, with the DGA trophy in hand, Mendes is our Best Director front-runner. (The two winners have only diverged on a handful of occasions.) In the era of the expanded Best Picture lineup, Picture and Director have split exactly half the time, so a Parasite-Mendes finish remains a possibility, especially as Bong's film seems to be inspiring enough broad passion to spur it to victory on the preferential ballot. However, 1917 is hardly polarizing itself. In discussions of the race among the general populace, I've often encountered the sentiment, "I love Parasite, but I won't be mad if 1917 wins." If Academy members feel the same way, Sam Mendes could be coming home from Oscar night clutching two big trophies — one for each world war.