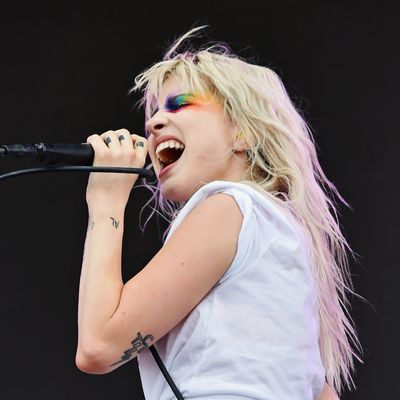 "Simmer" is still a Paramore affair, but this sounds more like
The King of Limbs
–era Radiohead or self-titled St. Vincent than anything this group of players has created together.
Photo: Jeff Kravitz/FilmMagic for Bonnaroo Arts And Music Festival
Paramore's journey from the beefy pop-punk of "Emergency" and "That's What You Get" to the soul and pop-rock moves of "Ain't It Fun" and "Hard Times" is a surprising turn, but not an unlikely one. You could sort of see a singer with the immense chops of a Hayley Williams not wanting to be confined to any one or two genres, in the same way that you could tell Fall Out Boy front man Patrick Stump was dying to do more than mall rock as early as Infinity on High, or that in the first ten minutes of Dance Gavin Dance's Downtown Battle Mountain you knew that vocalist Jonny Craig had the pipes required to pivot to R&B. Paramore's evolution is noteworthy because their proper studio albums made the kinds of moves other bands with a following like theirs might have relegated to spinoffs and side projects, in the interest of keeping the brand stable and familiar to fans. At the cost of some inner turmoil, Paramore advanced more or less as a unit.
With the band on something of an extended break since touring behind 2017's After Laughter, Hayley Williams is finally ready to pull the trigger on a solo full-length, with the announcement of the forthcoming Petals for Armor in May and the release of the lead single, "Simmer." The new song is both a radical shift in dynamics for Williams and a cleverly subtle opening salvo from a singer stepping outside the confines of her flagship. Gwen Stefani's 2004 solo smash "What You Waiting For?" made a beeline for the dance-pop flavors No Doubt left out of its blend of punk rock, New Wave, reggae, and dancehall. Harry Styles came barreling out of the international pop juggernaut One Direction with "Sign of the Times," a debut solo song more reverent to David Bowie than David Guetta. "Simmer" focuses on the thorny emotions undergirding of After Laughter's rose-colored pep; where the last album disguised notes of sadness under bright guitars and synths, Hayley Williams's new music is every bit as worried and weary as its words.
"Rage is a quiet thing," Williams snarls over pulsating synths that buzz like wasps flitting around the inside of a nest. "You think that you've tamed it, but it's just lying in wait." The singer languishes in the low end of her vocal register, at times barely above a whisper, in the service of dramatizing the darkly enticing lure of a bad mood. She never cuts loose; like a swimmer sucked out into open water in an undertow, she sinks deeper and deeper into the moody production. The music provides deep waters for her plunge. "Simmer" is still a sort of Paramore affair in that day one band member Taylor York provides gloomy atmospherics, and touring bassist Joey Howard supports Williams's guitar and keyboard lines. But this sounds more like The King of Limbs–era Radiohead or self-titled St. Vincent than anything this group of players has created together. "Simmer" is a seamless synthesis of dark guitar pop and chilly electronics that's both sedate and exciting, the kind of lead single that obliterates any idea of what the full album might sound like. I would've guessed the first Hayley Williams solo single would be a full-tilt pop-radio assault. I'm happy I was wrong.