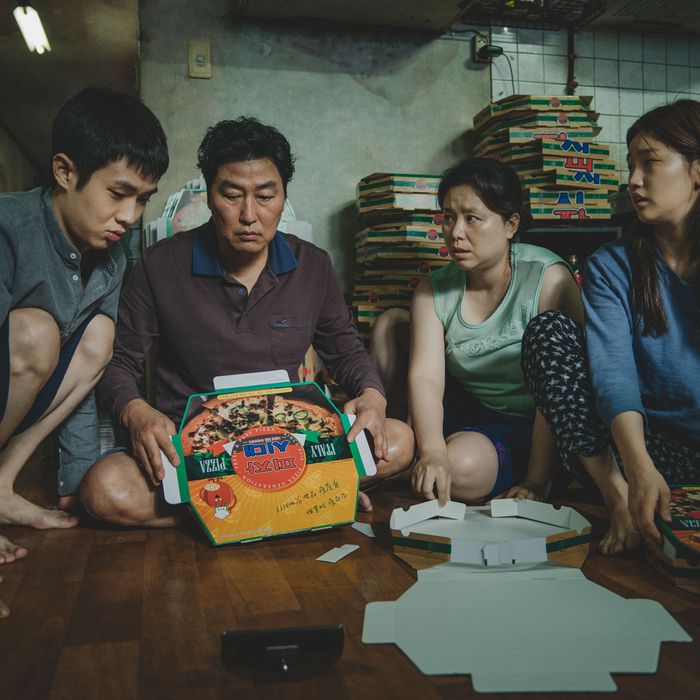 The South Korean film's chances of winning the top prize at the 2020 SAG Awards could mean great things for its Academy dreams.
Photo: Courtesy of Neon
This Sunday marks the Screen Actors Guild Awards, the Oscar precursor ceremony where performance prizes are decided solely by actors in the industry (and the statues bear those comedy-tragedy masks to show that they're all very serious about the craft). Individual acting awards will be bestowed, but the evening's biggest prize is Best Performance by a Cast in a Motion Picture. In years past, it's often served as a good bellwether for how the Oscars' Best Picture race will go.
This year's ensemble SAG nominees are Bombshell, The Irishman, Jojo Rabbit, Once Upon a Time in Hollywood, and the most exciting of the five, Bong Joon Ho's Parasite. The South Korean dark comedy–thriller's six Academy Award nominations were a silver lining in what was for many a clouded Oscar nomination morning, marking Parasite as the underdog darling of this awards season.
But Parasite and its nominated ensemble members (Cho Yeo-jeong, Cho Woo-shik, Jang Hye-jin, Jung Hyun-joon, Jung Ziso, Lee Jung-eun, Lee Sun-kyun, Park Myung-hoon, Park So-dam, and the beloved Song Kang-ho) are far more likely to win the SAG prize than might be assumed, and a win here could spell even bigger things for the movie come Oscar night. SAG wins have indicated shifts in the tides of front-runners before (Crash triumphed here first, before anyone thought it had a prayer of besting Brokeback Mountain for Best Picture) and have helped solidify consensus picks in crowded years. With several major precursor ceremonies wrapped up (though the Producers Guild of America awards ceremony takes place on January 18, while the Directors Guild of America and American Society of Cinematographers awards are set for January 25), this prize is one of the final predictors of which films might emerge victorious on Oscar night.
Parasite does have some odds working against it: The cast hasn't garnered many other acting nominations or awards prior to this (beyond the Critics' Choice Award for Best Acting Ensemble, which ultimately went to The Irishman), and given the voting biases of other awards bodies, the film's status as an international feature might mean that some SAG members are unfamiliar with the actors' performances in other films and thus less likely to cast a ballot in their favor. But looking back through SAG history, there is a pattern of recent wins that might prove such an assumption wrong.
Here's why Parasite stands to win:
You Don't Need the Most SAG Nominations to Win at the SAGs
One of the presumed disadvantages Parasite might have at the SAGs is the film's lack of solo acting nominations. But unlike Oscar, where the Best Picture nominees with fewer overall nods generally face a more difficult shot at winning, SAG has no such hang-ups. Look no further than just last year, when Black Panther took the Cast honor, opposite mightier Best Picture competition from BlacKkKlansman, A Star Is Born, and (yikes) Bohemian Rhapsody.
More often than not, the Cast prize is its lucky recipients' only trophy for the night. Over the last decade, the only films SAG has honored with the Best Cast prize and an individual cast member recognition are The King's Speech, The Help, and Three Billboards Outside Ebbing, Missouri. Given that Brad Pitt is the Supporting Actor front-runner and widely expected to steamroll his way to the Oscars, this statistic isn't in Once Upon a Time in Hollywood's favor. (The other actors likeliest to win in the individual categories — Joaquin Phoenix, Renée Zellweger, and Laura Dern — don't have films nominated in ensemble.)
Parasite Has the Highest "Per Capita" Cast
Part of what has kept Parasite from garnering solo acting honors throughout the season (aside from, once again, certain voter biases and distributor Neon prioritizing Best Picture and director Bong's efforts in their promotion and campaigning) is its truly ensemble nature. Ask five different Parasite fans their favorite performance, and you're likely to get five different answers. With each of the nominated Parasite cast members offering such equally memorable performances, this presents a high bar that its competition will struggle to match: Jojo Rabbit and Bombshell feel especially at a deficit here, with individual performances that vary wildly. In this regard, a Parasite win at SAG would make perfect sense alongside previous winners like Spotlight and Little Miss Sunshine.
It Helps to Be a Cast That Actually Interacts Onscreen
Does it really feel like a true ensemble if all of a film's performances take place in silos onscreen? Not to SAG, it doesn't. While they might nominate something like A Star Is Born or The Big Short, the wins typically go to ensembles that mix and match with each other throughout a film's story. Look to past winners like The Help, and you'll see that SAG likes casts that share scenes as much as possible.
For Parasite, the shuffling between character dynamics and unexpected actor pairings are some of the key elements that make the film so exciting to audiences. Meanwhile, Bombshell's leads seldom share screen time (despite the promise of that elevator scene so prominently featured in the trailer), and each have their own designated supporting characters who never stray to another protagonist. Once Upon a Time in Hollywood similarly has a lot of one-on-one dialogue scenes between its leads and bit players, excluding its Spahn Ranch sequence. Jojo Rabbit and (to a lesser extent) The Irishman center their leads, with everyone else simply in their orbit.
It Actually Doesn't Help to Have the Biggest Cast
It makes sense to imagine that a film with more ensemble members equals more votes, simply because guild members have a higher number of performances to love (or more former co-stars to root for). Once Upon a Time in Hollywood, likely Parasite's stiffest competition both here and at the Oscars, may have the benefit of having the most ensemble, but more often than not this decade, the bigger ensemble nominees haven't actually yielded the win. And when they do (like Three Billboards, American Hustle, and The Help), they often don't end up winning Best Picture. Parasite's ten nominated ensemble members has the more enviable middle ground compared to Hollywood's 14.
It Doesn't Matter That Parasite Is the Industry "Outsider"
It's true that Parasite is SAG's first completely non-English-speaking ensemble nomination since 1998's Life Is Beautiful (though a 2007 nod to the largely non-English Babel shouldn't be overlooked). Neither Roma nor Crouching Tiger, Hidden Dragon could crack the SAG lineup in their respective years. That Parasite could is perhaps its most encouraging sign.
And while some might see Parasite's most insurmountable obstacle to winning the Best Cast prize as the guild's unfamiliarity with the actors, tell that to Slumdog Millionaire, a cast almost entirely made up of faces that were new to SAG voters, which rode its Best Cast prize straight to a Best Picture Oscar. If the cast of Parasite knows anything, it's how to make themselves at home in a place they've never been invited to before. Sunday night could take that journey one step further.