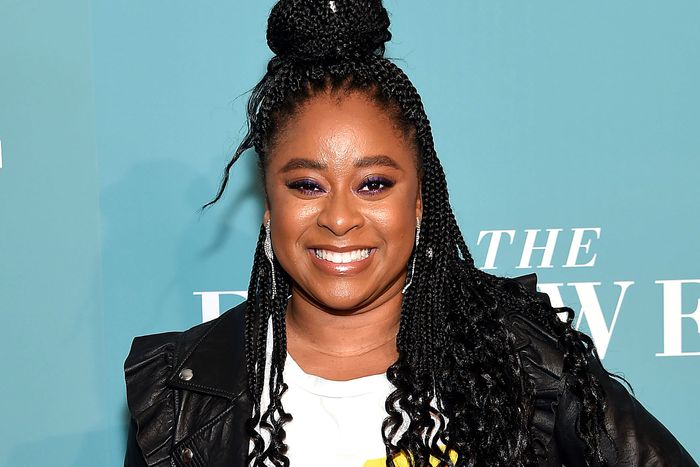 Phoebe Robinson, the woke James Lipton.
Photo: Jamie McCarthy/Getty Images
Are you new to comedy podcasts, overwhelmed by the array of options, and wondering where to begin? Then welcome to Start Here, a recurring guide to the best comedy podcasts available — and our recommendations for which episodes are the best entry points to your next auditory obsession.
Phoebe Robinson's irrepressible charm has led to a varied career as a stand-up, film star, television writer, and a New York Times best-selling author. But Robinson is at her very strongest in conversation with those around her, a trait she's put to use as the creator of two compulsively entertaining podcasts.
She first broke out as host (with Jessica Williams) of the live show and podcast 2 Dope Queens. As best friends and colleagues in comedy who also happened to be women of color, Robinson and Williams's raw, foulmouthed chemistry attracted famous guests from Jon Hamm to Michelle Obama. The podcast ultimately became so popular that it was adapted into eight HBO specials.
On the heels of that success, Robinson launched her first solo podcast, Sooo Many White Guys, in June 2016. Its premise is simple and provocative: Each episode centers around a frank, intimate interview with a celebrity who, well, isn't another white dude. Then, having spent the year giving a voice exclusively to previously marginalized and othered people, Robinson invites one final guest — men like Bill Hader, Tom Hanks, and Adam Scott — to serve as the season's token white male.
It was probably inevitable that White Guys would be designated as a Dope Queens spinoff given the podcasts' shared creative DNA. In its first episode, an inspiring interview with a pre–global takeover Lizzo from July 13, 2016, Robinson seemed focused on the exact same topics that came up seemingly every week on 2DQ: sexuality, social inequality, hair care, comedy. And because both shows are produced by Joanna Solotaroff and Rachel Neel (seasons 1-3) for WNYC Studios, they even sounded the same, replete with identical public-radio sound effects (cue the snare drums) and commercials pleading for donations.
As Robinson's new show continued, however, its resemblance to its hit predecessor grew thinner and thinner, and its self-identity started to come into focus.
Where Dope Queens often pivoted into silliness and sarcasm, White Guys took seriously its mission to de-homogenize the cultural discourse. Robinson, Solotaroff, and the podcast's executive producer Ilana Glazer (playing a devilish version of herself) still spent much of season one gleefully riffing, but in the conversation segments, Robinson sounded engaged and scholastic to the point, sometimes, of solemnity.
Early interviews with the likes of Janet Mock and Nia Long found her playing the frustrated foil, righteously ticked off by the guests' stories of suppression or rejection. Although their discussions were often fun and funny, Robinson herself was still clearly metamorphosing from her goofball Dope Queens character into something of a woke James Lipton.
Robinson completed her intellectual glow-up once and for all with the release of episode No. 14, titled "Phoebe and Margaret Cho Hope They Die Alone," on February 17, 2017. Two and a half seasons later, it remains the most lovely, balanced episode of SMWG: jolly yet impassioned, serious yet playful, and never less than fascinating.
It begins with Alex Overington's theme song, a sparkly Reggie Watts–esque ("So much whiteness all over the place!") mood-setter "sung by a bunch of white dudes" (WNYC staffers Matt Collette and James Ramsay). Robinson introduces the episode as "numero crotch-ro," which her producer quickly mocks as "cool Spanish!" Solotaroff, Robinson retorts, should be home resting from her sinus infection rather than snarking from the sidelines. Solotaroff is unswayed: "A producer's gotta produce."
Before Robinson can clap back, Solotaroff informs her that Glazer has arrived unannounced at WNYC with what appears to be urgent news. "I'm here to talk about something very important," Glazer says as she storms the studio. "I wanted to apologize to you today on behalf of white people … for Gwen Stefani."
Stefani, she notes mournfully, "slipped through our fingers." She used to be dope, but white people let her wear a bindi and get cornrows. Stefani was allowed to use Asian women as props. Everyone stood by while she married "Blake Sharton." Robinson gives a moment of pause before she's forced to acknowledge that her friend is right. "So sorry for that," Glazer sighs. "I've gotta get back to work," responds Robinson.
True to her word, the host throws to mid-roll. When she returns, the vibe has shifted noticeably. Her frivolity is gone, replaced by a palpable tone of emotion. Using her best Terry Gross voice, Robinson introduces her guest, "one of my comedy icons," at the eighth minute: "Margaret. Fucking. Cho."
Cho was fresh off a Grammy nomination for her album American Myth at the time, and Robinson starts their talk by noting that besides similar accolades that Cho's received as a comedian, humanitarian, and actor, she's also "hot AF." Cho humbly demurs, explaining that her activism came to her early as an aspiring stand-up in San Francisco's comedy clubs.
Back then, as a 14-year-old queer female Asian-American working with then-nobody Sam Rockwell, she recalls watching comic after comic joke about Asian drivers. Cho began telling real, human stories about her mother, her place in society, and later, her sex life as a counterpoint to the racism she heard onstage. "With comics, my philosophy is that we only have a few different jokes," Cho says. "Mine is: I don't belong here."
That theme made Cho quite famous, and Robinson goes on to cite Cho's acclaimed one-woman show I'm the One That I Want as one of her favorite specials. Cho responds that the sex-positive persona she adopted in the special has evolved with age ("I'm driven by different kinds of ambitions now. Now I just want to sleep more"), and even expresses some regret that her cultural visibility kept her from "being alone enough."
She also brings up another consequence of her celebrity: a now-infamous email confrontation with Tilda Swinton. After receiving criticism online for taking a role originally written for an Asian man, Swinton made the mistake of reaching out to Cho "to tell her what to do" without considering how such a request might impact Cho herself. As she makes clear, it made her uncomfortable: "I felt like I was a house Asian, like I was in her bedroom, brushing her hair like, 'Yes, missy. Yes, madame!'"
Robinson, a connoisseur of racial hair jokes if ever there was one, giggles with recognition. They briefly segue onto the topic of Asian-American representation in shows like Fresh Off the Boat and Dr. Ken, before Robinson finally gives in to the fangirl impulse she's clearly suppressed for 25 minutes and begins thanking Cho profusely for her inspiration.
Finally, having successfully elevated another woman of color's voice, Robinson begins to wrap up. But her efforts are stymied when Glazer returns once again in a tizzy. This time, Glazer tells Phoebe that Neiman Marcus is apparently selling collard greens for $66. They cost $15.50 to ship, she rages. She sounds even angrier than she was about the Harajuku Girls. Robinson is just as nonplussed. "Yeah. That is fucked up," she says, and abruptly signs off.