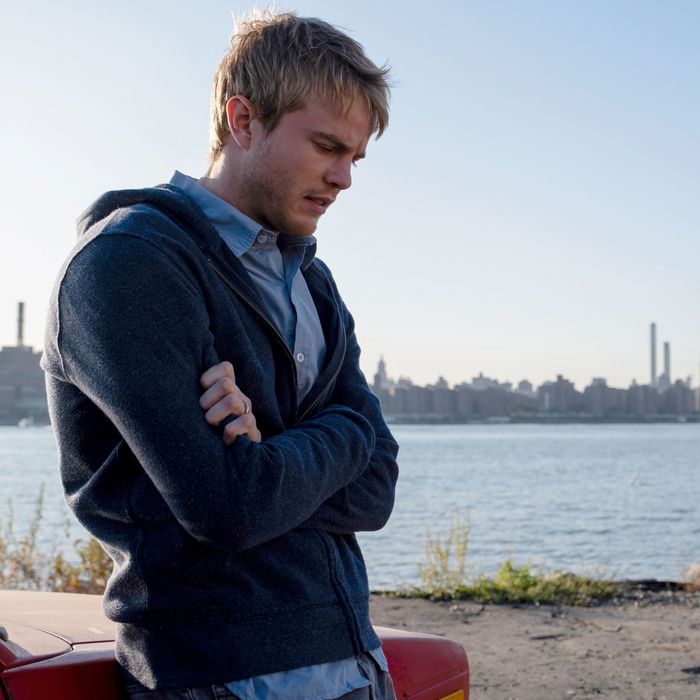 Photo: Jeff Neumann/SHOWTIME
Episode nine of every season of Ray Donovan typically sees our title character scrambling to save his ass, the posterior of one of his clients, the life of one of his family members, or all of the above. He is in full cleaner mode this episode as he puts together a plan to save his family after Detective Perry arrested him for the murders that ended last season. As I suspected in last week's recap, he has to come clean about the reasons behind the bloodshed, including the kidnapping of Bridget Donovan and the fact that all those mutilated boys in blue were corrupt. He even throws Mayor Ferrati under the bus, revealing how high the corruption went, but he needs Judge Scholl to complete the deal with the NYPD. Easier said than done.
While Ray is turning up the heat on Scholl, Daryll Donovan is spiraling. Who can blame him? His girlfriend is dead, Mickey sold him out again, and he's got billions of dollars in stock certificates that he can't really do anything with. Pooch Hall does his best work of the season here, adding an emotional register to the season that has been somewhat lacking. His scene with Liev Schreiber near the end, in which we're reminded that Ray himself was very recently suicidal too, is powerful stuff. However, other than that beat, and a few great scenes with the living legend that is Alan Alda, this week felt a little cold, another transitional episode moving to the big action of the final trio. It's starting to feel like Ray Donovan needs another major creative risk to spark it back to life. More on that later.
"Bugs" opens with Ray hearing his own voice about the murders from last season. He puts everything on the table immediately: The cops were killed because they kidnapped his daughter; they kidnapped his daughter because Ray knew they were running scams for the mayor of New York City. Forget about taking Ray Donovan down — take down one of the most powerful politicians in the country. He says he can get Judge Scholl, who knows where a lot of bodies are buried, to turn informant, and then basically puts a plan in motion to do so. He plants bugs in the judge's office and then convinces him that it was the mayor who did it; he tells Bunchy to take photos of Scholl and his wife and get caught doing so; he even blows up the judge's car. Before you know it, Scholl is in a remote cabin, signing papers about Ferrati's dirty dealings. Then gunshots ring out. Unsurprisingly, Perry has a rat in her office too, and they're going to kill everyone in that cabin. The episode ends with another dead cop and Perry and Ray chasing after Judge Scholl into the night, armed men in between them.
While the Scholl deal is the main throughline of "Bugs," we get interludes with other characters, most memorably a few scenes with Terry and Ray's therapist Artie as they share a physical therapy session for Parkinson's disease. The coincidence that these two would literally cross paths is easier to overcome thanks to the sheer joy of watching Alan Alda and Eddie Marsan bounce off each other, and the poignancy of seeing Alda deal with his real condition through fiction. When he comments on people keeping their children away from him because of his shaking, one can feel the personal register in the performance. Not only is it just great to see Alda play off actors other than Schreiber — and the joke Terry makes about liking martinis "shaken, not stirred" is aces — but Alda's commentary on how even therapists need therapy themselves makes for a great scene. Ray Donovan himself is a cleaner who now realizes he needs help too. It's thematically consistent with the show.
"Bugs" also jumps back to Ray's past a few times as an adult Donovan seems to be trying to figure out what Gary O'Malley meant when he spoke of what Jim Sullivan did to Ray's sister Bridget. So there are beats in which Ray remembers Bridget fighting with Gary and having a lot of money. What was she doing for Jim? What did he have to do with her death? It's almost as if Ray is trying to solve a mystery through his memories. The cast in these flashbacks has been strong — it's particularly interesting to see a Bridget Donovan who kind of looks and sounds like her niece and namesake. Will Ray remember something important, or be handed evidence about what happened to Bridget? It may be time to just come out and ask Jim Sullivan what O'Malley meant.
It's also worth asking what happens to Smitty now? Unsurprisingly, Bridget leaves him — she comes from a family that encourages male stereotypes and has likely heard a hundred or more times how being a rat is the worst thing a man can be. Interestingly, though, she hasn't heard it from Mickey Donovan. The most unpredictable Donovan comforts Smitty, reminding him that everyone rats at some point in their life. After all, Ray himself has ratted on his own father. And Mickey has ratted on people to stay alive in prison. You do what you have to do. Will Bridget come to this conclusion too? Or is she done with Smitty? It's starting to feel like this is a character that has run his narrative route.
Which brings us back to the idea that this season needs a shocker, something to light a fire under its characters, and killing Perry's partner isn't it. While it would be horrible to see a major character go, Ray Donovan really found a second creative wind when it said good-bye to Paula Malcomson as Abby, Ray's wife. It feels like we need something like that to end this season, something that raises the stakes for the future of the Showtime drama. Smitty seems like an obvious character to kill off, but it might be wise to do something even more shocking. The season has flirted with stunning plot twists, like the fake-out with the death of Mickey Donovan. Maybe it's time to actually go through with it?
Deleted Scenes
• This season has been lighter on music cues than past ones, but I did dig the choice of Rare Earth's "I'm Losing You (I Know)" for the final scenes in which it appears Perry and Ray may actually lose the man who holds the keys to their future, Judge Scholl.
• The plot on Ray Donovan can move so quickly that viewers and the characters seem to forget things, like the fact that Daryll brutally attacked Ray and left him for dead in an alley a few days ago. While it's understandable that Ray may not want to bring that up while his half-brother has a gun under his chin, one would think it might create a little bad blood. Maybe it comes up in the future, but it feels like one of those beats the Donovans tend to conveniently forget.
• Ed Bianchi directed this episode, coming back to the show for the first time since 2015. Bianchi is a TV-directing legend, having helmed episodes of Homicide: Life on the Street, The Wire, Deadwood, Mad Men, Damages, The Killing, Boardwalk Empire, and more. Ray Donovan often taps major talent to direct.