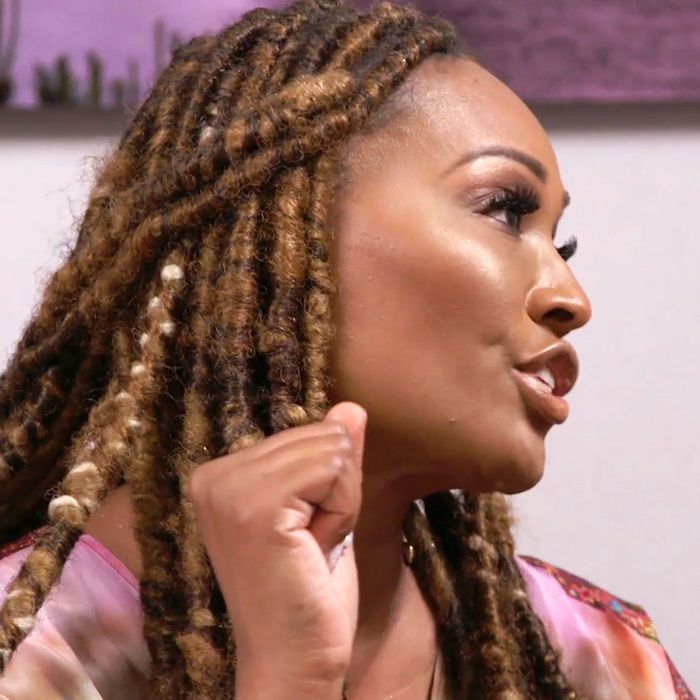 This is happening. This is real. This is UGLY. Normally, I watch these episodes on my couch with my boyfriend plugging his ears, but last night, I was on a plane with DirectTV and I got to watch Real Housewives of Atlanta the way Andy Cohen intended: IN THE SKY. So I had my noise-canceling headphones on, pumping my fists and screaming:
"Housewives: REAL
Rings: BACK
Titties: OUT"
NeNe has got to go. This is the last gasp of a truly desperate and utterly phony woman. A desperate and phony woman is usually the backbone of a Real Housewives franchise, but the anger that's living inside NeNe is not helping her in this situation. The problem is that NeNe thought she could out-connive the other women while possessing all the subtlety of a fully exposed titty. In the words of Eva, "Why am I seeing your titty?" The other problem is that NeNe put the full responsibility of her devious plan in the hands of Yovanna, a woman who has never been tactful or, quite frankly, spoken at a moderate volume. Yovanna would murder the last endangered penguin to prolong her screen time. In an episode where Marlo and Tanya both get confessionals, Yovanna is going to hang onto every ounce of screen time possible, and that's devastating for NeNe. Let's get to it.
But first, we have to deal with this "Dennis re-proposing" thing. Here we go: Dennis re-proposed.
Wow, okay. That was easy. Let's move on.
After the rooftop party, everyone decides to head down to Marlo's suite to get to the bottom of so-called SnakeGate. Here's my problem with SnakeGate: iIt doesn't involve everyone. This only really involves NeNe and Cynthia and whoever the snake is, but everyone is so done with NeNe they're looking for any piece of evidence to justify pushing her out of the group. They're treating this with the severity of Phaedra starting rumors that Kandi had a nonconsensual dungeon, but really, this is standard Real Housewives fodder. That doesn't mean every single person can't react in a completely over-the-top way that solves nothing and leaves everyone looking like shit. Except Tanya — she's too busy banging Paul and living her best life.
Once they all sit down in Marlo's room, Kenya and Porsha come up with the infallible plan to pretend that Marlo or someone has already spilled that Yovanna is the snake and trap her in her own lies. Or something. They also come up with this plan in front of Marlo. Yovanna shows up in her pajamas, which no one asked for, and Kenya starts in on this perfect plan and Marlo immediately goes, "They're lying." MARLO. Never change but also immediately change.
Then NeNe walks in with her entire titty hanging out. How do you not notice your entire titty hanging out? There has never been a moment in my adult life where I wasn't fully aware of everything my titties were doing. My titties are like a cat's whiskers, if they can't fit through a door, neither can I. She tries to mitigate the whole thing by saying she's got nipple covers on. As we all know, the nipple is like the least exciting part of the titty and not the issue here, Nene.
Yovanna tries to take control of the situation by saying that the real enemy is here is "fake friends." Yes, but also no, because that's what being a snake is! Snakes are notoriously bad friends! All the other animals know it! Yovanna also insists she had no part in SnakeGate but the other women forced her into it. Thank God this show has clips it can reference as it's showing NeNe and Yovanna sitting around saying, "I have the receipts!" Cynthia is clearly in pain and just wants this whole ordeal to be over with, so she just asks, "Who recorded me?"
My new conspiracy theory is that no one recorded Cynthia. There isn't a recording. Why do I think this? Because NeNe tries to convince Cynthia that there is a difference between "recording" and "audio." Then Marlo sticks her whole ass into the situation and says, "Audio, like what you did with Mike."
Marlo. Shut up. Marlo is so committed to defending NeNe that she's going to start a fight with a woman she just made up with, over what I fully believe is nothing. Cynthia snaps and it's beautiful and scary and inspiring. She tells Marlo that she knew her ass hadn't changed. NeNe tries to act like this is a moral victory, that Marlo managed to act like a preposterous bitch enough to get Cynthia to tell her to shut up. There isn't a person who's met Marlo that isn't 12 seconds away from telling her to be quiet.
Cynthia gets up and tries to leave the room, and somehow, Kenya decides this is her moment to Captain Philips the whole situation. She asks NeNe point-blank who has the recording and NeNe says she's no snitch. That should have been everyone's cue that this is completely made up and it's time to take their asses to bed. Instead, Porsha says that Yovanna has gotten in the way of a ten-year friendship and Yovanna completely escalates the entire thing by saying that Porsha's man is the snake. That's not right, but she's not incorrect. So of course, this becomes Porsha's war.
Cynthia runs out in the kerfuffle and Marlo calls after her, "You bald-headed scallywag." Have we considered the fact that Marlo maybe just likes throwing insults and has no actual interest in whatever the conflict is? She's a mercenary who hasn't been paid but shows up anyway.
Then in an interview, NeNe finally says the real thing: She doesn't think she owes Cynthia anything because Cynthia didn't warn her that Kenya was going to be at her party. NeNe, these are not equivalent things. Also, NeNe is only doing all this so she can have someone verify that Cynthia is a jerk and put all the blame of the bad behavior on Yovanna. Oh, me? I never recorded Cynthia, whoever did that is a monster but I will use the information to slander Cynthia. Yovanna isn't interested in being a scapegoat and wants to protect her reputation. She will continue to be That Bitch.
The whole thing explodes when Kenya and NeNe start shouting at each other because no one wants Yovanna around, and Kenya allegedly puts her finger in NeNe's face. NeNe snaps. She tries to launch her body and her titties over the crowd to get at Kenya. There is a look of pure hostility in her eyes, but it's so cold. This is … kinda scary. That life coach is worthless. Everyone clears out after NeNe chases everyone around the hallway. Time for bed? And Carnival?
The next morning, NeNe tries to do some damage control with Tanya and fails. There's no way to spin what happened and Yovanna has already been dismissed from the trip. NeNe believes that Porsha is back on her side because Porsha tried to prevent her from slapping Kenya with her titties.
It's time for Carnival, when this episode swings wildly from an angry nightmare to a colorful dreamscape. Porsha has a flask of Henny and "Henny-thing can happen!" and we get to see that, at Carnival, Tanya is That Bitch.
After Carnival, it's time for a final dinner in Toronto. While Marlo is trying to apologize to Cynthia and preserve her screen time, Porsha comes down still drunk from the afternoon and makes fun of them all for having a serious conversation. Instead of leaving any goodwill intact, Marlo goes after Kenya for wearing a wig to dinner.
Everyone starts talking about exciting wedding plans and Tanya says she's happy with her life the way it is; she literally says, "It's perfect!" Kenya looks at her and thinks "the fuck you thought," and immediately starts asking if you knew someone's man was cheating, would you want to know. Apparently, Cynthia and Kenya ran into the Cookie Lady who said that Paul hit on her and bought her drinks. Tanya says she doesn't consider her partner hitting on someone cheating. So, again, leave Tanya alone. But if Kenya can't be happy, she will snap her fingers and rid the world of all happiness: Does he have another phone, Tanya? In this hypothetical, Tanya says that it would of course leave her heartbroken, and Kenya's heart grew three sizes.