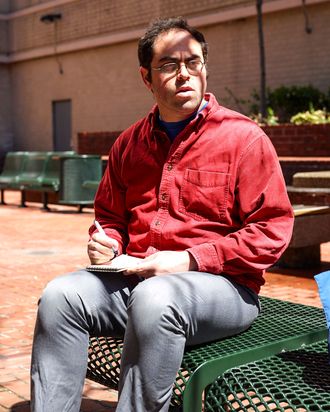 The artist with his tools.
Photo: David La Spina/Esto
Jason Polan's powers of observation, which rose to almost idiot-savant levels, and his hand — so simple, quick, supple, fun, and visually intelligent — made him one of the consummate draftsmen of the 21st century. Thinking back, after hearing of his death on Monday at age 37, I realize I never saw him not drawing. He was always on a street somewhere in New York, notebook in hand, following people, sitting off to the side, watching, a slight smile on his lips, this human seeing-machine saw and drew it all.
In Polan's short life he must have made hundreds of thousands of cartoonish, scrawling drawings, including many that were a part of radiantly impossible projects. He drew every object on view in the Museum of Modern Art and self-published it as a brilliant book. (Art aficionados will marvel at how every detail is authentic; he gets the shape of a Lee Bontecou wall sculpture and the exact angels of Barnett Newman's Broken Obelisk.) Like some Borges character, he set out to draw "every person in New York" and then published the thing as an amazing book with 30,000 squiggly ink drawings.
He was a kind of super-talented American genius. Just as early itinerant photographers set up studios in storefronts or on city streets to take pictures of passersby, Polan (on his website) offered to make "an hour's worth of drawings for $125" or posted where he'd be at a certain time if anyone wanted him to draw them. He published a book of drawings made outside the Bleeker Street studio of renowned street photographer Robert Frank. Polan pledged allegiance to the street as a source of art, and art as a source of inspiration. He made pages of drawings of objects, minerals, and animals in natural history museums and maps of the best places to sit outside and read. He founded the Taco Bell Drawing Club, which invited artists to meet at the fast-food chain, talk, and draw. (Polan fashioned hand-drawn laminated "membership cards" for attendees.)

He emitted his own kind of beautiful psychic sunshine. Polan was an illustrator-drawer-artist of modern art and life. There was no irony in his work. His was an art of taking pleasure in and appreciating the people, places, and things of the world. His oeuvre is a mirthful illustrated encyclopedia of modern life, body language, styles, and habits. In addition to his twitchy, wiggling line and ever-curious, recording mind, city life is the deep content of Polan's work. (He's a real Jane Jacobs artist.) He was a doodling Yankee with mischievous dashes of Matt Groening and the scratchy oddness of Saul Steinberg.
His line is puckish, wonderful, kooky — akin to Alexander Calder's — and almost impossible not to at least smile at. Polan's craft arcs out of the art world and into the real world in the ways Keith Haring's did. A street artist, Haring raced about, worked big, fast, and bold. He was there and gone. Polan isn't street; he's of and on the street, more a lurker, witness, reporter, appreciator of everything. He was a bit of a weirdo, too, like another watcher, Andy Warhol. Indeed, Polan thrilled at seeing stars. Back in 2009 he told New York, "Just wandering around I notice celebrities because I'm looking at everybody's face. I think it's exciting to see a celebrity." Note the low-affect, deadpan love. He then added, "I've never talked to any of them."
Polan had gallery shows, but he was never big in the art world. Instead, his art was beloved and well-known by many. His book of drawings of all the people in New York includes a forward by Kristen Wiig and became a top seller on Amazon. He published in the New York Times and did work for Uniqlo, Marvel, and many other outlets. When word came of his death, thousands of responses appeared on various Instagram accounts. All proclaimed love and gratitude for Polan and the amazing grace of his art.
I knew Polan a little. Not long after he arrived in New York from Michigan in the early 2000s, he introduced himself to me on the street. (Where else?) He showed me the sketchbook he was carrying (I never saw him without one). I was instantly smitten. I loved running into him, looking at what he was working on, and giving him the wrong advice about what to do with his drawings — things like "Make them bigger and vary them more and draw the whole front of the Met." (Thankfully, he never listened to me and instead delved deeper into his singular style, finally creating an aesthetic that wove his work seamlessly into the hearts of the wider world.)
He drew me and me and my wife at least six times. I never spotted him doing it. "Usually," he said, "I'm not noticed because I draw people from a distance. I don't want people to know I'm drawing them." I love how and where he depicted us: always in galleries or museums, where critics spend most of their lives, as he did, looking, observing. In one image he captures how my wife (New York Times co–chief art critic Roberta Smith) touches me lightly, calling my attention to something we're looking at. In another, we're depicted from behind, walking arm in arm (although I appear much balder than I think I am).
Each of us has no art but our own. Jason found his, spread it far and wide, shared it with the world, and gave us all his small joys and tender mercies of a life lived in art and looking.